As the Canucks trudge to the conclusion of a disappointing season, there are a lot of ugly numbers to consider.  Perhaps the most amazing is the minus-29 posted by Alex Edler. This is by far the worst plus-minus of any Canuck, with Ryan Kesler's minus-13 a distant second.
I've written before about plus-minus being a statistic that gets terribly misused by treating it as a barometer of a skater's two-way play. Using the statistic this way requires an implicit assumption that the player bears a reasonable share of responsibility for the goals for and against when he's on the ice. One problem with this assumption—the impact of teammates—is pretty widely acknowledged. But there's an even more significant problem: chance.
Let's take at look at the Vancouver defencemen who have played more than 120 5v5 minutes for the club as of March 14—the most recent update to stats.hockeyanalysis.com—through a couple of different lenses. First, the metrics based on shots and goals.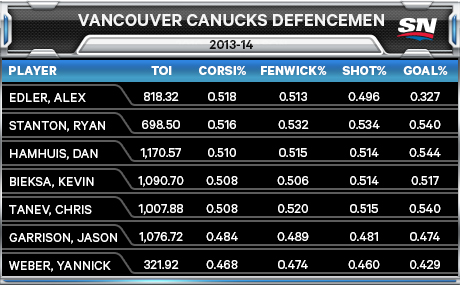 Edler leads the team in Corsi% (Canucks shots on goal, misses and blocks divided by all shots on goal, misses and blocks in Canucks games). He's third in Fenwick%, which is calculated the same way as Corsi% but without taking blocked shots into account. He falls off significantly when we look at the percentage of shots the Canucks generate with him on ice. As we'd expect, given his plus-minus, the percentage of goals scored by the Canucks as opposed to the other team when Edler's on the ice is horrific.
We can draw two inferences from this. First, given the decline from Edler's Fenwick% to his Shot%, there's something happening in terms of missed shots when he is on the ice. Second, and far more importantly, the disparity between his Shot% and his Goal% tells us that there is something going on with either the shooting percentage or the save percentage when he's on the ice. The first factor is small, so let's examine the shooting and save percentages for the seven Canucks defencemen under consideration.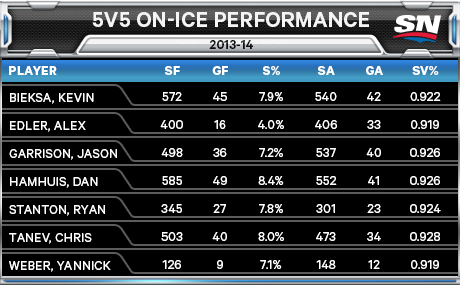 There's nothing unusual here. Players generally have their on-ice save percentages clustered tightly around their team's number. The Canucks have a .924 save percentage this year and all seven of these defencemen are within a few points of it.
The shooting percentage when he's on the ice though—wow. Since this stat became available during the 2007-08 season, the worst figure that any defenceman has posted while playing at least 750 5v5 minutes is Steve McCarthy's 4.75 percent in '07-08. Edler is crushing that. This is, by far, the biggest reason for his atrocious plus-minus.
But how much of this low on-ice shooting percentage is because of Edler's shots as opposed to his teammates'? Let's look at how these seven defencemen have done if we pull their shots out; in other words, their teammates' shooting percentage when these seven are on the ice.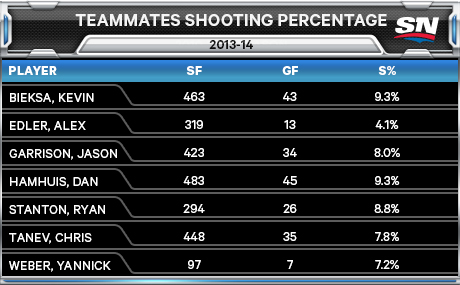 Edler's shots are not responsible for his extraordinarily low on-ice shooting percentage; it's the other four guys on the ice with him. This leads to a question: Is Edler somehow doing something that drives down their shooting percentage? It's hard to fathom how he could be. Defencemen don't generally make the last pass before a shot. Blaming Edler doesn't pass the smell test.
There's a useful way to determine whether a sports stat is a result of talent or luck (I first encountered it reading about baseball). If a statistic can be used to predict the same statistic in the future, it's likely the result of skill. If it can't, it's probably luck, whether good or bad.
I've created groups of defencemen who played at least 750 minutes of 5v5 TOI in consecutive seasons on the basis of their on-ice shooting percentage. I've then calculated the average on-ice save percentage for those same players in the following season.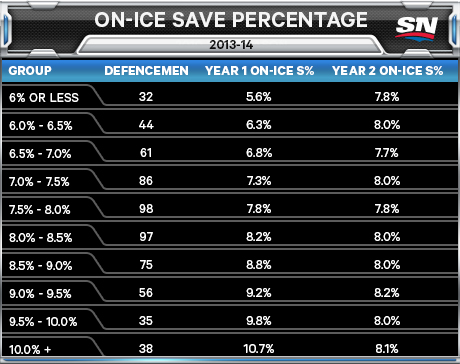 So, for example, there were 32 defencemen in the sample who had an on-ice shooting percentage of 6 percent or less in year one. In year two, they averaged 7.8 percent. It doesn't take much in the way of math skills to notice that the on-ice shooting percentage in year one, even if it's horrible or fantastic, does not suggest anything outside a very narrow range in the future. Applying the test outlined above, I'd conclude that this is likely just rotten luck and that anyone citing Edler's plus-minus in service of some point is just spinning a fairy tale.
People are notoriously bad at separating skill and luck, even when they know that some phenomenon has to be luck driven. This point is underlined by a recent experiment at the Autonomous University of Barcelona. A group of finance students was asked to predict a sequence of five coin tosses and the best and worst forecasters were identified.
A second group was then asked to bet on whether the best and worst predictors could predict another five coin tosses. They were told that they would have to bet on the worst predictor unless they paid to select the best. Despite it being obvious that predicting coin tosses is chance, 82 percent of students paid to switch.
People pay to switch because they convince themselves that there must be skill at play. It's hard not to believe what your eyes and statistics tell you. So it is with NHL defenceman and plus-minus. It's hard to look at Edler's plus-minus and believe that it's just bad luck. Despite that, when you go through the factors that are responsible, it's hard to come up with a reasonable explanation for his terrible number that has anything to do with him.
Some Spanish finance students get lucky predicting heads or tails. Some defencemen get unlucky in terms of pucks going in when they're on the ice. Some information is meaningless. That's how the world works.