TORONTO — Now we find out what Phil Kessel can be.
Gifted goal-scorer, offensive engine, lightning-rod: Kessel was all of that and more during six seasons with the Toronto Maple Leafs.
He was also, without question, the best player on the team. But since it was a team that failed to win enough — and found a way to fall apart in spectacular fashion on more than one occasion — many came to view Kessel as part of the problem rather than the solution.
Maple Leafs president Brendan Shanahan certainly left that open to interpretation in vaguely outlining the reasons Kessel was dealt to Pittsburgh in a Wednesday blockbuster that overshadowed free agency.
"For whatever reason, we had a lot of talented individuals on this team but as a group — the core group — it hadn't worked," said Shanahan. "This is about winning. Phil is certainly a very talented player, but we knew that changes had to come.
"I thank him for his six years here, very productive years for him."
There was always a certain duality to Kessel during his time in Toronto. A "yes, but…" quality to virtually anything he managed to accomplish in blue and white.
It largely came down to personality, which is rather surprising given the performance: He had the NHL's fifth-highest goal total (181) and 15th-best point total (394) since arriving here in 2009-10.
No doubt that is mostly what Penguins GM Jim Rutherford focused on while making Kessel his primary trade target this off-season. Talks stretched back a month and heated up at the draft last weekend before eventually getting completed.
The key for Pittsburgh was getting the Leafs to retain 15 per cent of Kessel's $8-million annual contract for the remaining seven seasons. Toronto desperately coveted prospect Kasperi Kapanen, a 2014 first-rounder.
Both sides eventually relented and made a deal.
The Leafs also acquired defenceman Scott Harrington, winger Nick Spaling, a conditional first-round pick and third-rounder in exchange for Tim Erixon, Tyler Biggs and a second-rounder.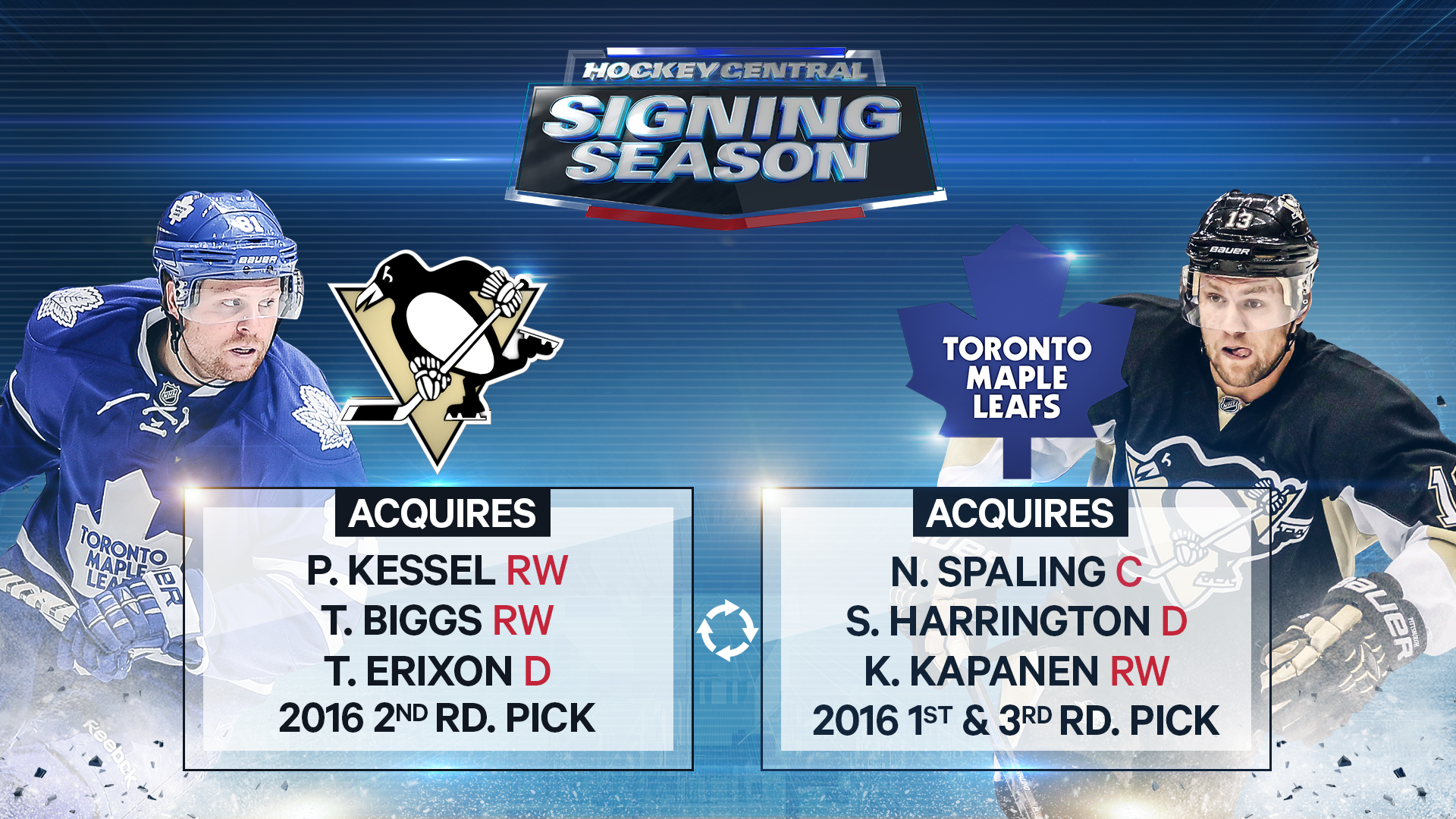 However, this will ultimately be remembered as the Kessel trade because there's no reason to expect anyone else involved to accomplish what he has.
Down in Pittsburgh, Sidney Crosby was thrilled upon learning of the acquisition. Evgeni Malkin must have been pleased, too, given that the team hasn't possessed a scoring threat on the wing like Kessel since he's been there either.
As for Kessel? Well, he's not going to be asked to do much other than put the puck in the net. The demands to be an off-ice star are much less important.
"He was always the guy (in Toronto), he was a guy that was blamed when things weren't going well, and he doesn't have to be the guy here," said Penguins GM Jim Rutherford. "We have a bunch of them, and so I believe that he's going to fit in very well."
Ultimately, the time ran out in Toronto.
The organization's last rebuild ostensibly began in 2009 when Kessel was acquired from the Boston Bruins and despite his offensive production, the team only managed one playoff appearance during that stretch. Now they are starting again from scratch.
Shanahan certainly didn't sound like he was done blasting away at the foundation he inherited here. Tyler Bozak and Joffrey Lupul are among the core pieces that could still be moved this summer.
"This wasn't about singling out one guy or trying to pin the blame on one guy," said Shanahan.
The Penguins came after Kessel because he possesses tremendous talent. The kind of talent that isn't dealt away too often in today's NHL.
It was a bold move and a necessary move from a veteran GM with a roster that has a limited window left to go for it. He's betting that a change of scenery — not to mention perception — will do wonders for a 27-year-old sniper who now gets to play with an all-world centre (or two).
"We got the best player in the trade right now," said Rutherford. "It usually works out for the team that gets the best player."
The Leafs, meanwhile, are looking towards tomorrow.
They never quite squeezed as much out of Kessel's wildly productive seasons as they should have. That's on them more than him.