Turns out, you don't have to win a dang lottery to follow the Pittsburgh model.
Even before former Penguins coach Dan Bylsma landed the head-coaching gig with the Buffalo Sabres, he began trying to model 2015's expected second-overall pick after Sidney Crosby.
Armed with reels of footage from two of the game's greatest centres, Bylsma showed top prospect Jack Eichel a little Evgeni Malkin and a lot of Crosby during one-on-one video sessions at the IIHF World Championship last month, in an effort to shape the college kid's game into an NHL one.
"What he was showing me was [Crosby's] movement away from the puck. He's always at top speed. I think that's what coach Bylsma wants out of me. Crosby's known for that," Eichel said last week in Chicago while in town for the Stanley Cup Final.
"I learned a lot about myself as a player [in the Czech Republic], and it was good for me to go over there to see the things I need to work on to be an effective player at the next level."
---


Download it FREE now: iOS | Android | Windows
---
Byslma and Eichel have been complimentary of each another after spending three weeks together in the Czech Republic.
"He brings a lot of energy. He's obviously won a Stanley Cup, he's coached some of the best players in the world. I think he's going to be great for Buffalo," Eichel said of Bylsma. "It was nice for me to get to know him."
"It's almost mesmerizing how fast [Eichel] can skate, how powerful he is," Bylsma told Hockey Central @ Noon after he was hired by the Sabres. "He played against men, and he showed the size, the skill, the reach he has."
(Fun side note: NHL alum Brian Bellows has watched a ton of Eichel because his 17-year-old son, Kieffer, is targeting BU. Bellows raved about Eichel's stride, saying Eichel's speed reminds him of Paul Coffey.)
Whether Eichel jumps to the next level in September is still up in the air.
Last week he said a decision whether to stay in school for 2015-16 will be made sooner than later.
"I'd like to know what I'm doing this summer, so probably pretty quickly after draft I'll finalize my decision," he said. "There's a lot of pros and cons about going both places. It's not an easy decision—that's why I haven't made it yet."
Eichel's pros of going pro: Well, the NHL is the dream league. Plus, Buffalo is just six-and-a-half hours from home (he knows the distance), the Sabres have plenty of prospects, and the wings at Duff's live up to the hype.
"[Buffalo] is definitely a hockey city," Eichel said. "Everyone is really friendly, really welcoming."
Eichel's pros of staying in school: College is fun, he has close friendships with his Terriers teammates, BU is closer to home, and there is some unfinished business with BU losing the NCAA championship 4-3 to Providence.
"Losing the last game made it tougher," Eichel said. "That's one of the lures of coming back. We didn't graduate too many guys. Obviously we lost our goalie and two of our top-six forwards. But Coach Quinn did a great job of recruiting, so we're bringing in a lot of great players. I think we'll be competitive next year."
On Monday, Eichel told The Danny Picard Show his decision will be made by June 30 in discussion with his parents.
Either way, the first person he'll call once his mind is made up will be Quinn.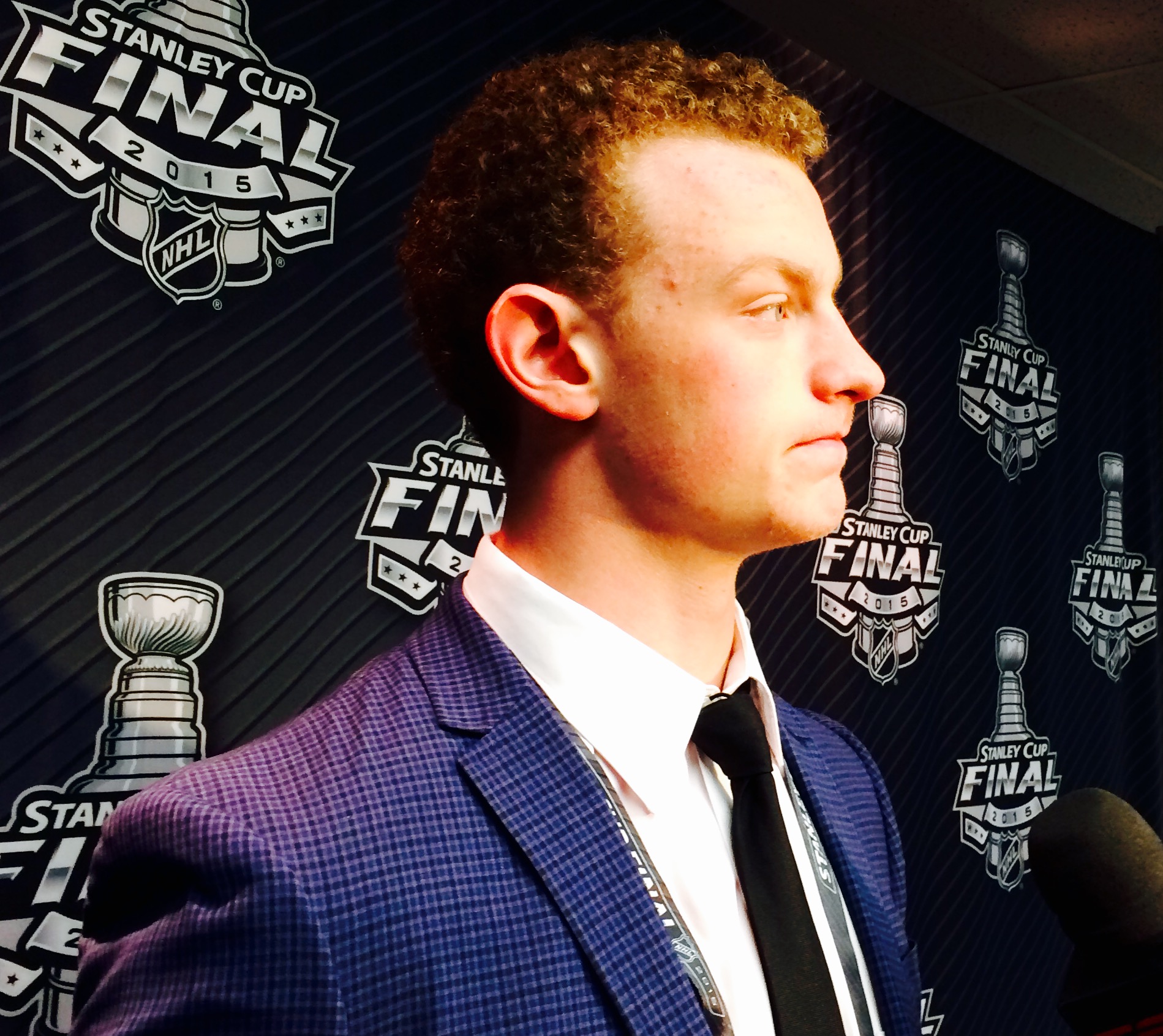 Bonus Beat: Jack Eichel One-Timers
On who impressed him at the Cup Final: "[Victor] Hedman has an outstanding playoff. I don't think he gets as much recognition as he should. He's a heck of a defenceman and a heck of a player, and a lot of people are realizing how good he is in the playoffs."
On his favourite Swedish player: "Peter Forsberg."
On Noah Hanifin: "He reminds me a lot of someone like [Duncan] Keith. He's super-skilled offensively. He's tough to play against, and he's a real good competitor."
On making the 2016 YoungStars team: "It's cool that the World Cup of Hockey is coming back, and I think it would be a great experience. There's a lot of good players in the NHL. It would be a huge honour, but it's a long way out."

On dominating the Combine's off-ice testing: "One of the positives of going to college was more time spent in the weight room. I think it shows."