The Dallas Stars have been one of the NHL's most exciting teams for two or more seasons now, playing a high-flying offensive style that flows through captain Jamie Benn and first line centre Tyler Seguin, who happen to be second and third in points this season, after finishing first and seventh last season.
However, since the calendar turned to 2016, Benn and Seguin have been relatively cold, compared to their usual production. Seguin has just 18 points in the past 29 games, whereas Benn has 21. That's solid production for most first liners, but below the standard these two have set for themselves.
Jason Spezza has been picking up the slack in that time, with 21 points in just 23 games. He's been playing about four fewer minutes per game than the big duo on the top line, too.
Spezza hasn't received much fanfare since he was traded to Dallas, because he's been overshadowed by his younger teammates. Most fans likely won't remember he had 62 points last season and not many people have really spoken about the fact he's on pace for another 60-point season this year.
Spezza has been brilliant in that second line role for the Stars…and it's not just a recent development.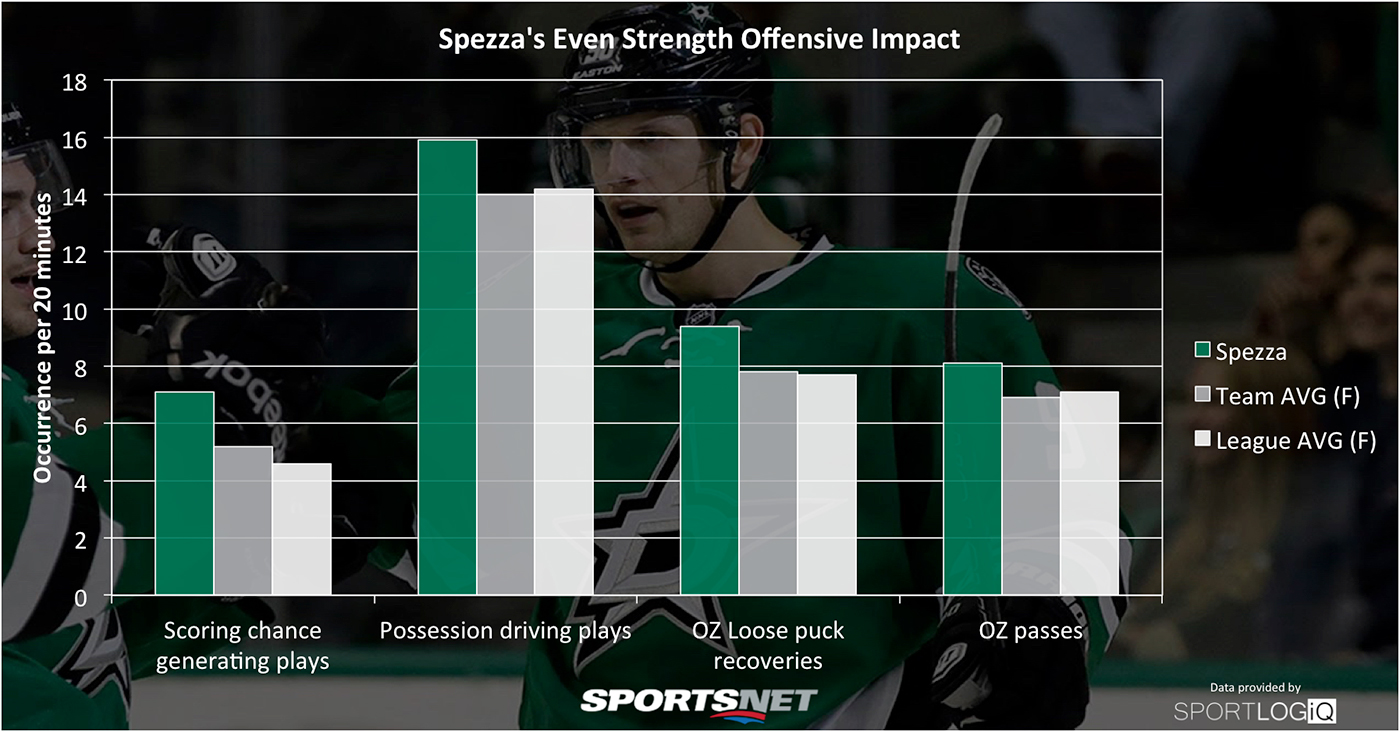 It may come as a shock, but in terms of creating scoring chances, Spezza has been the Stars' most effective forward at even strength all season long. Consistently within the top-10 forwards in the NHL this season in scoring chance-generating plays, Spezza leads the Stars in successful passes to the slot. He's also among the NHL's best forecheckers, recovering 9.4 loose pucks in the offensive zone per 20 minutes played at even strength.
Spezza's playmaking ability overall is comparable to Jamie Benn's as they complete a similar number of passes in the offensive zone per 20 minutes played, with Spezza passing more to the slot, and Benn passing more off the rush. However, Spezza doesn't have a finisher who's of the same quality as Seguin on his line at even strength.
Perhaps the most surprising part of Spezza's performance this season is that he leads all Stars forwards in controlled defensive zone exits, an area you wouldn't expect him to dominate if you're looking only at reputation.
That proficiency in exiting the defensive zone with control accounts for nearly half of Spezza's possession-driving plays, which considering he's above average in that area, shows how important he is to the Stars' breakout.
For a lot of teams, Spezza would be a first line centre, but the Stars have the luxury of putting him on the second line. This has benefitted both the team and player, who at 32 years old is no longer in the prime of his career. It's a one-two punch that could prove extremely effective for the Stars in the playoffs.