Hold on to your hats, this could be a wild one.
As we've seen as recently as last year the annual NHL Draft is not only where young men take the next steps in their career and begin the process of turning pro, but also it's been one of the busier days for trade activity.
The Phil Kessel deal got rolling on the draft floor last year in Sunrise, Florida which produced the most animated table of the weekend as the Penguins' brain trust argued loud and long over the package the Leafs wanted in return for the now Stanley Cup champion. It's believed by some that it got so heated at one point the Pens decided to back away from Kessel and offer a similar package to St. Louis for T.J. Oshie. Would the Penguins have still won the Cup if cooler heads didn't prevail?
Yes, "we have a trade to announce" are six words hockey fans crave to hear out of the Commissioner's mouth on draft day and this year should be no different.
Only this time it's a couple of teams in top draft positions that could be looking to trade down to get the player they covet (and assets along the way).
The first are the Columbus Blue Jackets who find themselves in a position to take slick skating Jesse Puljujarvi, but do they really need another winger? Or do they have their sights set on looking for help down the middle? And as Elliotte Friedman reported last week, the Jackets have flown in players like Logan Brown, Pierre-Luc Dubois, Clayton Keller and Jake Bean along with both Puljujarvi and Matthew Tkachuk (who are expected to go three and four), leading many to believe Jackets GM Jarmo Kekalainen is setting the table to move down in the draft.
And what of Edmonton at four? While Tkachuk seems like the consensus player to go in that position, aren't the Oilers in the market for young blueliners? And with Travis Hamonic off the market, isn't it more and more crucial for Edmonton that they address their back end ASAP? Many think the Oilers will trade down in the draft to pick either Mikhail Sergachev or Olli Juolevi, but it's believed that many in the organization really covet Tkachuk.
How about teams that don't have a first round pick who would love to get back in? Can't help but think about the New York Rangers who haven't had a pick in the first round since 2012 (Brady Skjei). Considering their flame out in the playoffs could point to a rebuild, would it surprise anyone if New York moved big name assets to get into the Friday night portion of the draft?
Should be fascinating next week in Buffalo.
So here's my mock draft complied after viewings and conversations with scouts (NHL and independent), coaches and NHL managers.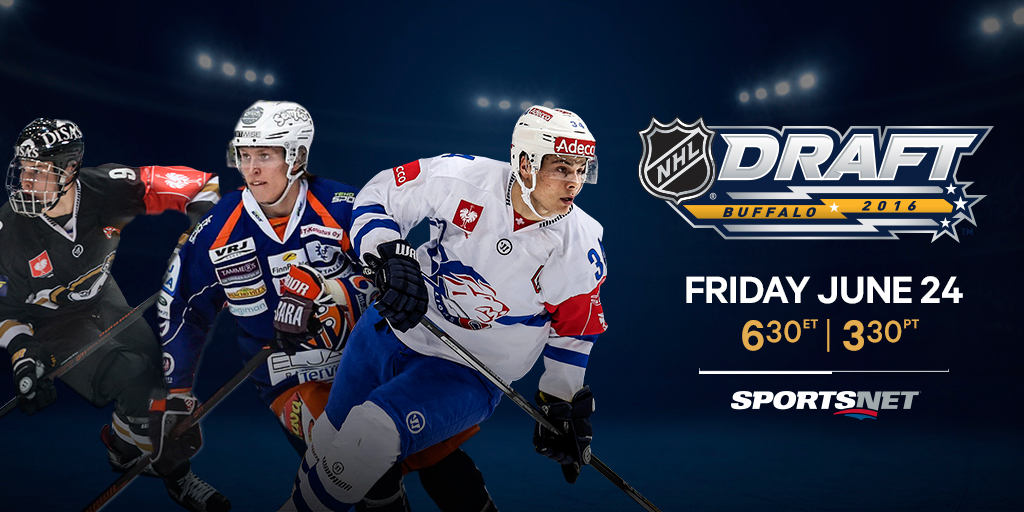 1. TORONTO MAPLE LEAFS
Auston Matthews, C, Zurich (Switzerland): With this pick the Leafs find the franchise No. 1 centre they haven't had since Mats Sundin.

2. WINNIPEG JETS
Patrick Laine, RW, Tappara Tampere (Finland): What a 'consolation prize' as the Jets land a player who would go No. 1 in many other years. Best release of anyone in the draft.

3. COLUMBUS BLUE JACKETS
Jesse Puljujarvi, RW, Karpat (Finland): Not certain Columbus keeps this pick, but if they do the Finnish left winger is pretty much locked into this spot. Many scouts believe his upside is higher than Laine's. The best winger off the rush in this draft.

4. EDMONTON OILERS
Matthew Tkachuk, LW, London Knights (OHL): As much as the Oilers may need help on the blueline they shore up the left side behind Taylor Hall with the second generation player who scored the Memorial Cup winning goal.

5. VANCOUVER CANUCKS
Mikhail Sergachev, Windsor Spitfires (OHL): Not exactly a secret the Canucks need help on the back end and picking up Sergachev goes a long way in addressing that. Only question is if he starts next season in the NHL or goes back to the Windsor Spitfires of the OHL.

6. CALGARY FLAMES
Pierre-Luc Dubois, LW, Cape Breton Screaming Eagles (QMJHL): Big, strong and versatile, the Flames grab the best power forward available in the draft.

7. ARIZONA COYOTES
Olli Juolevi, D, London Knights (OHL): With all of Arizona's high end prospects playing a forward position the Coyotes grab the Finnish blueliner who reminds many of fellow Finn Olli Maatta.

8. BUFFALO SABRES
Alexander Nylander, LW, Mississauga Steelheads (OHL): While it's believed the Sabres are looking for a defenceman, the pair they covet probably won't be there when they select. Expect them to go for the slick, goal scoring, second generation Swede.

9. MONTREAL CANADIENS
Logan Brown, C, Windsor Spitfires (OHL): For years the Habs have looked for size down the middle and with their first round pick they take the biggest high-end centre available who scares some teams, but has potential to be dominant.

10. COLORADO AVALANCHE
Jakob Chychrun, D, Sarnia Sting (OHL): The Avs need help on the back end and they turn to one of the most physically complete blueliners in the draft.

11. NEW JERSEY DEVILS
Clayton Keller, C, US NTDP (USHL): The New Jersey Devils need top-level offensive players and while Keller's size may be an issue for some it's not for this team. Elite level vision and playmaking ability. Has succeeded at every level.

12. OTTAWA SENATORS
Michael McLeod, C, Mississauga Steelheads (OHL): The Sens grab big, strong, speedy centre from the Mississauga Steelheads.

13. CAROLINA HURRICANES
Tyson Jost, C, Penticton Vees (BCHL): Loaded on the back end for years to come, Carolina needs to shore up the forward group of the future. Getting Jost here addresses that need big time.

14. BOSTON BRUINS
Jake Bean, D, Calgary Hitmen (WHL): The Bruins started to rebuild the future of their back end last year at the draft picking up Brandon Carlo, Jeremy Lauzon and Jakub Zboril and will continue that trend here, picking up the offensively minded defenceman from the Calgary Hitmen.

15. MINNESOTA WILD
Charlie McAvoy, D, Boston University (NCAA): The Wild grab the offensively minded right hand shot defenceman from Boston University.

16. DETROIT RED WINGS
German Rubtsov, C, Russia U18 (Russia): One of the more intriguing players in the draft, Rubtsov is loaded with skill and can play in every area. Detroit is a great fit for him.

17. NASHVILLE PREDATORS
Dante Fabbro, D, Penticton Vees (BCHL): The Preds have focused on drafting forwards the last few drafts and return to what had made them a powerhouse – depth on the blueline.

18. PHILADELPHIA FLYERS
Kieffer Bellows, LW, US NTDP (USHL): He hits hard and scores goals. The Flyers love what they get in this second generation winger.

19. NEW YORK ISLANDERS
Luke Kunin, C, University of Wisconsin (NCAA): The Islanders grab the versatile forward who stuck through a challenging year at Wisconsin out of loyalty to the program.

20. ARIZONA COYOTES (FROM RANGERS)
Max Jones, LW, London Knights (OHL): Room for another Max in the desert? The Coyotes pick up the hulking power forward who has great wheels, can score and is an aggressive penalty killer. Has a nasty edge to his game as well.

21. CAROLINA HURRICANES (FROM LOS ANGELES)
Julien Gauthier, RW, Val d'Or Foreurs (QMJHL): He's big, strong, goes to the net hard and scores goals. Carolina grabs the gym rat from Val d'Or (and you thought former 'Cane Rod Brind'Amour worked out hard, wait 'til you see this kid).

22. WINNIPEG JETS (FROM CHICAGO)
Dennis Cholowski, D, Chilliwack Chiefs (BCHL): The Jets take the Chilliwack defenceman who's skating turned heads all season in the BCHL. His stock rose weekly in the new year.

23. FLORIDA PANTHERS
Alex DeBrincat, RW, Erie Otters (OHL): Back-to-back 50-goal seasons don't lie even if he did have Connor McDavid and Dylan Strome as his centres in those seasons. A terrific finisher who plays hard despite his 5-foot-7 frame.

24. ANAHEIM DUCKS
Rasmus Asplund, C, Farjestads (Sweden): The Ducks take the two-way centre from Sweden who already has two years of pro hockey in his home country under his belt.

25. DALLAS STARS
Libor Hajek, D, Saskatoon Blades (WHL): Can really skate and makes a fantastic first pass. Doesn't have a bomb from the point but can still anchor an NHL second unit PP.

26. WASHINGTON CAPITALS
Brett Howden, C, Moose Jaw Warriors (WHL): The Caps pick up the defensively responsible centre from the Moose Jaw Warriors.

27. TAMPA BAY LIGHTNING
Pascal Laberge, C, Victoriaville Tigres (QMJHL): Steve Yzerman grabs this smart, two-way, playmaking centre from the Victoriaville Tigres.

28. ST. LOUIS BLUES
Vitali Abramov, RW, Gatineau Olympiques (QMJHL): The Blues land more pure offence, with the smallish, highly skilled forward from the Gatineau Olympiques of the QMJHL. The Q's leading rookie scorer with 93 points also finished fifth in league scoring.

29. BOSTON BRUINS (FROM SAN JOSE)
Logan Stanley, D, Windsor Spitfires (OHL): The Bruins continue to stockpile blueliners and pick up the hulking 6-foot-7 rear guard from the Windsor Spitfires who plays with an edge.

30. ANAHEIM DUCKS (FROM TRADE WITH MAPLE LEAFS)
Boris Katchouk, LW, Sault Ste. Marie Greyhounds (OHL): A skilled and nasty bit of business. Can play both a skilled game (was excellent in the playoffs for the Greyhounds) and can also be a downright rat. Looks to be built for the Western Conference.