There's been a lot of praise for the play of Shea Weber this season, which is to be expected considering his hot start offensively.
That praise for Weber, though, has overshadowed a truly spectacular season from his teammate Jeff Petry, who lately has been taking over the tough minutes in the defensive zone with partner Nathan Beaulieu, while the top pairing of Weber and Alexei Emelin has been struggling a bit, getting more offensive zone starts to compensate.
Given tough assignments, Petry has flourished, going from a 55 per cent Corsi with Andrei Markov earlier in the season to 54.7 with Beaulieu. In fact, the only players to be below 50 per cent in Corsi while on the ice with Petry this year are Daniel Carr at 46.2 and Emelin at 45.8, both in limited ice time.
In terms of offence, Petry is second among Canadiens defenders in points with 22, behind Weber's 28, but he leads the team in primary points at even strength with 11 and in all situations with 17. That's especially impressive when you consider how much more powerplay time Weber has received.
Petry's dominance shouldn't be very surprising overall, he was nearly this good last season, but the offensive production is new. So how is he doing it? It starts with good decision making.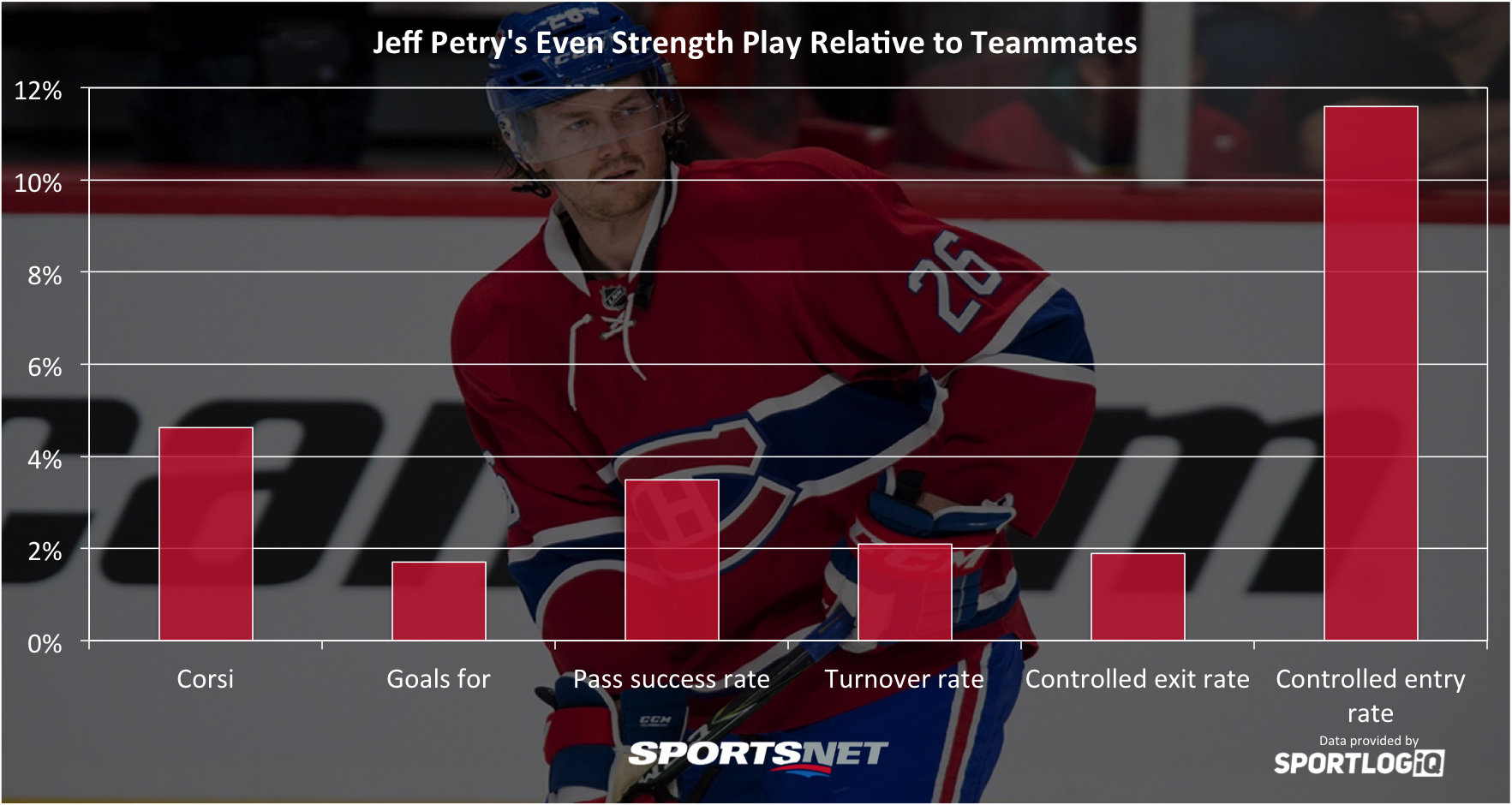 The defenceman is the Canadiens' biggest driver of shot metrics, just like he was last season, but this year he's much less haphazard with the puck. Last year, he had one of the highest turnover rates on the team (the relative rate is inverted here so that positive = good), and lowest pass success rates, but now he's a team leader in that regard.
I theorized last season that playing with Emelin, who struggles to move the puck, put more pressure on Petry to be the lone distributor on his pairing, leading to more mistakes. Whether that was true or not, splitting the job with Markov and Beaulieu respectively has worked wonders for him while the defensive pressure on him hasn't decreased.
Petry receives a team-high 15.3 passes in the defensive zone per 20 minutes played, despite spending the lowest percentage of his ice time, among all Habs defencemen aside from Markov, in the defending zone.
What that means is that the Canadiens as a whole look to Petry more often than anyone else to get them out of trouble, and he does so with aplomb, leading the Canadiens in successful transition plays per 20 minutes played, exiting the zone with control, and entering the offensive zone with control more than any other Habs defender.
We can take a deeper look at just how successful Petry has been by looking at his rate stats relative to his defensive teammates.
Petry is the Canadiens' most involved player at even strength, making 83.8 plays with the puck per 20 minutes on the ice, so it makes sense that he's ahead of team average in most categories. But what's important is that he's ahead in categories like scoring chance generation, controlled exits, and loose puck recoveries.
The defenceman hasn't quite been Norris-calibre this season, but if one was inclined, one could likely make a very good statistical argument that he should be included in the conversation. There's no doubt that he has benefitted from playing behind Weber in the lineup, like he benefitted from playing behind P.K. Subban for parts of the previous two seasons, but considering the negligible effect of quality of competition every time it's been studied, I'm not sure how much weight to give that argument.
When you also consider that Petry has the lowest quality of teammates by Corsi on the Habs this season, you have to wonder how close he is to being the team's best defenceman.