TORONTO — The trail has been blazed. All Jeremy Bracco must do now is everything in his power to follow it.
Another summer has wrought another undersized '97 baby right winger trying to make the Toronto Maple Leafs on the heels of lifting the Memorial Cup and leading his CHL championship squad in scoring.
Like fellow 20-year-old Mitchell Marner before him, Bracco finds himself "the old guy" at this week's Maple Leafs development camp, his third and hopefully final run through July's week-long testing and evaluation session. It's a chance for prospects to show the Leafs' assistant coaches what they've got, an opportunity for the not-ready-for-prime-time players to glean lessons and sharpen their goals.
"As camp progresses, you try to pick up little things that you can use during the season. It's always been a goal of mine to pick some new things up every camp," says Bracco, who was absent for Sunday and Monday's sessions due to an undisclosed illness.
"I've tried to grow up and mature a lot of the past two years. It's been a long road for me, but it's been a lot of fun."
No year could be more fun than 2017 in the life of the Freeport, N.Y., native.
On the heels of capturing world junior gold in Team USA's dramatic shootout victory over Canada, Bracco inked his entry-level deal with Toronto in late March. He then went out and capped off his spectacular sophomore junior season as first star of the Memorial Cup championship game. Bracco's 83-point tear in 2016-17, which featured a mid-season trade from Kitchener to Windsor, kicked off a record-setting 25-game point streak.
Not too shabby for a 61st-overall pick (2015) listed as 5-foot-10 and was probably measured in skates.
"A lot of good things happened to myself and my teammates this year, whatever team I was on," Bracco says. "To get those medals, it's pretty special to reflect on. I have a 10-year-old brother who thinks it's the greatest thing ever.
"If you look at that final [world juniors] game, we were down two goals against Canada. There were times we looked down the bench and guys didn't know if we were going to come back. But I played on two persistent groups with great coaches, great teammates and great people in the organization, and we found a way to win."
Bracco's mind jogs back to his first Leafs development camp, in Collingwood, Ont., in 2015, and how he and fellow newbie Marner looked to more experienced prospects like Casey Bailey (now in the Senators system) for guidance.
"I looked like I was probably about 12," Bracco smiles. "I try to be like a mentor like he was to me and Mitch."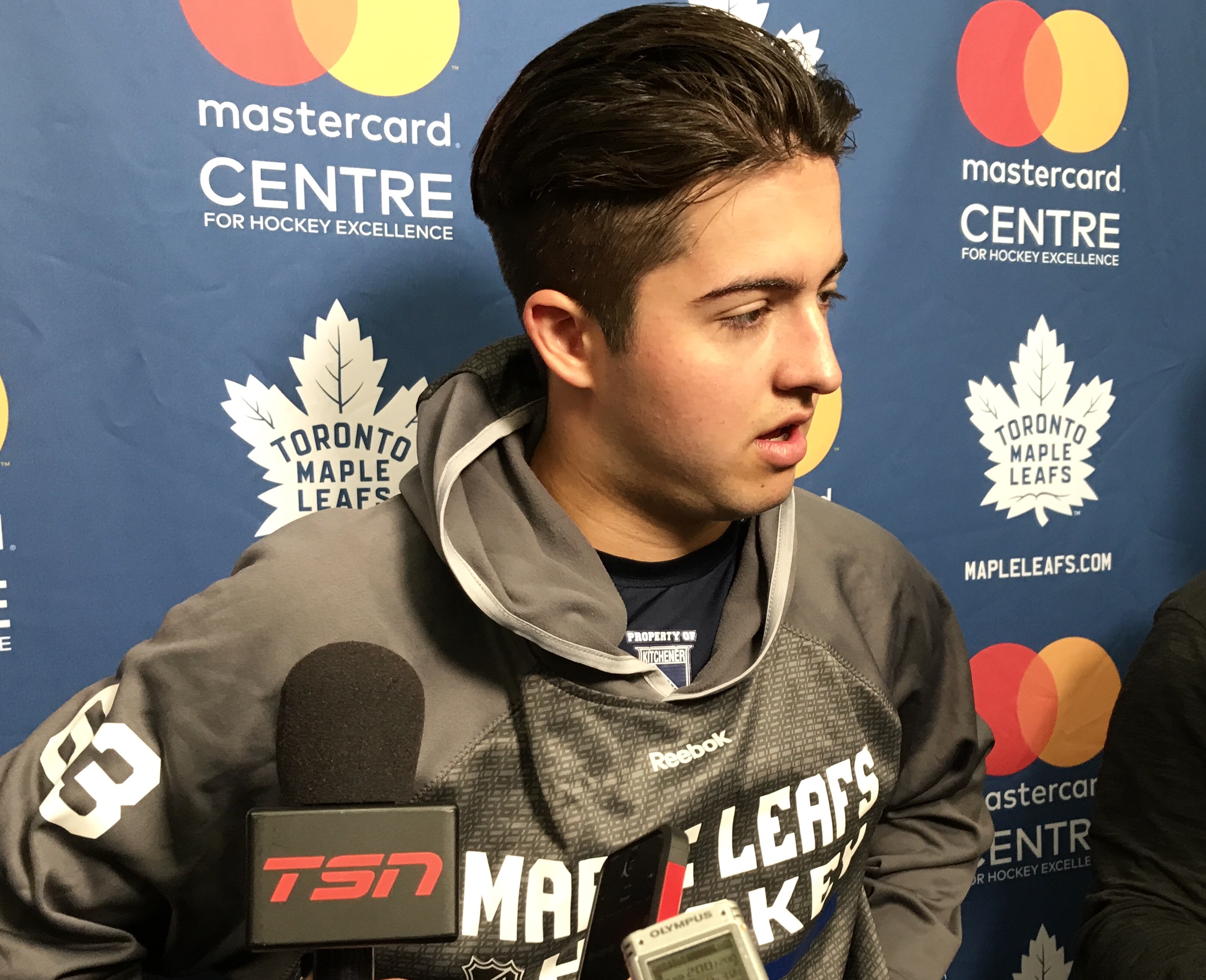 Bracco now looks 14, easy. He's elevated to what Scott Pellerin, the Leafs' director of player development, terms a Level 3 prospect.
"Bracco's individual development plan might be different than [Adam] Brooks'. We want to see what areas are strong, and what areas to improve. Bracco has areas he wants to improve on, too. We'll attack those things individually," Pellerin explains.
"There are some guys who are 5-foot-6, but there are also some big guys. At this point it's about who can play hockey, who has the compete level and who can make plays."
Play-making has never been an issue for Bracco. But the Leafs, perhaps more than another NHL team, are flush with skilled wingers who feel magnetized to the opposition's goal posts.
"He's a talented guy," head coach Mike Babcock told Sportsnet's Memorial Cup panel. "One of those few players who's faster with the puck than without it.
"He can really make plays. I like to see him when he's got the puck and he's cruising around the offensive zone. He sees the ice, he thinks real well. He's gonna have to get stronger for sure. We have a lot of talented guys up front in Toronto — it's going to be tough for everybody."
That one Babcockian phrase sticks out: faster with the puck than without it.
We ask Bracco — he of 147 points in 106 OHL games — what that means to him.
"Maybe I like to play offence a little more," the prospect chuckles. "Going to Windsor, I tried to evolve my 200-foot game. That was a thing I know I need to work on. To play in the NHL, you have to play 200 feet."
Bracco credits Spitfires head coach Rocky Thompson and both assistants, Trevor Letowski and Jarrod Smith, for taking time to improve his defensive game. "Things worked out more than I could've hoped for," he says.
This summer, like last, will be devoted to pumping iron, eating properly, and building muscle necessary to fend off grown men who are paid to ram pesky runts with soft hands into the glass.
"Even on ice, you can work on feeling guys on your back and being able to roll off," Bracco explains.
"You see how big the league is, how fast it is, and how strong you have to be down low to play off the cycle. Not many goals come off the rush anymore. So that's something I'm going to work with the strength staff and the on-ice staff here. That's something I'd like to get better at this summer."
As prolific and positive and persistent as Bracco is, we have a hard time seeing the winger squeeze into a 2017-18 Maple Leafs lineup that, barring a trade, might not even have room for fellow world juniors golden boy Kasperi Kapanen.
So you won't hear any bold proclamations just yet from a still-improving kid who could well be terrorizing OHL defences, again, this fall.
"You just try to do what you're good at. Obviously there's a lot of talent on this team, and they're bringing in a lot of good veteran guys. As you saw last year, it's an exciting time to be part of the Toronto Maple Leafs organization. I'm honoured and humbled, and it's going to be an exciting couple months to come," Bracco says.
"Looking at what Mitch did this year, he had a fantastic season, and I wish him all the best going forward and hopefully I can play with him. Young guys and small guys like myself, it really captivates you and makes you feel good.
"You know you have a chance going forward."
(Fox photo)