WINNIPEG – There were a few raised eyebrows in the Vegas Golden Knights dressing room when Patrik Laine suggested before this series that Marc-Andre Fleury hadn't really been tested during the playoffs.
On Monday night, Laine's Winnipeg Jets put Fleury to the test. And he passed with flying colours.
The biggest reason this Western Conference final is knotted up as we head for Sin City is that Fleury held the fort. It wasn't a work of art. He often had to battle for positioning in the crease during a 30-save performance that included some help from his posts – something Flower acknowledged by gently patting the iron after Andrew Copp had him beat in the second period.
The Vegas goaltender also denied Laine on four separate occasions. The Finn is the most dangerous shooter in this series and wasn't too concerned about the fact his observation about Fleury's spring was perceived by some Golden Knights as a slight.
"I don't care if they don't like it," Laine told reporters in Finnish after a 3-1 loss. "That's not my problem."
The Jets built a 3-0 lead before Saturday's series opener was even eight minutes old and had enough quality looks to do something similar in Game 2. There was an early Nikolaj Ehlers shot off the crossbar – his goal drought now stands at a career-worst 16 games – and a Mark Scheifele solo effort that squeaked through Fleury's pads but didn't have enough steam to reach the goal-line.
Kyle Connor had a dangerous-looking rush before Jacob Trouba stepped off his point and found the puck on his stick in the slot.
"They came out flying again," said Fleury. "The first one [from Scheifele], it just trickled. Hit both my pads, behind my knees. I was a little worried, but my defence showed up."
Weathering that storm gave his teammates a chance to find their footing. Vegas did a much better job of establishing a forecheck in the second half of the opening period – disrupting the Winnipeg breakout and forcing turnovers that lead to goals by Tomas Tatar and Jonathan Marchesseault four minutes apart.
When the Jets regrouped and mounted another strong push in the second period, Fleury was there again.
The three-time Stanley Cup champion serves as a safety blanket for the first-year team. He arrived with the best resume of any of the players procured in the expansion draft last June. Not even a full year later, Fleury's riding a .945 save percentage in these playoffs and turned aside all 12 of Winnipeg's high-danger scoring chances in Game 2.
The heat map tells the story of a night where the goaltending made the difference: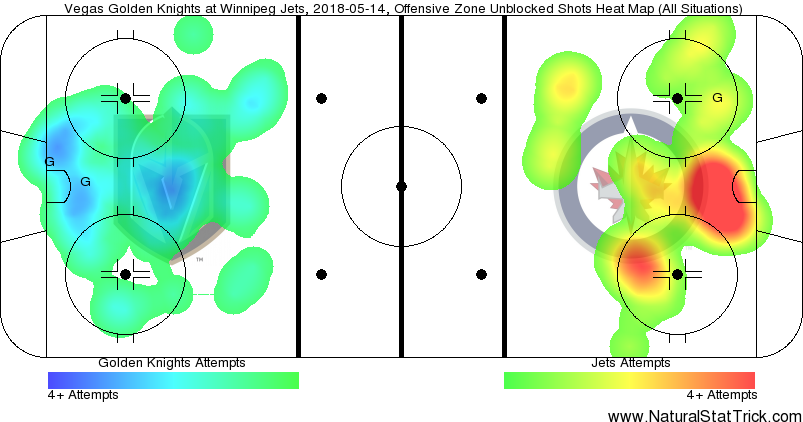 That's not to throw any shade in Connor Hellebuyck's direction. The Jets goalie was beaten on Grade "A" looks, with Marchesseault scoring his first goal on a breakaway and being left alone to get a second with 12 minutes remaining.
But games are often won at this time of year through the execution of small details like the extra save or the big play.
"There was about 57 minutes of that game that was pretty good for us," said Jets captain Blake Wheeler. "Three minutes of it got away from us. They could have scored four goals in three minutes. We just gotta stay with it better. Realize that they have some guys on their team that can make plays as well.
"There's going to be moments in this series where they get scoring chances. They're gonna create some momentum and put the puck in the net. It's just a matter of how you react to it."
All things considered, they missed out on a golden opportunity to grab a 2-0 lead in this series. The Golden Knights might be considered underdogs in this best-of-seven, but it shouldn't be by much.
Any scenario that sees them continuing this incredible run into June revolves around Fleury continuing to play like the best goalie left in the playoffs. He needs to get in the minds of a Winnipeg team that is spilling over with offensive talent.
Let's call Game 2 a start.
All Laine was doing on Saturday morning was trying to downplay the edge Fleury gives his teammates. He also correctly pointed out that the Jets are a much tougher opponent for Vegas than the Kings and Sharks were when he was asked what it'll take to solve the goaltender.
"I don't know, just try to score. He's been really good in these playoffs," Laine said before Game 1. "I mean he hasn't been tested that much the games I saw. We've got to do a better job with our shots and with our scoring opportunities than L.A. and San Jose did. Just try to shoot as many pucks as we can."
That gameplan remains unchanged as they head to Vegas needing at least one victory at T-Mobile Arena to reach the Stanley Cup final.
They had enough shots to win Game 2. Fleury kept it from being so.