The 2017-18 season has been a great year of rookies, as fans have been treated to phenomenal first-year talents such as Mathew Barzal, Brock Boeser, Clayton Keller, and more.
But one player who doesn't seem to be getting as much attention as they deserve is Winnipeg's Kyle Connor.
Due to Brock Boeser's unfortunate injury, Connor is likely to be the first rookie this season to cross the 30-goal threshold. He has 29 already with six games remaining, and the next closest non-injured player is Alex Debrincat at 26.
Scoring 30 goals as a rookie in the NHL is a pretty big deal and an accomplishment that may be a little lost on us after what both Auston Matthews and Patrik Laine did last season. But it's only happened seven times in the past 10 full seasons and at 21 years old, Connor would be the fourth-youngest rookie in that group after Matthews, Laine, and Jeff Skinner all did it as teenagers.
[snippet id=3918715]
Connor is fifth among rookies in point production with 50 points in 70 games and likely won't garner many votes for the Calder Trophy behind Barzal's 78 points or Clayton Keller's 61 for a terrible Arizona Coyotes team. But he's having a special season.
The one hitch is that Connor's 16.5 shooting percentage is extremely high, so you have to wonder if he can sustain this level of goal scoring in his career.
Except for the NHL's premier talents, crazy shooting percentages tend not to be repeatable. For every Laine and Steven Stamkos, there are tons of Zack Smiths from 2015-16, who shoot double their career average for one season.
Over the past four seasons, only three current NHLers with more than 100 games played have averaged a shooting percentage as high or higher than Connor's 16.5 per cent: Paul Byron, Laine, and Evgeni Malkin. So it's probably unlikely that Connor will be able to replicate this long-term, but how much is it going to fall?
To find out, we need to look at where Connor shoots from and how often. While we're at it we'll look at his playmaking ability as well. Since there are 31 teams in the NHL now, there are by definition 93 top-line forwards, and 186 top-six forwards, so we'll use those rankings as a cutoff for first- and second-line talent to compare him.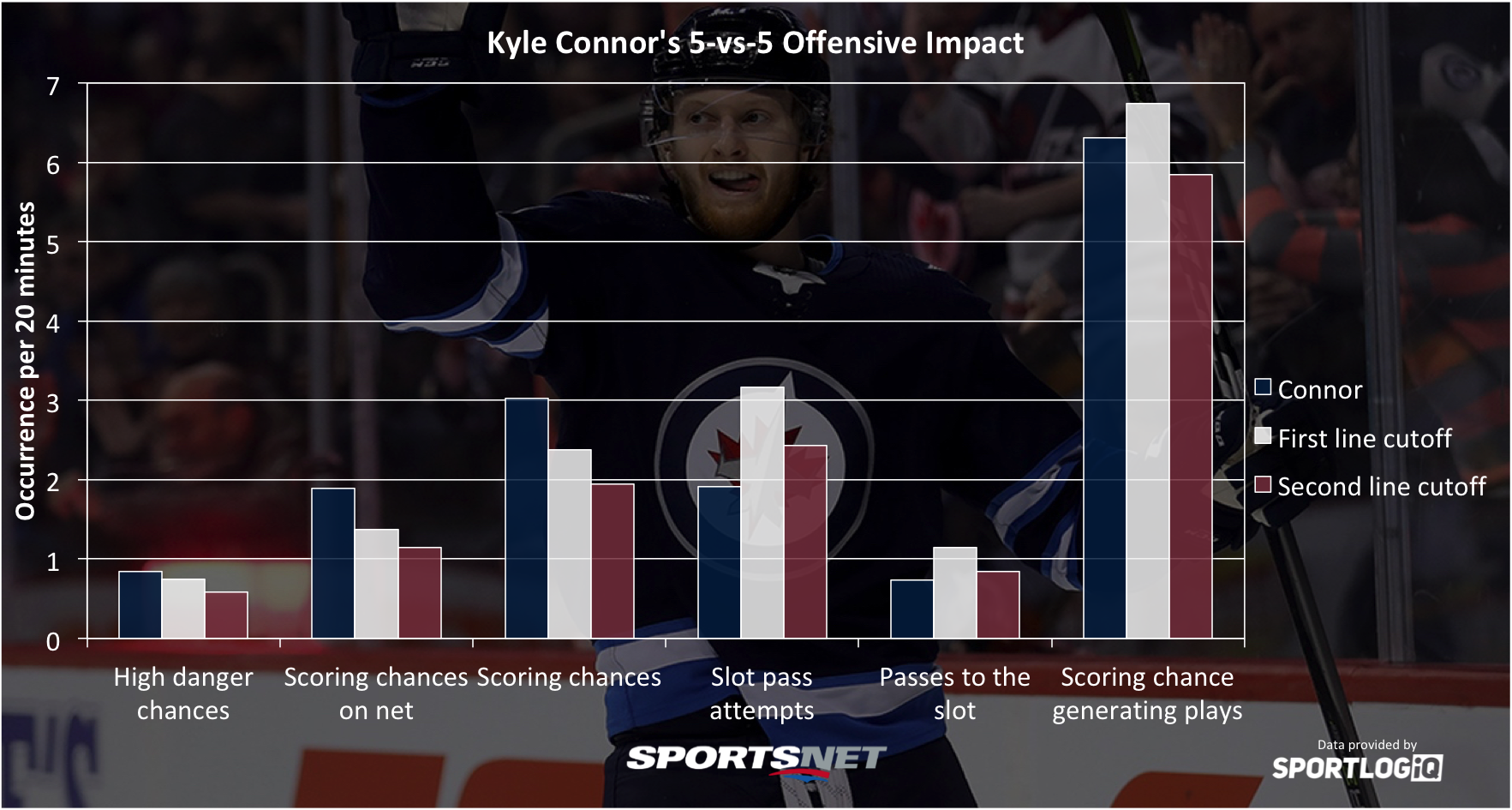 Connor has been an absolute machine in pumping out scoring chances like very few players in the league can and coming in significantly above the first line base rate, which has made him a perfect fit with his most common linemates in Mark Scheifele and Blake Wheeler. Those two complete the 10th and 17th most passes to the slot in the NHL.
That opportunity to score at 5-on-5 is a great situation for the rookie triggerman, and has obviously paid immediate dividends for the Jets. His three most common line combinations this season all feature Wheeler, which has been a mutually beneficial relationship for the two offensively.
Based on the sheer number of scoring chances Connor generates, and the ability of his most common linemates to get him the puck in a shooting position, it may not be so abnormal for him to sustain his sky-high shooting percentage.
A factor that may complicate things for Connor in his sophomore season is that if teams scout him carefully they will notice that while he's an elite shooter, he's a below average playmaker. He attempts and completes slot passes at a third-line rate, and most of the scoring chances he generates for teammates come off his shots.
Playing with two elite-level playmakers likely influences those tendencies though, and rookies often do what they're told to fit in instead of everything they want to do. In that sense, it's possible Connor is a better playmaker than we've seen so far and is just filling the role of designated shooter on his line.
Among players with 600 or more minutes played in the NHL this season, Connor ranks 21st in scoring chances per minute at 5-on-5, which is the highest mark on his talented Jets team. He shoots like a future 30-goal scorer already, even if it might look unsustainable from the surface.
If he continues to slot into this perfect situation, don't be surprised if Connor repeats his production and goal scoring next year, or even improves on it as he gets better, stronger and more experienced.
[relatedlinks]