Joffrey Lupul is one of the dwindling number of NHL players who remembers what the league was like before the salary cap. Before every team was turning the keys over to the kids.
Asked this week what had changed since his rookie season in 2003-04, the Toronto Maple Leafs winger replied: "Everything."
"All sports I think are always evolving but hockey's so much different now," he said. "The pace of the game, the age of the players. When I came in the league there was third and fourth lines littered with 35- to 38-year-old guys. You had these old veterans on the team.
"Now it seems the opposite: They can't wait to get these guys out."
Lupul doesn't say this with bitterness or scorn. If anything, he seems to have a healthy respect for how impactful young players have become.
But at age 32 – relatively young by societal standards, ancient as an athlete – it's pretty clear that his mind has occasionally wandered to when the end might come. Even with two years remaining on his contract there's no guarantee he has two years left in the NHL.
We've all seen enough players bought out or sent to the minors to know that the rug can be pulled away quickly.
After fighting through an incredible number of injuries during his career Lupul is paying the price now. He's become a depth player on a rebuilding team, seeing fewer minutes than at any other point as a Maple Leaf, and openly acknowledges his own limitations.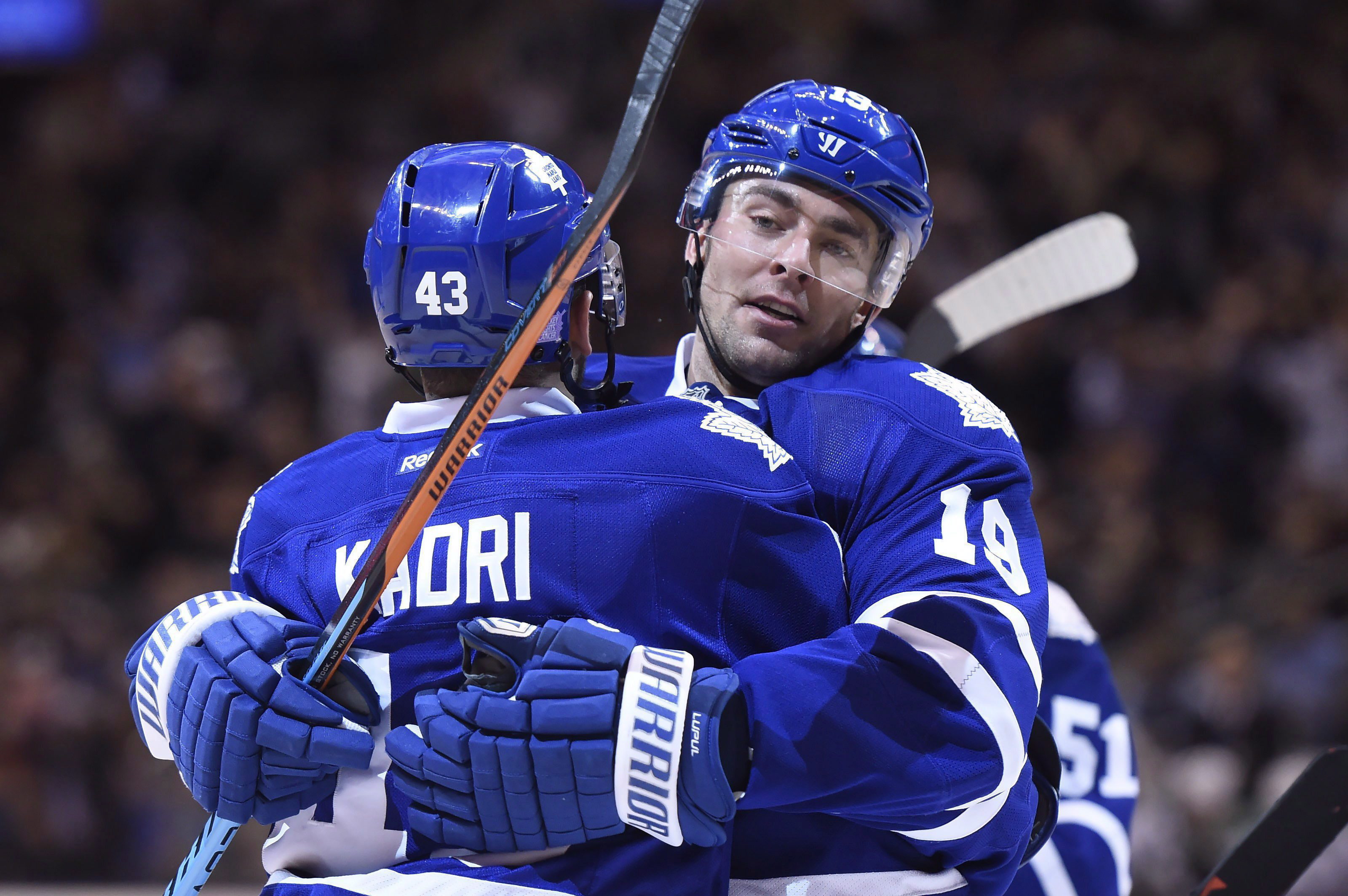 Toronto Maple Leafs' Nazem Kadri, left, congratulates teammate Joffrey Lupul on his second goal against the Dallas Stars during second period NHL hockey action in Toronto, Monday, Nov. 2, 2015. THE CANADIAN PRESS/Frank Gunn
"Some days I feel good and I think that I'm a good player out there, and other days my body maybe won't let me do as much as I'd like," said Lupul. "Those are the days you kind of think about how much time you really have left. … Obviously I have years left in my contract, I want to keep playing – I still love playing – but you never know what's going to happen.
"I'm just trying to enjoy it as much as I can."
Lupul marvels at how many young players are dictating the pace of play in games these days. He's a former seventh overall pick who had a 106-point season in the Western Hockey League, but says it took him a couple years to become an impactful pro.
That learning curve now seems to have been accelerated and many of Lupul's peers have found themselves in early retirement as a result. It's not a trend he saw coming.
"I'm shocked," said Lupul. "Even at the start of the year I was shocked at some of the guys that had to come to training camps with no contracts. I mean the young players now, they're good. They've got a lot of skill and a lot of confidence. When I came into the NHL I didn't have near that confidence. I was just out there and I was playing hard, but I certainly wasn't being a guy like (Detroit Red Wings rookie Dylan) Larkin trying to take the game on his shoulders every night.
"I didn't have that in me."
The change has been so dramatic that Lupul refers to it as a "revolution."
It's not yet clear what plans the Leafs may have for the veteran forward. He carries a $5.25-million annual cap hit and is owed $9 million in salary the next two years, but no longer produces at a level commensurate with that level of compensation.
Lupul has just 11 goals and 14 points on the season, and only two goals to show for his last 19 games.
But he seems fairly at ease with the uncertain future. When asked about a life beyond hockey, he said: "I think I know what it would look like and it would be all right."
"I don't have a family yet or anything," said Lupul, who eventually plans to make Newport Beach, Calif., his permanent home. "Ideally these are things I'm going to do in the next little while. I'll be hanging around the country club quite a bit I'm sure and there's some travelling I'd like to do that I haven't been able to do.
"Obviously hockey's done so much for me, and it's been such a source of joy for me, but it's a seven-days-a-week, full-time (thing). So there's some things certainly on my bucket list that I'd like to get off whenever that time comes – hopefully it's not soon, but you never know."
Lupul found himself in a reflective mood this week after suiting up for his 700th career NHL game. That's an impressive number given what he's been through, particularly the serious back injury and subsequent blood infection that threatened his career seven years ago.
He's fortunate to have a lot of outside interests, which will help ease his transition into retirement whenever that day comes.
"Some guys it's just hockey, hockey, hockey all day," said Lupul. "I've had times like that in my career and it hasn't been enjoyable for me. It's been very stressful. So there's certain things that you have to do, that you have to find outside the game to relax you, for me it's music and travelling and things like that.
"Yeah, I've got some other interests, but nothing I'm as passionate about as hockey."