Now that John Tavares has joined the Leafs, Toronto has an elite group of centres, and everyone is writing about which team comes out the best based on a variety of statistics.
I won't have the positional rankings including data from the 2017-18 season ready until at least the opening of the NHL's training camp, but what I can do is look specifically at offence created by each centre.
Going through each team, there will be some uncertainty in this simple ranking, because rosters aren't finalized, and some rookies will always push their way into those positions so we don't have data on them yet. At the same time, some sparsely used players last season will earn bigger roles in 2018-19, so the data we have on them may not be an accurate representation of what they bring to the table offensively.
With all that said, knowing this is just for fun and not definitive, which team has the three centres that bring the most to the table offensively at 5-on-5?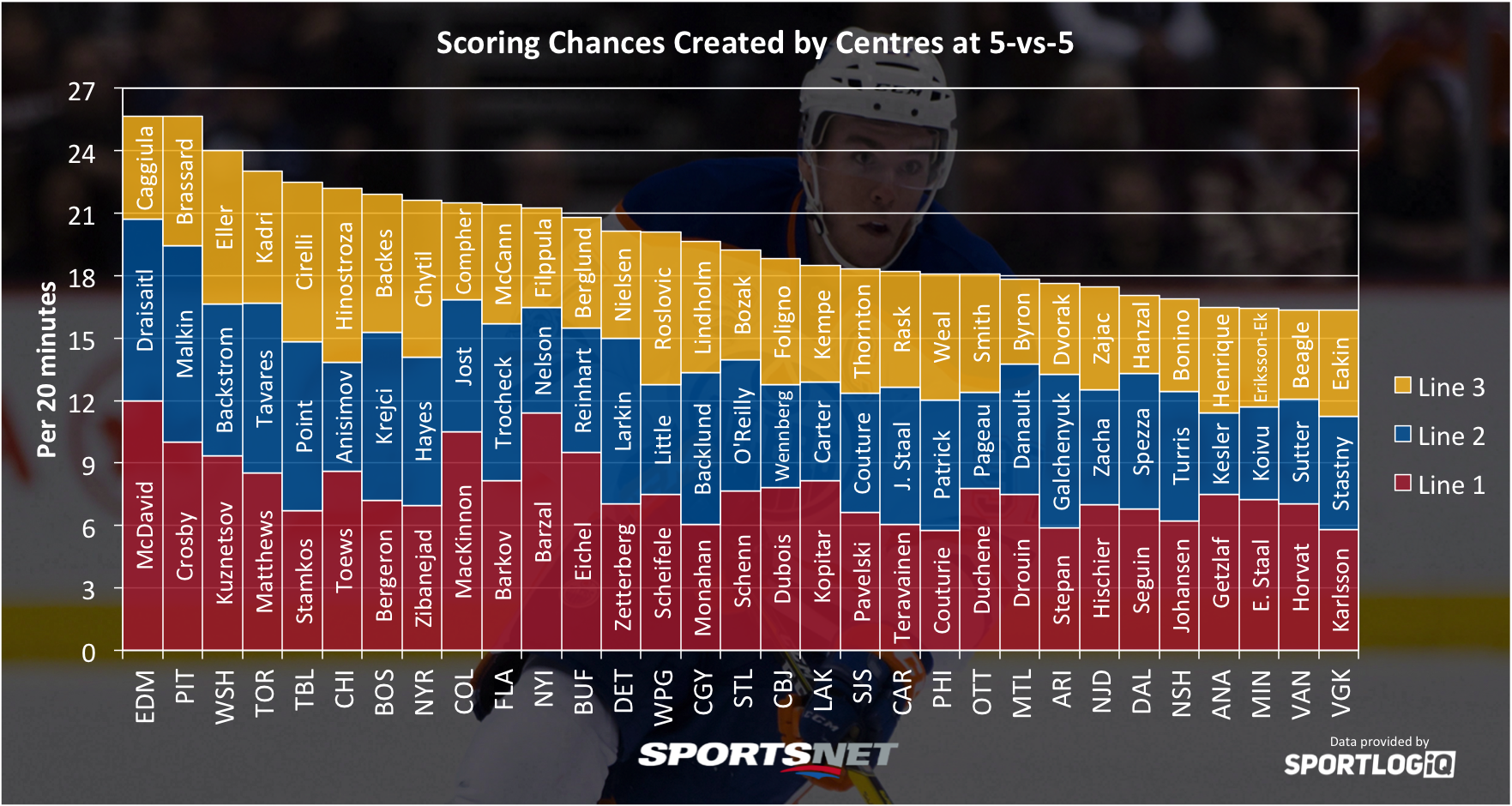 While the Maple Leafs are among the elite, they aren't quite at the top in this measure like they are by a few others, and it makes sense that we'd have some different results here because we're only looking at offence creation.
The Oilers lead the pack by a hair, largely due to the pure offensive dominance of Connor McDavid, while the Penguins are predictably right there with them. The Capitals aren't far behind with three centres who all create more than first-line centre levels of scoring chances, and then we get to Toronto with a very similar situation.
Considering the injuries Auston Matthews dealt with last season, and how players his age improve in their early 20s it's reasonable to expect the Leafs to leapfrog Washington this coming season. Depending on how Matthews and Tavares react to being able to split time against top checkers, with Nazem Kadri now able to face third lines and third pairings, the Leafs could conceivably rocket straight to the top.
[relatedlinks]
There's no doubt that a key ingredient to Lars Eller's offensive success in Washington last year was the ability of Evgeny Kuznetsov and Nicklas Backstrom to draw most, if not all, of the best defensive players opponents had to offer.
One surprise on this chart is the Golden Knights being dead last. After making the Stanley Cup Final, there's some expectation that their players were brilliant offensively last season, but that doesn't seem to be the case, at centre at least.
Even-strength hockey at 5-on-5 is only part of the game though, so the question is how much do things shift if we include all situations? We'll keep the teams in the same order so it becomes apparent how different things look.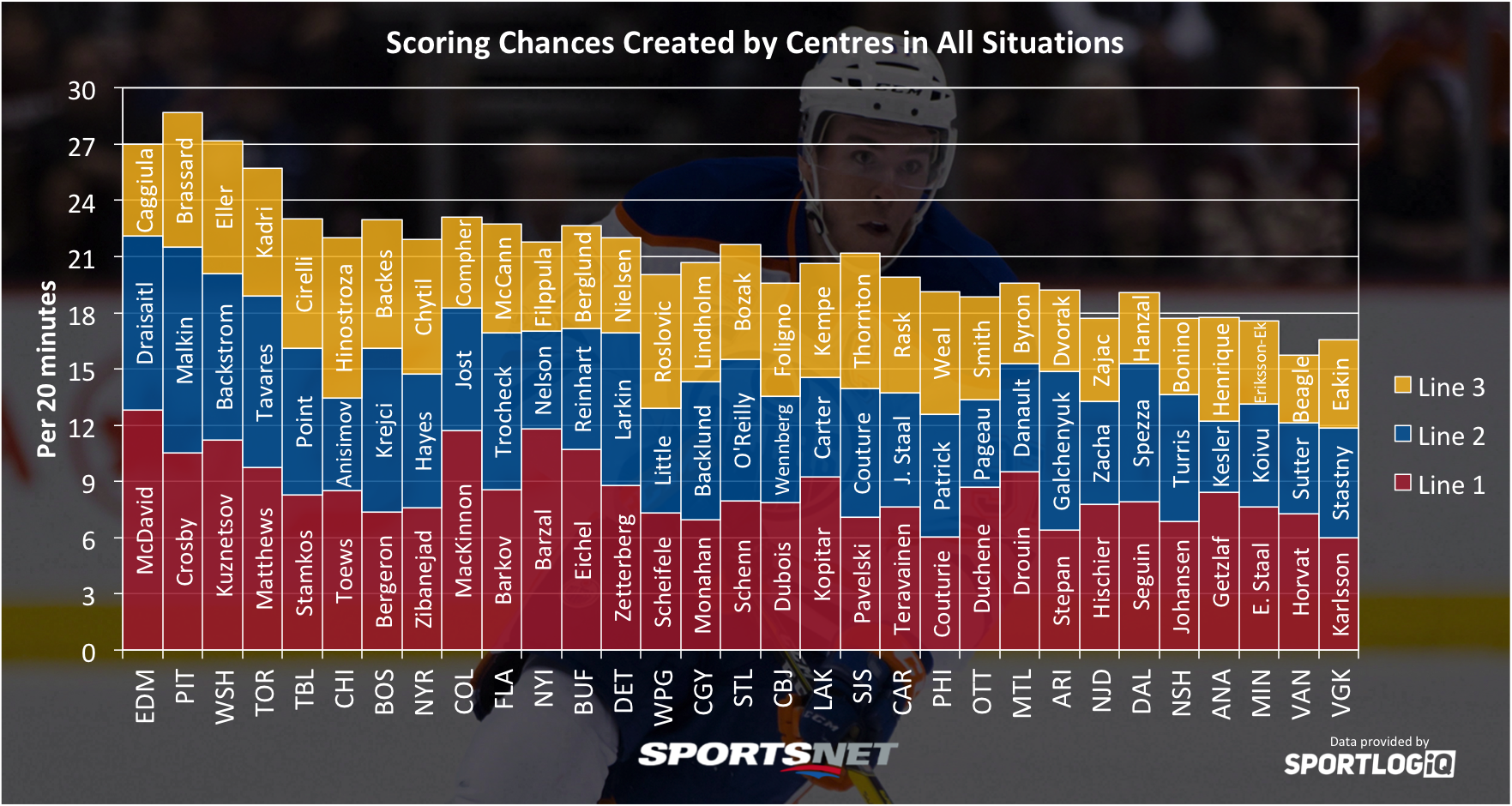 The Penguins jump into first thanks to their power play and depth, and the Capitals do the same to jump into second place. The biggest positive movers were Colorado jumping from ninth to fifth, and San Jose jumping from 21st to 15th, while Chicago was the biggest drop, from fifth down to 11th.
Either way you slice it, the Leafs remain in fourth place, which means they're clearly an elite offensive team through the middle of the ice, a big change from last season, where by this same methodology they would rank 14th at 5-on-5 and ninth in all situations. Vaulting themselves in one move from middle of the pack to the league's elite should end up making the signing of John Tavares the only free-agent signing to rival the Bruins signing Zdeno Chara way back in the summer of 2006.
It's going to be an exciting season in Toronto.