TORONTO — A full decade has passed since the Toronto Maple Leafs grew their own starting goaltender, yet the feeling around Joseph Woll is that, given time and progression, he could very well be the next James Reimer.
Immediately likeable and easy with a smile that belies his fierce determination, the laid-back Woll, like Reimer, was plucked in the middle of the draft from the middle of North America, only a full decade later. Pun-worthy surname included.
"However you can get a special goaltender — whether drafted or traded for — it's a big thing. The Leafs historically have had a lot of great goaltenders, from Johnny Bower. And now you're seeing it with Frederik Andersen, who's becoming one of the best goalies in the NHL," Woll told Sportsnet Tuesday at Toronto's development camp.
"To start for the Maple Leafs, that's my goal. I want to play here, and I want to be a guy who can lead this team to a Stanley Cup."
[relatedlinks]
The Leafs drafted Woll at the top of 2016's third round, 62nd overall, behind four other goaltenders, but Woll says he had a hunch from speaking with Toronto's scouts at the draft that he'd be heading to Ontario.
"Draft Day is the worst and best day of your life. You're sitting there waiting for your name to be called. It's tough, so it was good to have a lot of family there with me. When your name's called, it quickly became the best day of my life," Woll recalls.
"When the Toronto Maple Leafs draft you, it's not a bad thing. It's perfect."
Woll suffered a minor lower-body injury at camp Monday and sat out Tuesday's scrimmage for precautionary reasons.
He's been bonding with the other hopefuls, especially WHL prospect Ian Scott, and working closely with Leafs goaltending gurus Steve Briere and Piero Greco on refining technical aspects of his game.
"But the biggest thing is how to handle yourself. Being around some of the older players and staff shows what it takes. It helps me mature," explains Woll, who knows a fragile mind can undress a netminder even his size.
The pubescent Woll already weighs 203 pounds and measures 6-foot-4: roughly the same height as Andersen and Carey Price, the all-world goaltender whom Woll is trying to model his game after.
Leafs coach Mike Babcock likes his goalies as big as the moments he needs them for.
"Be yourself in high-pressure situations — that's the whole position," says Woll, who leans on a short memory and visualization to succeed.
"Sitting down and meditating before games is big. Really relax. Just breathing."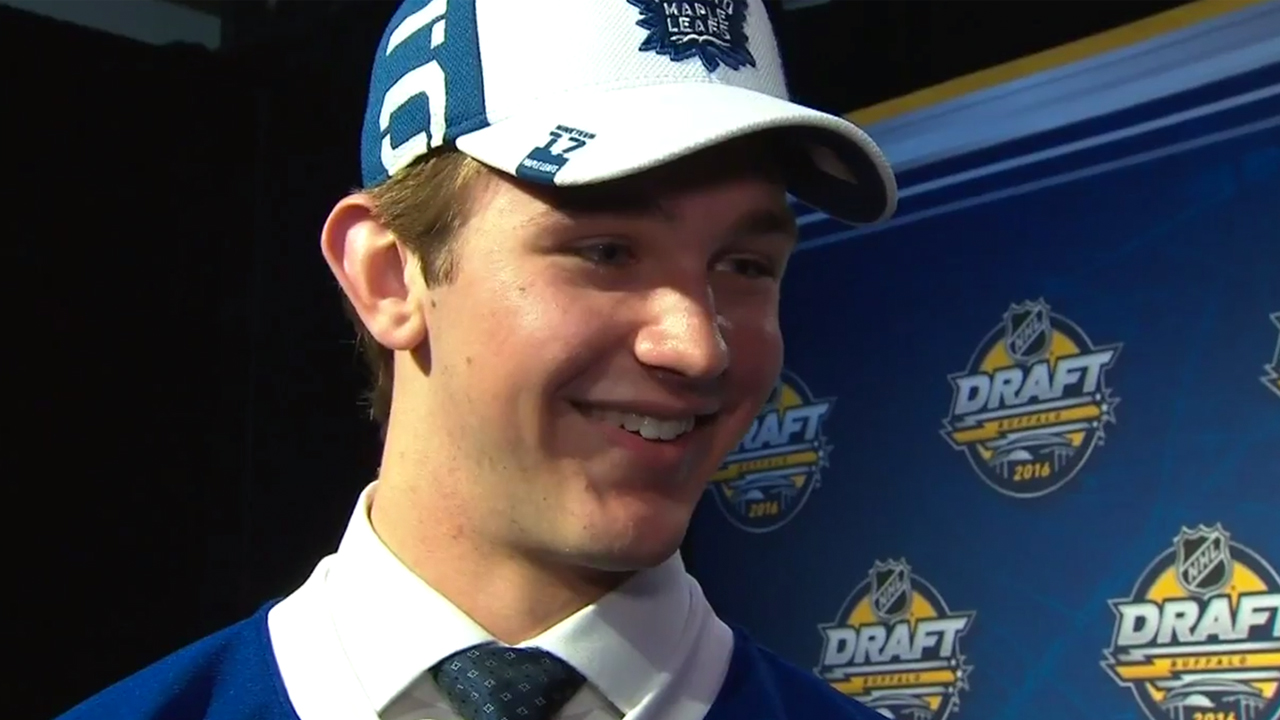 Breathe, Leafs Nation.
We know you're a fan base unaccustomed to seeing homegrown No. 1 netminders come up through the system, and you just watched Antoine Bibeau walk off to San Jose for free this off-season.
Yes, we are hyping up an 18-year-old question mark here, but the chickens remain uncounted. Sure things with teenage hockey players seldom exist and are rarer still when they wear a mask.
"Things don't always work out as you planned," says Woll, who is working toward a business degree with a focus on finance.
"School's important. I want to make sure I get my degree. I'm in no rush. I'm taking it year by year and re-evaluating after each year. The goal for this year is to be one of the best goalies in college hockey. That's what I know I can do."
Still, Leafs management must be pleased with how smoothly Woll has adjusted to a spotlight that threatened to blind him from three directions.
Not only did Woll get selected by Canada's most covered team, he plays for a highly scrutinized NCAA program and made his world junior debut last Christmas, winning a gold medal with Team USA.
As backup to Calgary Flames prospect Tyler Parsons at the tournament, Woll slipped into just two games, but his 1.50 goals-against average and .935 save percentage helped the country to gold — and he'll be battling to earn the U.S. starting gig for this December's title defence.
A product of the ever-growing hockey hotbed of St. Louis — "Ben Bishop went to high school right down the street from me!" — Woll registered a 2.64 goals-against average and .913 save percentage in 34 games as BC's starter, assuming the crease from prized Canucks prospect Thatcher Demko.
For a point of comparison, Demko posted a .919 save percentage in 24 games as a Boston freshman and graduated to AHL Utica after three NCAA seasons.
"The biggest thing is not focusing on the shoes you're filling but making your own story," says Woll. "I try to find the happy medium of playing the technical aspect and the athletic element."
The kid who started off at forward has spotted a few "BRICK WOLL" signs at college games, in sync with the Twitter handle a friend punned up for him as they sat in Woll's car, creating an account. ("Around the locker-room, no one calls me that," he says. "I get Wollsy.") And he's impressed his peers at development camp this week.
"He's just a great goaltender. I've seen him on TV at the World Js," says 17-year-old camp invite Jake Tortora, thrilled to join Woll at Boston in the fall. "He's just a great guy with great on-the-ice skill."
The Price aspirations, the Cup parade, another gold medal… it's all heady stuff. But even at 18 — still Kool-Aid-drinking age in his draft country — Woll has a solid head on his shoulders.
The dreams are grand, but the focus, smartly, is fixated on the steps to grab them.
"I have no time frame," says Woll of when he'll become a Maple Leaf.
"You have to dominate each level before you move up."