TORONTO – Bright, shiny things await Josh Ho-Sang.
After wrapping up Day 1 at BioSteel Camp, rushing up and down the St. Michael's College ice pad alongside friend Connor McDavid, the New York Islanders' super rookie is off to take in the solar eclipse with his mom.
"She's really excited about it," says the creative right winger, smiling. "I can't let her down."
Since Ho-Sang's well-chronicled training camp late-show in 2015, you'd be hard-pressed to find someone No. 66 has let down. (And, yes, haters, Mario Lemieux approves of Ho-Sang's sweater number.)
As an AHL call-up in 2016-17, the 2014 first-rounder wasted no time making an impact at the NHL level, collecting 10 points in a 21-game look and positioning himself as the type of offensive threat who could earn Calder consideration this season—especially if defenders are preoccupied with the new guy, Jordan Eberle, ahead of Ho-Sang on the Islanders' depth chart.
Luke Fox on the Islanders signing Tavares (or not)
August 21 2017
Today, as always, Ho-Sang wears his passion for hockey on the sleeve of his red New York Giants windbreaker, but he doesn't shy away from topics away from the ice.
His answer to the ambiguity surrounding Isles captain John Tavares' future in New York, for example, is wiser and more worldly than you might expect from a 21-year-old jock.
"If you care about John Tavares as a person, then it doesn't really matter where he ends up. It's about his personal happiness and well-being," says Ho-Sang, noting Tavares' public preference to remain an Islander long term. "Whatever decision he makes is for John, and you have to be happy for him."
Monday we caught up with Ho-Sang for a quick chat about Tavares, the AHL-NHL talent gap, his definition of greatness, and how he'd style his mask were he to play goal.
SPORTSNET.CA: How's your summer going?
JOSH HO-SANG: It's been great. Just hanging out, training every day, so it's been lots of fun.
Training aside, what's the most fun you've had?
I've done lots of fun stuff. I went to the zoo. I went to museums. I went camping. I went to New York a couple times. It was a pretty slow summer, mostly training and stuff. I have a big year next year.
The best zoo animal is…?
I think the orangutans. They're cool beans. I went to the Toronto Zoo and the zoo in New York.
Describe the biggest difference between the AHL and the NHL.
Planes and buses.
That's it?
That's it. Obviously people see a big contrast between the AHL and NHL. There is one, but all the guys in the AHL are really, really good. A lot of those guys can play in the NHL. I played against some really good hockey players there. That league attributed to me being able to come into the NHL and being able to produce OK. It helped me hit the ground running up there.
For the first time in three years, there is no generational player in the NHL rookie class. The 2018 Calder Trophy race is seemingly wide open. Is it a goal of yours to be in that conversation?
Yes and no. As an athlete, I believe that individual trophies are nice, but if you're the best player in the world, your team is winning all the time. If that's what your striving for, your team is more of a reflection of you. I see it a lot in basketball lately. People want to talk about who the best basketball player is. If you say it's LeBron James, well, Steph Curry and Kevin Durant won it this year. I'd say those guys are the best. It's tough in sports to grade what makes a guy exceptional. I think it's your ability to make the players around you better and help your team go for a run. If your team hasn't made the playoffs and you change that — like Connor — that's greatness. His team hadn't made the playoffs in [10] years and he goes to the team. His first full season, they make the playoffs. That, in my eyes, is greatness. That's what I'm chasing. I want to win as many Stanley Cups as I can. That's my focus. If individual trophies come along, it's nice. But if I can be a winner my whole career, it's a better life to live.
Your Twitter feed is a stream of inspirational messages. What's the motivation behind that?
I stopped for a bit because there was a bit of cyber bullying going on my social media.
How so? You got harsh responses to your tweets from fans?
Yeah, just stupid stuff I didn't want to deal with. I see everything people say on Instagram, their comments. It's gotten more positive than it was, but when I got sent back from camp, people were really negative. I'm not a fan of negativity in my life. I stopped tweeting for a bit.
It's nice because people have sort of forgiven me for that and I can pass my messages. As far as the inspiration, I believe as an athlete you have a voice. Whether it's 100 people or 2,000 people seeing my tweets, every person that reads them takes that information in and they can use that in their own life. You're gently touching each life that you come across. As an athlete, that's your duty. You have the ability to voice your opinion and spread a message to, say, 10,000 people in one day. The average person can only talk to, like, four people a day. You have to take advantage of that, and it's something you're starting to see athletes do. For me, it's important for kids. I had a lot of people tell me I couldn't do stuff when I was younger. It's important for little kids to know that as much as it's important to follow the rules, it's important to break through them too. [smiles]
John Tavares says he's in "no rush" to sign a contract. As a teammate, how does that make you feel?
I respect what John is doing. He has every right to take his time. He still has a year on his contract. He's not going anywhere. He's not disrespecting anyone. He's taking the length of his contract, and I don't see a problem with that. I know for fans it's unsettling because there's no security. If Johnny's gonna stay, he'll stay and be great. If Johnny wants to leave, that's up to him, and I'm sure he has very good reasons as to why. As an outsider, as a fan, you want to feel attached to the decision, but at the end of the day, if you're attached to John Tavares the person, whatever he does is for him. You have to be happy for him. I'm really happy to hopefully play a full season with Johnny and learn as much as I can because I don't know what's going to happen with him.
What's the biggest thing you learned about Tavares the person?
He gets it. That's how I explain John. He does the right thing every day and knows why he's doing it. He doesn't question it. John is sick. He's a good dude to be around because he's so focused.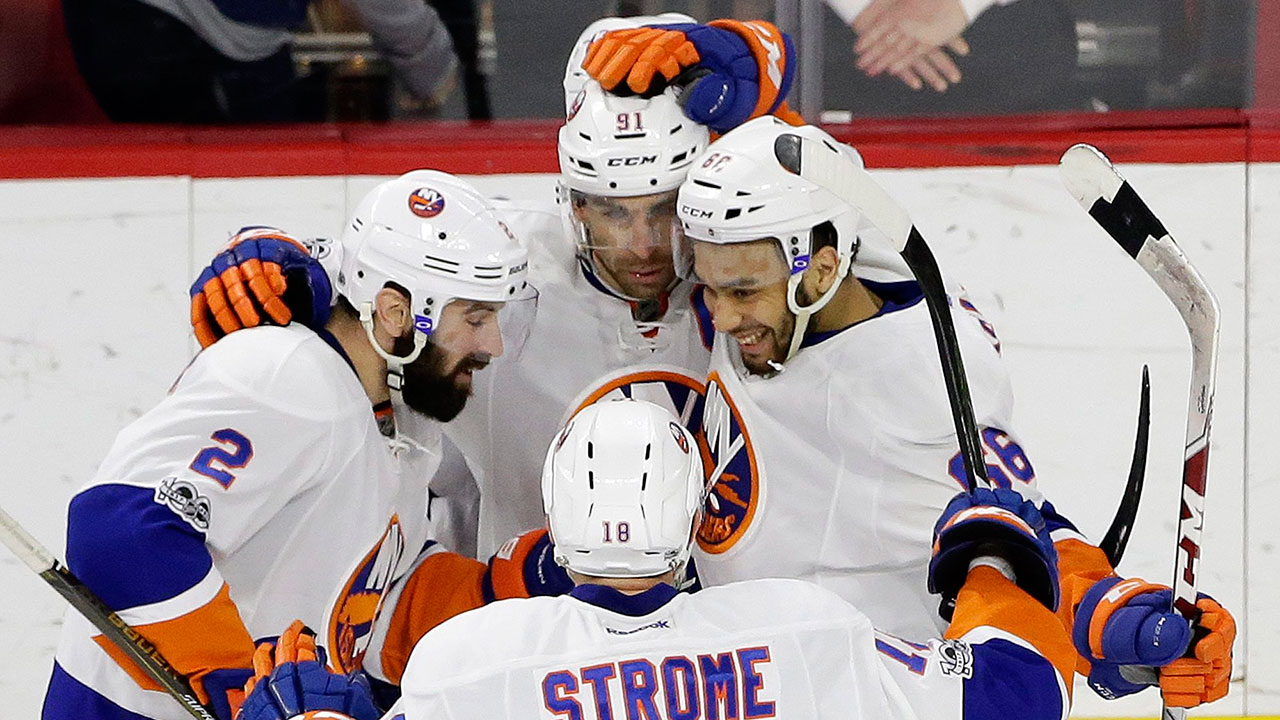 Does hockey need more scoring?
Make the nets bigger. It's not rocket science. They can literally make the nets wider and not make them [deeper]. It's the same game. If you want more goals, that's what I'd do. The goalies are really good. That's reality. The technology side has to give because athletes are just going to keep getting better. There are goalies who aren't in the NHL that are outrageously good.
If you were a goalie, what would you put on your mask?
There's some funny stuff out there. The goalies' freedom of expression is cool. I'd put a bunch of cartoon characters.
You watch a lot of cartoons?
Yeah, they're so funny.
Like what?
I love old cartoons, new cartoons. I used to love Johnny Bravo, Ren & Stimpy. I love Family Guy, Futurama, American Dad. I love kids' cartoons, too: SpongeBob, Johnny Test, Danny Phantom… I watch all those shows. Life of a hockey player.
Is that how you kill time travelling, watching cartoons on your tablet?
When I have to. When I travel. I read a lot, too.
What do you read?
All kinds of stuff. Depends on my mood. Sometimes I'm in the mood to learn. Sometimes I'm not at all, so I'll read stories. I like facts a lot. Weird facts are cool.
Biographies, then?
It depends on the person. I have to be interested. I can't read up on a subject I don't care about. I need to like it.
Give me an example.
This past year I read Malcolm X's biography. That was really good. I read 1,000 Facts on World Geography. It goes into detail about the different mountains and glaciers and all that stuff. Cool stuff.
What was the Islanders' message to you this summer ahead of what should be your first full NHL season?
Get good.
That's it?
It's simple. They want me to come in and be the best. It's not much more complicated than that. They want me to be a top player in the league, and that's what I want. So it's easy.
[relatedlinks]