"Enough with the bulls***. It's time to grow up." —Garth Snow, on Josh Ho-Sang, Sept. 15, 2015
TORONTO — Josh Ho-Sang was late for the first day of New York Islanders training camp last fall and was told not to bother coming at all. General manager Garth Snow, who drafted the gifted prospect 28th overall in 2014, kicked him back to the OHL's Niagara IceDogs.
Since then, not a day has gone by that the right wing with an eye-popping dangle for every disapproving word said about him hasn't thought about his mistake.
Today, the 20-year-old Ho-Sang says the snap demotion was the best thing that could have happened to him.
He woke up.
Trainer Matt Nichol, who runs BioSteel Camp, has been working with the prospect this summer at St. Mike's College Arena in Toronto. He's noticed a significant change in Ho-Sang's attitude heading into 2016-17.
"I'm sure all the people who sit at home and criticize other people, if they were reflective and they thought about themselves as young guys, everybody would like a do-over on a few things. I'm no exception to that," Nichol says. "Josh has been exceptional this summer. He's never been less than 10 minutes early for a workout. He works hard. He stays late. He does extra—everything asked of him and more. He's shown a keen and honest desire to be the best he can be."
Joining Nichol in Ho-Sang's corner are NHL superstars Tyler Seguin and Connor McDavid. No one wants to see such talent go to waste.
During a lengthy rinkside conversation with us this week, Ho-Sang spoke about those friendships, a wake-up call that rang all year long, and how his love of hockey is different than yours. Oh, and outer space. We talked about space, too.
SPORTSNET.CA: This is your third year at BioSteel Camp. Why do you keep coming back?
JOSH HO-SANG: You see the calibre of players here: Connor McDavid, Tyler Seguin, Michael Del Zotto, Mike Cammalleri, Joel Ward. You saw him in the playoffs last year—the guy was on fire. All those guys keep coming back, so why shouldn't I? It's nice to be around them; the competition's fun. I've been around a lot of the younger guys since I was, like, 10. Max [Domi] and Jordan [Subban]. Being able to see them. Connor and I used to be really good friends, and this is the only time I see him all year. It's nice to see him. I talk to him a lot about the NHL season he had last year and things I can take from it. I feel comfortable asking him questions. I found that when we played together, we do a lot of things similar. He thinks the game the way I do, but faster obviously. What he's learned can be beneficial to me. I want to be as good as him or better.
Does he know that?
I'm sure he does. But it's not just Connor. Tyler Seguin—I talk to him, ask him questions. It comes from a place of wanting to learn, to take what they know and become more effective. I'm picking apart the mind of one of the best goal scorers in the world.
Is this on-ice or off-ice knowledge you're seeking?
It's all on the ice. There's a lot of off-ice stuff I'll have to learn on my own. I'll ask Tyler how he scores so much. You see some of the goals he scores, they're unorthodox. Like, Tyler will score from the goal line or the bottom of the circle, or he'll rip a one-timer from a weird angle. He has the confidence to shoot from there because that's something he practices.
For Connor, take the end-to-end goal he scored last year. It's a beauty, but I don't just see the speed. I see all the little things that he's thinking about as he goes up the ice. It's not easy to go end to end, and it's not easy to beat three guys. He saw something in that play. He'll have three or four dashes a game where he goes through a bunch of guys. I ask what he's thinking about while he's doing it.
What does he see?
I'm not going to give away the man's secrets.
But he's happy to share the secrets with you.
I really appreciate it. Connor is really nice. Anybody who gets a chance to talk to him can see he's an exceptional young man. I've known Connor since he was about 13. Seeing him develop into the person he is now, it's great. I have no fear asking him for help. I don't care that he's younger than me. He's done things I've never done. I've never gone No. 1 overall. I've never averaged two points a game in the NHL.
Not yet.
I'm not there yet. I've been here pretty much the whole summer, and Tyler has been like a big brother to me. He picks on me: 'Josh, pass the puck harder. Josh, why aren't you shooting?' We'll be doing exercises and he'll pull my shoulders back—'Make it harder!'— and it makes it 100 times harder. Little stuff like that, money can't buy. I see Tyler getting flak from other people.
And you've gotten flak.
Yeah, but to me he's been the nicest guy. He's definitely made me better. Anything I go on to do this year, I can 100 per cent attribute to Tyler and the way he's treated me since I've been here. Even when everything happened last year, he said, "What are you thinking?"
He called you or texted you?
We have the same agent. He didn't want to come at me, but he passed messages through my agent, and my agent would show me the texts. He's really treated me special. It seems like he tries to help everyone around him. Seeing that side of Tyler, it makes me laugh. It reminds me: People don't know what's really going on. People don't really know how someone is. And it's every day. He says hi. He corrects me on stuff I'm doing wrong. If he's making fun of me or egging me on to be better, I like it.
I come to camp for the way Matt Nichol treats me. He's a kind heart. I've known Matty for my entire life. This is the first summer I've worked out with Matty in a couple years, and he took me back with open arms. You want to give back to all the people who've been around through all the stupid stuff.
The stupid stuff: I read that you think about the sleep-in every day. Is that still true?
I never cared too much about the concept of time, but that had nothing to do with why I was late for camp. [In 2014] I wasn't late to a single thing. My second year… it was a shitty situation. There's no reason to talk about it. In junior, I'm not afraid to admit it: I had issues. 5:30 meeting? I might show up at 5:31. Report to the rink at 5 o'clock? I might get there at 5:05.
Did they care?
Yeah, they did. It was, like, once in a while. It happened maybe four or five times a year.
And other players were probably late occasionally, too.
Yeah, but it gets tedious. In junior I was the example. In New York I was the example. Last fall I felt l started a bad trend. [Alex] Ovechkin was late two weeks later. [Jonathan] Drouin was late three weeks later. Oh, God. I'm sorry, guys. I really felt like I cracked the top off that one.
And every time someone was late, I'd get a text message: "Too bad you're not Ovechkin!" "Too bad you're not Drouin!" It's tough, right? But getting sent back was the best thing that could've happened to me.
"I'm like the girlfriend who cheated on them. I've got to earn their trust back. Like, 'I promise. I won't do it again.' " — Josh Ho-Sang
Why? Because you could develop in junior further, or the Islanders' message shook you up?
All of it. One thing people often mistake in life is when they get sent back to do something they're not keen on, they stop learning because they think they're past it. I really came back to learn: I'm not in the NHL this year. I want to be in the NHL next year. I have to get better where I am right now. How do I do that? So I'd stay at the rink longer. I'd stretch more. I created a routine. I talked to more people. Before I was introverted about my game: I play this way. I wouldn't ask anyone why I had a bad game. I'd just go home pissed and wouldn't do shit. Going back to junior, I became more open about that stuff. Some of my really bad habits, which I'm not going to talk about, I stopped all of them.
You're talking about bad habits away from the rink.
Yeah. I know if I played in the NHL last year I wouldn't have changed those things. Those would've stuck with me for life. I would've been an NHL player who did that stuff. Now, I listen to my body every day and do something. I stretch. Before, if I felt like shit, I felt like shit. That change is attributed to being sent back. It sucked at the time. The reason I think about it every day is, every time I get up, I'm like, f***. Because if I'm late, then people are saying, "Josh is late." I don't care about being late in the grand scheme of things, like for a family event or meeting friends. I'm five minutes late—suck it up, bro. [laughs] But for this [hockey] stuff… like, I was the first one here today. Before 7 o'clock.
I heard another player was late today.
Yeah, he's stealing plays out of my book. I'm asking him questions, and he's asking me the wrong ones. [laughs]
Your assist totals skyrocketed to 63 in 66 games, and another 20 in 17 playoff games. Was that a focus of yours?
It sounds weird, but I wasn't too focused on scoring last year in junior. In the playoffs I cared about scoring. I scored, like, 10 goals, which is a lot compared to the season [19 in 66 games]. If I'd put those numbers up in the season, I probably would've scored 40 goals. I love hockey. It's fun. That's the struggle. Sometimes I have too much fun playing hockey, and it's not the way they want to see me play.
In the shootout you dream up some ridiculous moves, and creativity is part of the game too.
It's part of the game for fans but not for coaches. If I beat four guys and it looks amazing, I'm really happy about it, trust me. Inside I'm like: Oh! I just did that. That's so cool! If I lose the puck to the fifth guy, yeah, I'm pissed about it, but I guarantee you I'm not as pissed as my coaches. That's the problem. This year it was boring. I was changing my game into the game I need to play. I know I can play the other way. So it was kinda fun figuring it out. During the playoffs I was doing more skill stuff, the game I like. But during the season I was driving the net. I hate that, but I started doing it more. Standing in front of the net when the D has the puck. Hate it. Backchecking.
Why do you hate that stuff?
It's not fun! But I finally got to the point where I decided this is what I want to do with my life. I had to switch my game up, and that's what I've done. And I'll keep doing that. If I lead the NHL in scoring one day, I'll change my game the next year. The moment you stop getting better, you start getting worse. That's a quote I've heard many times. Mike Cammalleri is a very powerful voice in the gym. He talks about that all the time.
The Islanders let some older forwards walk this off-season. Does this give you a greater opportunity to make it? What's been the message from management?
I don't know. Right now I'm like the girlfriend who cheated on them. I've got to earn their trust back. Like, "I promise. I won't do it again." [laughs] I feel I have to do that every day. Keep getting better. Keep showing them what I'm willing to do. There's no day off. There's not a practice I leave early. There's not an optional skate I don't skate at. It's optional, but not for me.
You're walking into camp feeling like you already have two strikes.
Oh, yeah. I'm at the plate with a full count, and that's OK. I don't mind that. I put myself in this situation. It has nothing to do with them. I would feel the same way if I was in their shoes. I'm sure there's a lot of guys that would love to put me on the team but they're thinking, "Is he gonna backcheck? Is he gonna show up on time?" Those are the questions you don't want attached to your name, so it's about cleaning that up. Every other player has a little more space than me, but they'll all go through the same thing. I'm under the microscope.
So it's good this happened early.
For all I know, I could've played in the NHL last year and four years from now no team would want to touch me because of all the stupid shit I did in my first year. That happens. I don't want to speak on anyone's stories, but you look at a guy like Evander Kane who's bounced around and struggled to stay in one spot. He deals with a lot of problems; a lot of people talk shit about him. I don't know if that's rightfully so. I have no idea. I wish him the best. But I don't want that.
Do you know him?
No, I don't. Even a guy like P.K. [Subban]. He took a lot of shit in Montreal about how he was in the locker room and on the ice, but I don't know [if it was warranted]. I don't want that. It's about staying away from that stuff.
Getting sent back, I got to go to the [OHL] finals with my friends. I know what it takes to win now. In my head, winning was just having the best team. I played on the Marlies when I was 15. It was me, Connor, Sam Bennett and Roland McKeown and three other first-rounders in the OHL draft. We won because we were better than everyone. This year we won because we loved each other. Now I know what it's like to be part of a team as opposed to being The Guy, being the leading scorer. It wasn't about that in the playoffs. I didn't care; I don't care.
If I go into New York next year and I put up four points and we go to the third round of the playoffs, I'll feel like I contributed. I helped make that team better, no matter what line I'm on. That's the way every player should feel. First line or fourth line—you're doing something to get your team farther. I understand that now more than ever.
When I was younger, I always wanted to score. Who doesn't? I wanted to put up points and be The Man. If that comes, great, but I don't care about it.
So you're fully confident you'll make the team this fall?
I believe I have the ability to make the team. I have to play well, and it's not easy, man. My version of playing well and their version of playing well could be two different sides of the spectrum. I've got to understand what the coaches want from me, what they expect. I'm going to push myself to play my game and do everything they said. Figure out my strengths and weaknesses and evolve from there. I skate with these guys all the time, fully aware they're stronger than me. So I've got to be smarter.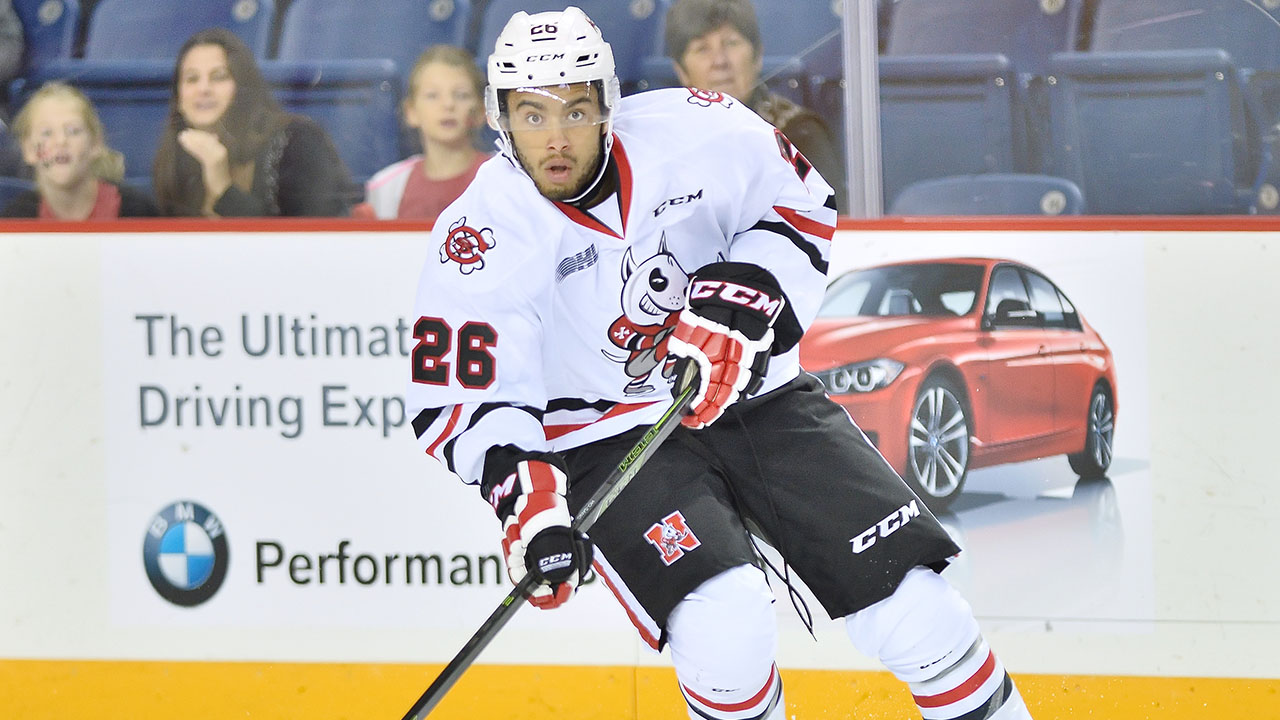 After they sent you away, did the Islanders stay in contact with you during the season?
They didn't talk to me all year, not until playoffs. They watched me play all year; they just wouldn't tell me. They told my coach not to tell me. Shady, shady business. [laughs]
Why would they not tell you?
Honestly, I don't want to speculate. It's good. I went to rookie camp [in late June] and led rookie camp in points. I've done that the past three years, and that's all the prospects. If I have to play in the AHL this year, I'll come back the next year and do it again. That's fine. Play better—that's all I can do. If they want me to play in the AHL to work on my game, OK. What am I going to do? I'm not going to whine and complain. Just get better.
Until it's undeniable.
Until it's undeniable. If I get in at the beginning of the year, and I play unreal, I'll be the happiest kid in the world. Nothing more, nothing less. I looooove hockey. I love to play for the big crowds. Gets me so fired up. I probably love it more than most, and for different reasons.
What does that mean?
Certain guys play hockey just because it's their life. I don't play hockey because it's my life. I play hockey because it's fun.
"My version of playing well and their version of playing well could be two different sides of the spectrum." — Josh Ho-Sang
What would you do if you weren't playing?
Probably be an astronaut. I want to go to space real bad. Like, real bad.
Have you investigated that?
If I play in the NHL, I'll have enough money to go to space. Reach for the stars, literally.
Where would you go? The moon?
Wherever we can go by the time I'm ready to go into space. If there's a space tour, that'd be unreal. Go to Mars, check out the moon. It'd be interesting, too, because I'm kinda claustrophobic, but I'll get over it. I'll do it. I'll probably go insane. I read a lot of space books. I read The Martian before the movie came out because I was so excited to see the movie and couldn't wait. I like space. Space is cool.
What else?
I'd probably travel, too. But I can't do that if I don't play hockey. I like hockey. I like helping people, too. The way I'm saying it, it might come across like hockey's a hobby. But you know how there's people who do yoga, people who drink alcohol? Hockey's my yoga. Hockey's my alcohol. I love it. I need it. It's my fix, my clarity. When I'm on the ice, I don't think about anything. It doesn't matter what's going on in my life: I play hockey, and everything's great. I'm happy. I could be on the bench thinking about anything else, but the moment my foot hits the ice I'm a shark. Like when a shark smells blood—that clarity and excitement.
And you're getting better.
Getting better is something to do. A lot of people say they don't have time or they're bored. Do something with your life. If I'm bored, I shoot pucks. I'll do it in my driveway. Stickhandle. I used to sit at home and play video games. I'm really good at FIFA, Division 1. Put that in there, too. Any other questions?