TORONTO — Justin Schultz wasn't trying to be an NHLer.
It was always a vague possibility, sure. In the same way the big leagues sit as a hazy, far-off destination for any Canadian kid who grows up with skates and a stick, and knows how to make a bit of magic with them. But in the beginning, Schultz's thoughts weren't drifting often to the bright lights of the professional circuit, or even the NCAA.
His heart was much closer to home.
"I was just trying to make the Westside Warriors," the Pittsburgh Penguins blueliner told Sportsnet recently. "I wasn't thinking at all about scholarships. In the back of my mind, obviously, my dream was playing in the NHL. But I was just trying to make the Westside Warriors."
As Schultz has now twice lifted the sport's ultimate prize, it should come as no surprise that he did in fact crack the lineup of the BCHL's Warriors (known as the West Kelowna Warriors since 2012), the junior-A club based out of his hometown of West Kelowna, B.C., where Rogers Hometown Hockey arrives this weekend.
And despite the 566 total games that he's subsequently suited up for over the course of his career — split between stints in the NCAA, AHL and NHL — the 28-year-old still remembers his first game in Warriors colours.
"I was playing minor hockey still for Westside, in midget double-A I think, and I got called up later on in the season," Schultz said. "I was really nervous, and I got a chance late in the game. I think we were on a power play, we were down by one goal. And the coach — he says he had a feeling.
"He put me out there and I ended up scoring, sent it to overtime, and we won."
[snippet id=3653171]
From there, the number of eyeballs on the skinny, smooth-skating defenceman grew at an unexpected rate.
"I started getting interest from college teams and was on the Central Scouting rankings for the NHL Draft. I had no, no idea that was going to happen," said Schultz, who fell in love with the University of Wisconsin and soon committed to the NCAA club. It was there that the talented rearguard rounded out the edges of his promising skill-set.
"I was around a great coach, Mike Eaves, who just taught me so much about the game. Great players — my first year I was with Ryan McDonagh, Brendan Smith, Derek Stepan. We had all these guys that are still playing now, and it just helped me to grow and become a better player."
Though Schultz may have been caught off guard by all the early interest, coach Eaves wasn't. In fact, it took the Wisconsin bench boss only a few minutes to understand the full weight of his incoming blueliner's potential.
"I remember the first time I saw Justin play," Eaves told Sportsnet Wednesday. "Our assistant coach, Mark Osiecki, had seen him play and Justin committed to us, so I went out to see him myself in West Kelowna. I watched three shifts and I remember thinking, 'Oh boy, we got somebody special here.'
"Right away, you could see his skating ability, his skills with the puck, his ability to see the ice. That's stuff you don't teach."
And yet, Schultz's surprise at tumbling into a bona fide professional hockey career persisted as the 2008 NHL Draft crept up. The day came in late June, and West Kelowna's favourite son saw his name pop up on his brother's laptop screen during the second round.
"I got drafted by Anaheim. [It was] crazy. Wild. I can't even explain it," Schultz said. The defender was tabbed 43rd overall by the Ducks, 26 picks after Anaheim also selected his soon-to-be Wisconsin teammate Jake Gardiner. "I remember sitting in my basement at my parents' house…. We were all on computers, like three computers. My brother saw it first, actually — he was like, 'You got drafted!' Yellin' at us, and we're just like, 'Holy crap!' Brian Burke called me right after."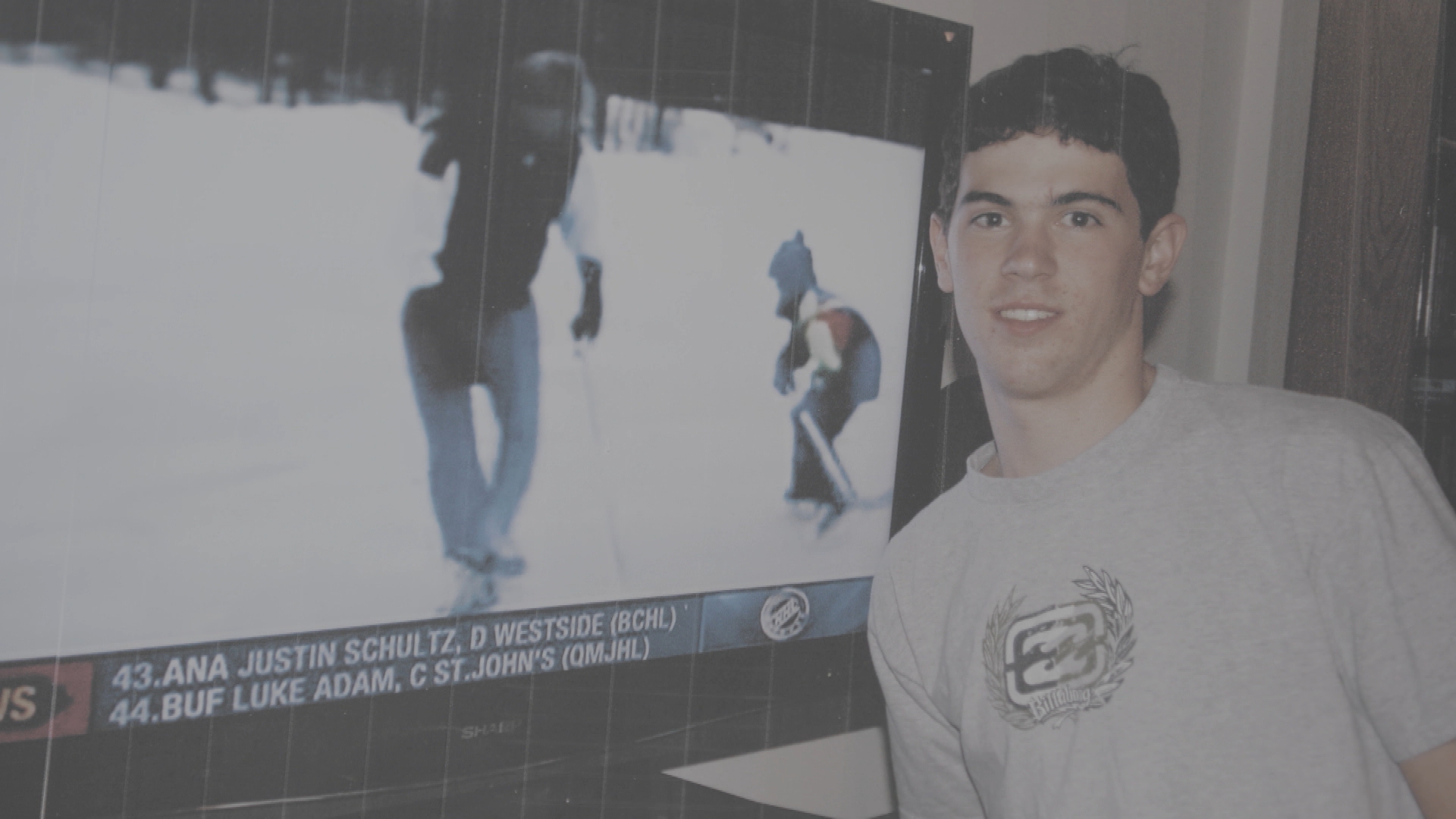 That turned out to be the least crazy or wild segment of Schultz's big-league run, of course.
A few dominant college years and one CBA loophole later, Schultz had swapped his Wisconsin red for Oilers blue, kicking off a tumultuous three-and-a-half-year run in Edmonton. Then came the 2015–16 campaign, which he started as an Oiler and finished as a Stanley Cup–champion Penguin after a career-altering trade. The next season finished much the same.
"It obviously didn't work out for me [in Edmonton], but I wouldn't change what I did," Schultz said. "Obviously everything works out for a reason. I have two Cups now, so that's pretty good," he added with a chuckle.
It's easy to look back and gloss over the chaotic uncertainty of Schultz's early years now that he's found stability in black and gold. Currently working through an ugly leg injury that's robbed him of all but four games this season, he'll eventually return as a crucially important piece to a squad with little controversy.
Winning — back-to-back, no less — seems to position all these trials as bricks in an inevitable path winding towards success, even if it's seemed quite the opposite at particular twists and turns.
But for the seven-year pro's parents, Kim and Glenn, there was never a singular goal in mind. It was all about relishing the journey.
[sidebar]
"A lot of parents put a lot of emphasis on certain milestones that they feel their kids have to make to go further, like the bantam draft, the U16 [teams], a couple other things," Kim Schultz told Sportsnet during the off-season.
"Justin never did any of that — he wasn't drafted in the bantam draft. You just have to go with the flow.
"I mean, some people thought we should move so he was playing in a triple-A association, and we were like, 'No, we're not uprooting our family. If it's meant to be, it'll be.'"
The thought of their son making it all the way to the big leagues might not have been top of mind for the Schultzes in those early days, but the question of whether or not Justin would pour absolutely everything he had into his hockey career was less up in the air.
"He just lived and breathed hockey," Kim said of her son's love of the game as a child. "When he was little, he would go and watch [Kelowna] Spartans games — the junior team here — and he was the only kid that sat there and actually watched the game. He wasn't running around like all the kids. He would go to any hockey game — he didn't care. He was just mesmerized."
As his parents tell it, Schultz was the type of kid who spent more time at the local rink than at home. The type of kid who sought out then-Kelowna Rockets captain (and future Montreal Canadien) Josh Gorges for an autograph during the 2004 Memorial Cup, when the hometown boys captured the title.
The type of kid who was just trying to make the Westside Warriors.
And then, suddenly, on Jan. 20, 2013, he was an NHLer — his first game coming just a few hours from West Kelowna in Vancouver. And just like that Warriors debut, his inaugural tilt ended in an extra-time win.
If it's meant to be, it'll be.
"Just to see him out there with the Sedins and all the other players on Vancouver, it was pretty surreal," Glenn Schultz said of his son's transition to the sport's highest level.
Likely not nearly as surreal as the scene that played out three years later, though, when Glenn's son found himself staring down a 60-minute trek towards Stanley Cup history.
"We went to Pittsburgh first and watched the Game 5," Glenn recalled of the culmination of the Penguins' 2016 Final against the Sharks. "They lost there, and I was the one that said, 'Let's go home. I can't be here, I'm too nervous. We're gonna be bad luck.' The next morning, I said, 'Okay I'll go.' So we flew to San Jose.
"We were up in the upper bleachers there when they won…. It was so close a game there, too, and then when [Patric] Hornqvist got the empty-netter, I was just shaking. Tears running down. It was pretty exciting."
Long after all the post-game celebration had finished up, Schultz got his coveted day with the Cup back in West Kelowna — the first of two trips back home with the silver companion — granting him the chance to pay homage to his wild journey. He set up shop at his hometown rink, Royal LePage Place.
"I got to take it to the rink I grew up in — it was a crazy day," Schultz said. "It meant a lot to me to be able to do that — I remember telling my mom right away. She was like, 'What do you want to do with it when you get it?' I'm like, 'Well, I know one thing for sure.
"'I'm going to take it back to Westside.'"
[relatedlinks]