In professional sports, offensive stars tend to be rewarded for an ability to draw fouls. Basketball stars get credit for taking free-throws and are valued based on the regularity with which they get to the charity stripe. In fact, a star isn't truly considered a star in the NBA until he "gets the calls" from referees around the league. In the NFL, quarterbacks will earn praise for intentionally drawing defenses offside, while Receivers that can draw interference calls are looked upon kindly. In soccer, the game's biggest stars will tend to draw far more free kicks and penalties than run of the mill players.
The common theme here is the best players will usually have the ball and defenders are going to be on the edge of breaking the rules when they're trying to get it back. Yet, despite the obvious value in getting easier offensive opportunities as a result of penalizing opponents, drawing penalties isn't just an under-rated statistic in hockey–it seems to be a largely ignored one where the mainstream media is concerned. That is, aside from regular conversation in NHL circles around the public shaming of embellishment artists, and the long standing view that high penalty minute players are often the toughest guys on the ice (and also solid if you need such things for a fantasy pool).
---
More NHL on Sportsnet:
Subscribe: Rogers GameCentre Live
Rogers Hometown Hockey | Broadcast Schedule
Sportsnet Fantasy Hockey Pool
---
This shouldn't be all that surprising for a league that prides itself on toughness and fisticuffs when marketing itself to the masses. Generally speaking, gentlemanly play appears to take a back seat in the valuation of NHL players. The old school tends to worry more about how many shots a player blocks or his "intangibles" than it does about getting calls from the refs as frequently as possible.
Penalty differential–the difference between the number of penalties a player draws minus the number they take–is a stat that's relatively easily tracked, and some interesting names rank near the top of the list over the past four years. Remember what penalty differential translates into–more opportunities for your team on the power play. Players with a significant positive differential are quantifiably making the players around them more effective, by providing more opportunities to score with a man advantage. Players that do well by this stat don't even have to play on the actual power play to have value in this regard. If a skater draws more penalties than he takes but doesn't see PP minutes, he is still partially responsible for the goals the PP unit is scoring without him.
If we normalize for time on ice in all situations we get the following list of players who draw 0.60 more penalties per 60 minutes than they take: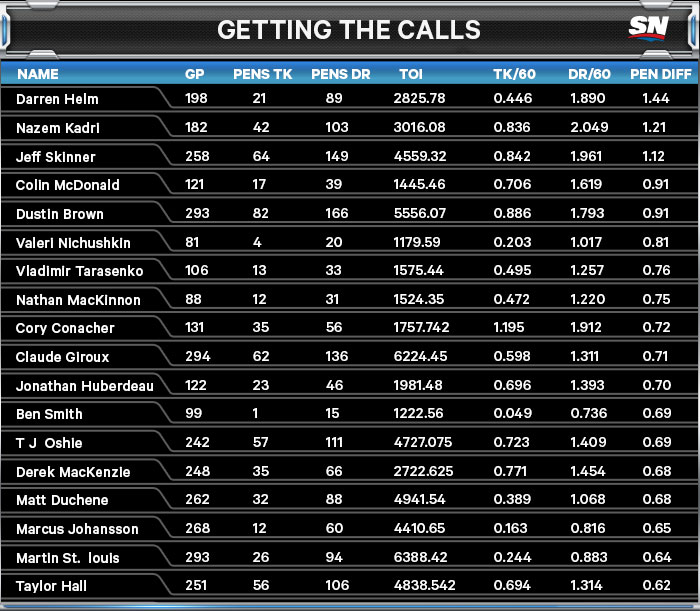 Darren Helm exemplifies the aforementioned point about contributing to the power play without actually playing on it–though he's filled in on the PP in the early going this season with Pavel Datsyuk on the shelf. Helm ranked 22nd on the Red Wings last season in PP TOI/GP. He is largely a third-line checking centre, but his game leads to opportunity for the more offensively productive players on his team.
Nazem Kadri may fall down like he's been shot with alarming regularity, but he's the only top-six forward in the NHL that's drawing over two penalties for every 60 minutes he's on the ice over the last four seasons. His peers in drawing penalties are tough guys and agitators like Colton Orr, Brandon Prust, Patrick Kaleta, or Zenon Konopka. The difference is almost all of those players are committing penalties at a far higher rate–typically more than two per 60 minutes.
Players like Kadri, Skinner and Brown are dishing out the occasional dirty play, but as skilled players who play with an edge they are quite obviously targeted by opponents, and often get calls from officials. Considering the lethality of Toronto's power play in comparison to Los Angeles' and Carolina's (9th vs 20th and 28th in GF/60 with the man advantage over this time frame) the value of Kadri vs. the other two isn't nearly equivalent in this regard when additional context is provided.
Also of note on this list are younger stars in the making like Tarasenko, Nichushkin and MacKinnon. Nichushkin in particular appears to play a very clean game for a man his size, and doesn't take many penalties (only four all of last year). Conversely, it seems opponents may attempt to take more liberties than necessary with the sizeable youngster and in the end they could be rewarding what should be a more dangerous Stars' power play this season.
It's about time the NHL recognized that drawing penalties is more useful to winning than taking them. Maybe rather than PIM on the stat-sheet we should see a penalty differential column–that way the positives outweighing the negatives would be a bit more obvious for everyone involved.