This one got the hockey world talking at a mile a minute. That alone made Wednesday's Jets-Sabres blockbuster unique.
"[Winnipeg] upgraded their D and forward situation in the short term and got three good young assets," one NHL executive said via text.
"I think it's hard to get frontline players and Buffalo did," added another.
---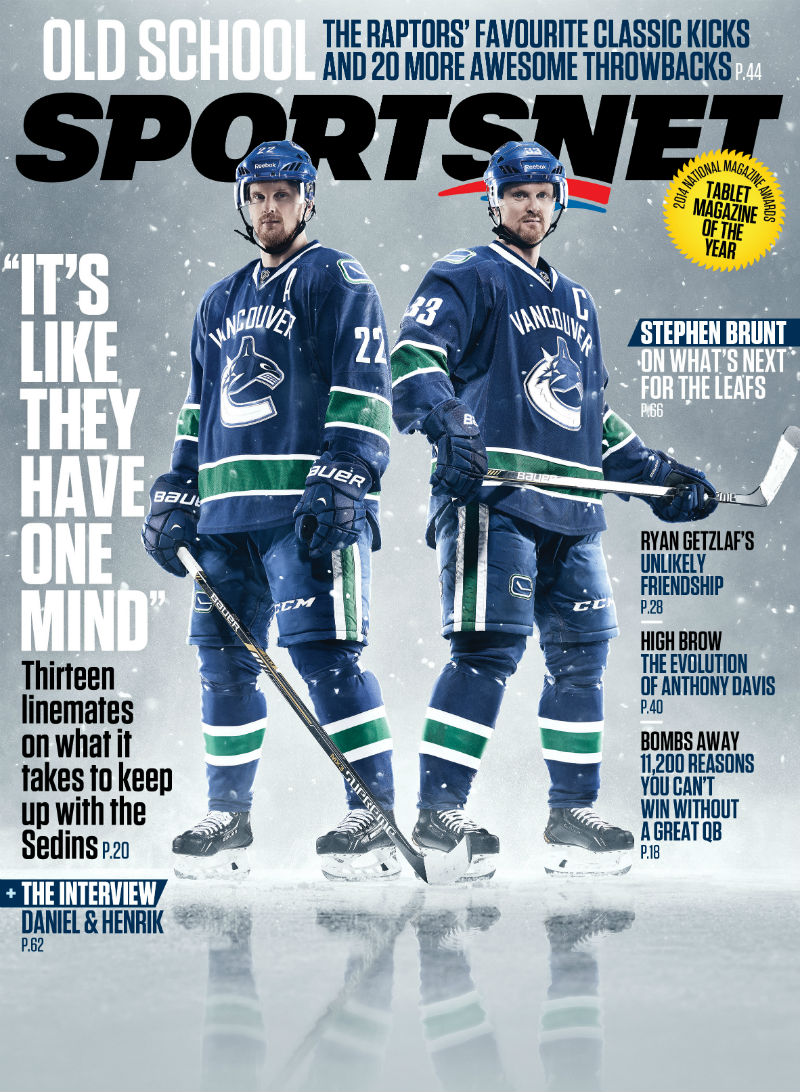 ATTENTION Rogers and Shaw customers. Already enjoying Sportsnet ONE? Now get access to digital editions of Sportsnet magazine at no extra cost.
---
It was the kind of trade with so many fascinating elements that experienced hockey people could look long and hard at it and come to complete opposite conclusions. There's a valid debate to be had about a winner and loser, and it's going to be a long time before we get anything close to a definitive answer.
In exchange for Evander Kane, Zach Bogosian and unsigned goalie prospect Jason Kasdorf, the win-now Jets received Tyler Myers, Drew Stafford, prospects Joel Armia and Brendan Lemieux, and a 2015 first-round pick from the rebuilding (don't call us "tanking") Sabres.
There are a lot of cards on the table in this game of poker.
It was a particularly bold move from Winnipeg general manager Kevin Cheveldayoff, who is known more for being patient than impetuous. In fact, this was his first deal in almost four years on the job that saw NHL players change hands.
Given the bargaining position he was left with after Sportsnet reported on an off-ice incident between Kane and his teammates last week — not to mention the fact the skilled winger underwent season-ending shoulder surgery on Saturday — this was an impressive return.
Myers hasn't yet delivered on the promise of his Calder Trophy season, but is still just 25 years old and should find a more sheltered role on Winnipeg's second pairing. Stafford is a pending unrestricted free agent who will help with the playoff push while Armia, Lemieux and a first-rounder represent the kind of haul you would expect when Kane is going the other way.
"I think Chevy got a very, very good return given his bargaining position," said a scout from a rival NHL team.
In Buffalo, the NHL's 30th-placed club continues to build for the future. If the chips fall their way, a dramatic turnaround could happen sooner than later.
Kane already has a 30-goal season under his belt and will just have celebrated his 24th birthday when he reports for training camp in the fall. Bogosian helps account for the loss of Myers while Kasdorf, who currently plays in the NCAA for Rensselaer Polytechnic Institute, is another prospect in the system.
Where Sabres GM Tim Murray deserves credit is for being aggressive in landing Kane while also doing nothing to hurt his potential draft position. The winger will look awfully good playing alongside Connor McDavid or Jack Eichel in future seasons.
Buffalo's ability to swing this kind of deal can be traced back to last season, when Murray started stockpiling assets by trading away established talent. A condition of the trade with Winnipeg is that the first-round pick changing hands is the lowest of the three the Sabres owned for the June draft.
What was most striking as news of this deal started filtering out late Wednesday morning is how rare these kind of transactions now are. The salary cap has basically rendered the blockbuster obsolete, with teams either lacking the necessary space to add contracts or GM's lacking the stomach to take risks.
No wonder everyone was buzzing about what Winnipeg and Buffalo managed to pull off.
Now that we've been reminded about how exciting a real big-time hockey trade can be, it begs the question: Will we see another one before March 2?