What many are calling the darkest chapter in Senators history was not revealing itself on a sultry September day in Ottawa.
Perspiring underneath Senators game sweaters, fans lined up in a long queue that extended beyond the bottom of the Gate 1 entrance area of the Canadian Tire Centre, around the corner onto Palladium Drive.
This was Fan Fest, where, for $10-$15 (but free parking!) fans had the privilege of watching the Erik Karlsson-less Senators skate in practice sessions, plus a noon-hour scrimmage, and rub shoulders with alumni such as Patrick Lalime, Chris Phillips, Todd White, Andre Roy and Chris Neil. Children, many of them too young have seen the ex-Sens play, flocked for autographs of their parents' heroes.
Inside, as the first practice of the day ensued, general manager Pierre Dorion walked past reporters seated in the lower bowl. As he stopped to greet a familiar face, Dorion admitted relief at a great weight lifted. The long-expected Karlsson deal, for four young players and draft picks whose names Ottawa fans won't have on their jerseys for years to come, finally went down last Thursday, the first day of training camp.
"I had the best sleep Thursday that I've had in three weeks," Dorion told Sportsnet.ca. "Friday and Saturday, too."
[snippet ID=3322139]
The GM said the prospect of Karlsson getting injured while entering the final year of his Ottawa contract was keeping Dorion up at night.
"What if he had torn his Achilles in testing the way (centre Jean-Gabriel) Pageau did?" Dorion added, rhetorically.
Whether the acquisitions from San Jose of Chris Tierney, Dylan DeMelo, Josh Norris and Rudolfs Balcers plus draft picks turn into a home run for the Senators won't be known for some time. The Senators would likely settle for an extra base hit, if someone like Balcers, a 21-year-old Latvian forward who showed a scoring touch in the AHL last season (48 points in 67 games), or one of the picks were to blossom. Tierney's arrival as a second or third-line centre is a godsend, given Pageau's injury.
So jaded is a large segment of the fan base in Ottawa, they worry that any young player who gets good will have to leave before his big pay day, anyway. Dorion insists otherwise.
Was the Karlsson trade the worst pain ever inflicted on Senators fans?
Arguably. Despite massive scar tissue buildup from franchise bankruptcy history and failed Cup bids.
There's always been a star-crossed element around this hockey club, as the likes of Daniel Alfredsson, Marian Hossa, Zdeno Chara, Martin Havlat, Jason Spezza and Dany Heatley left on bad terms.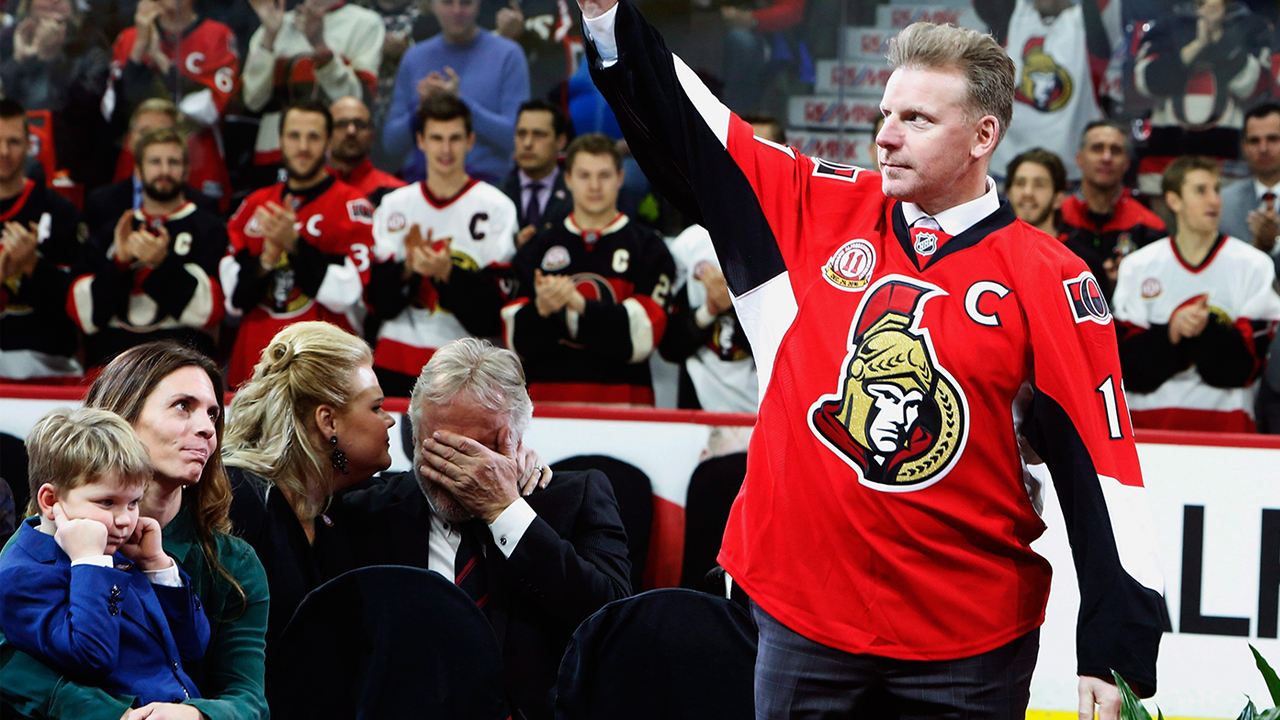 Alfredsson, Karlsson's close friend and mentor, was and is the franchise icon, but when he left in 2013 for Detroit, it was for one season in the twilight of his career. Karlsson, 28, is in his prime, seemingly ready to rebound from a problem foot last season.
Alfredsson returned, in triumph, to retire as a Senator 'for-a-day,' and then joined the front office briefly, before leaving Eugene Melnyk's team once again. (In May, Alfredsson was quoted saying, "we hope to get a new owner," although he later said he thought the comment was off the record).
Karlsson's departure was less of a shock but stung regardless, the local sports station taking calls from grieving fans until 3 a.m. The two-time Norris Trophy winner had made it clear he wanted market value on his next deal. The team says Karlsson's camp wasn't interested in negotiating.
Melnyk, whose fingerprints on hockey operations are more visible since the passing of former GM Bryan Murray, vowed to go younger, cheaper as the Senators fortunes plummeted in 2017-18. Karlsson's status eventually shifted from core building block to an asset for fetching prospects.
One former Senator said privately, "there was zero chance Karl was going to sign here as long as Melnyk still owned the team."
And Mark Stone, a pending UFA?
"That's a different situation," he said. (Faint hope!)
That the Senators were suddenly in tear down mode was made plain in an awkward in-house video chat between Melnyk and journeyman defenceman Mark Borowiecki early last week. (For a guaranteed chuckle, see the Tim & Sid mock video).
No one imagined this as recently as last fall, when the Senators were emboldened by a run to the 2017 Eastern Conference final. At that time they were giving up futures – including the first round pick of 2019 — while acquiring Matt Duchene (it cost them a top centre and community hero in Kyle Turris).
Today's fresh air feeling stems partly from a constantly revolving door. Playoff heroes of 2017 – Turris, Karlsson, Mike Hoffman, Dion Phaneuf, Clarke MacArthur, Derick Brassard and Marc Methot are all gone, for one reason or another.
In the craziest scene from what will be remembered as the most bizarre off-season in Senators history, the partners of Karlsson and Hoffman were engaged in a private war that went public with accusations that Hoffman's fiance was bullying Karlsson's wife online, including immediately after Erik and Melinda Karlsson's son was stillborn. This story is still being played out, although Hoffman is now in Florida and Karlsson is in San Jose.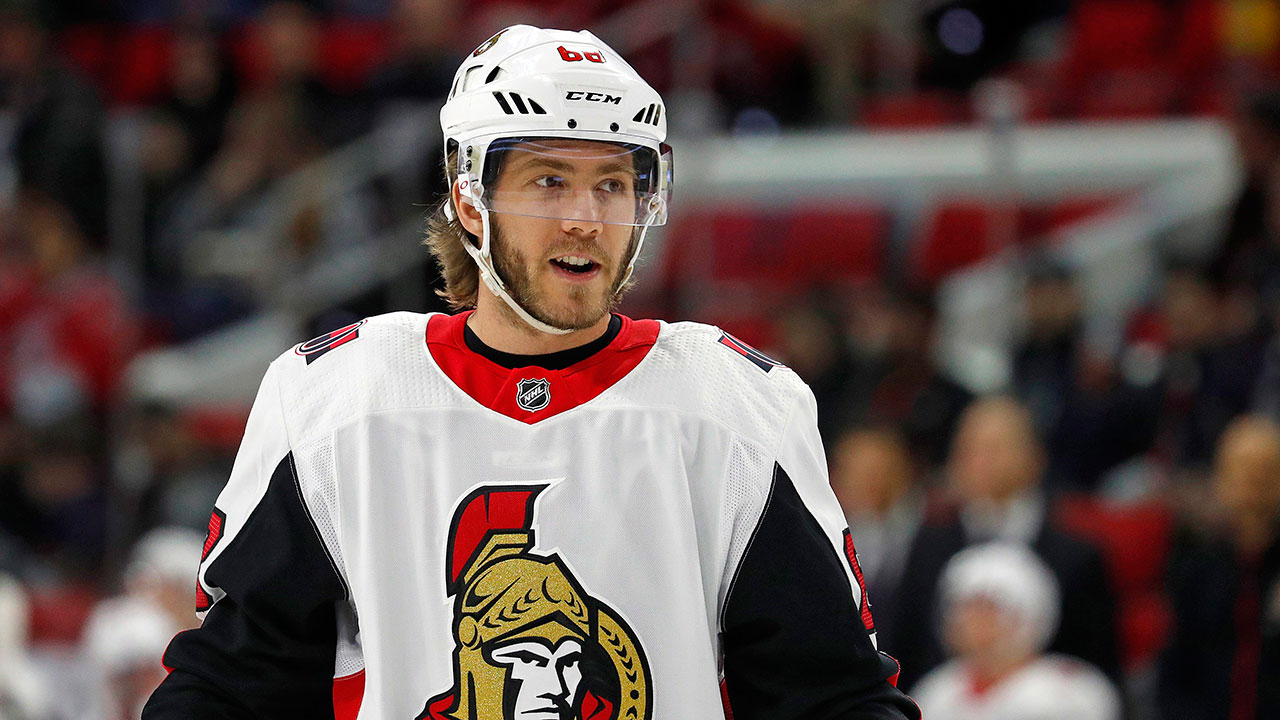 Dorion once famously said of his superstar defenceman, "on the eighth day God created Erik Karlsson." To some fans, Karlsson's mercuric rise and departure felt like he was gone on the 10th or 11th day. Too soon.
Dorion and others now say the dressing room was broken last season and a change in culture is needed.
At Sunday's scrimmage, fresh faces were everywhere, including on the scoresheet. Rookie forwards Drake Batherson and Alex Formenton worked a gorgeous give-and-go for a goal. Brady Tkachuk, Ottawa's fourth overall draft pick this summer, showed poise beyond his years, and had unmistakable chemistry on a line with Stone.
The future can be bright for the Senators, but only if they can keep core veterans, to augment the young talent. Dorion promises to try. Some fans are from Missouri on that one, not believing a commitment to winning is possible until there's a change in ownership.
Still, as a few thousand spectators came in from the mid-day glare to catch a glimpse of the next wave of players, Stone celebrating with Tkachuk as though he'd just scored a playoff goal, they felt a pulse of something positive.
Wayne Scanlan is a former Ottawa Citizen columnist. He has been writing about the Ottawa Senators since the franchise entered the NHL in 1992-93. You can follow him on Twitter @HockeyScanner.