After dropping two in a row and seven of their past 10 in a season where they're facing immense pressure to make the playoffs, the Edmonton Oilers made a move that didn't involve trading a high-quality winger for magic beans.
GM Peter Chiarelli announced on Tuesday that head coach Todd McLellan had been relieved of his duties as head coach, bringing to end a tenure of three seasons and nearly two months – the longest run of stability the team has had since Craig MacTavish was coaching in the 2000s.
Whether or not McLellan was the problem with the Oilers remains to be seen, but looking at how they play and the type of roster they have, it doesn't appear McLellan was the solution either. Making little to no linear progress in your fourth year at the helm makes your job security disappear.
So, in steps Ken Hitchcock, who just can't seem to retire despite saying he was going to last April. On a one-year contract, he will be expected to turn this boat around and send the Oilers back into the playoffs.
Hitchcock is known for essentially two things: playing tight, defensive hockey, and being an amazing quote. I'm sure Oilers media will enjoy the second part, but there are questions about whether Hitchcock's approach to hockey works in the modern game.
Senior Writer Ryan Dixon and NHL Editor Rory Boylen always give it 110%, but never rely on clichés when it comes to podcasting. Instead, they use a mix of facts, fun and a varied group of hockey voices to cover Canada's most beloved game.
His tenure didn't end well in St. Louis. Though he made the playoffs each season with them, they were considered underachievers in three of his five full seasons there. And in Dallas Hitchcock took over a high-powered offensive team and attempted to make them into a defensive juggernaut.
The Stars certainly weren't as entertaining last season as they were under Lindy Ruff in the few years before, but how much did their tactics change? That can be difficult to see because coaches only have so much influence, but let's look at a cross-section of tendencies between the Dallas Stars under Lindy Ruff in 2016-17, and under Ken Hitchcock in 2017-18 to see what kind of changes the Oilers could expect.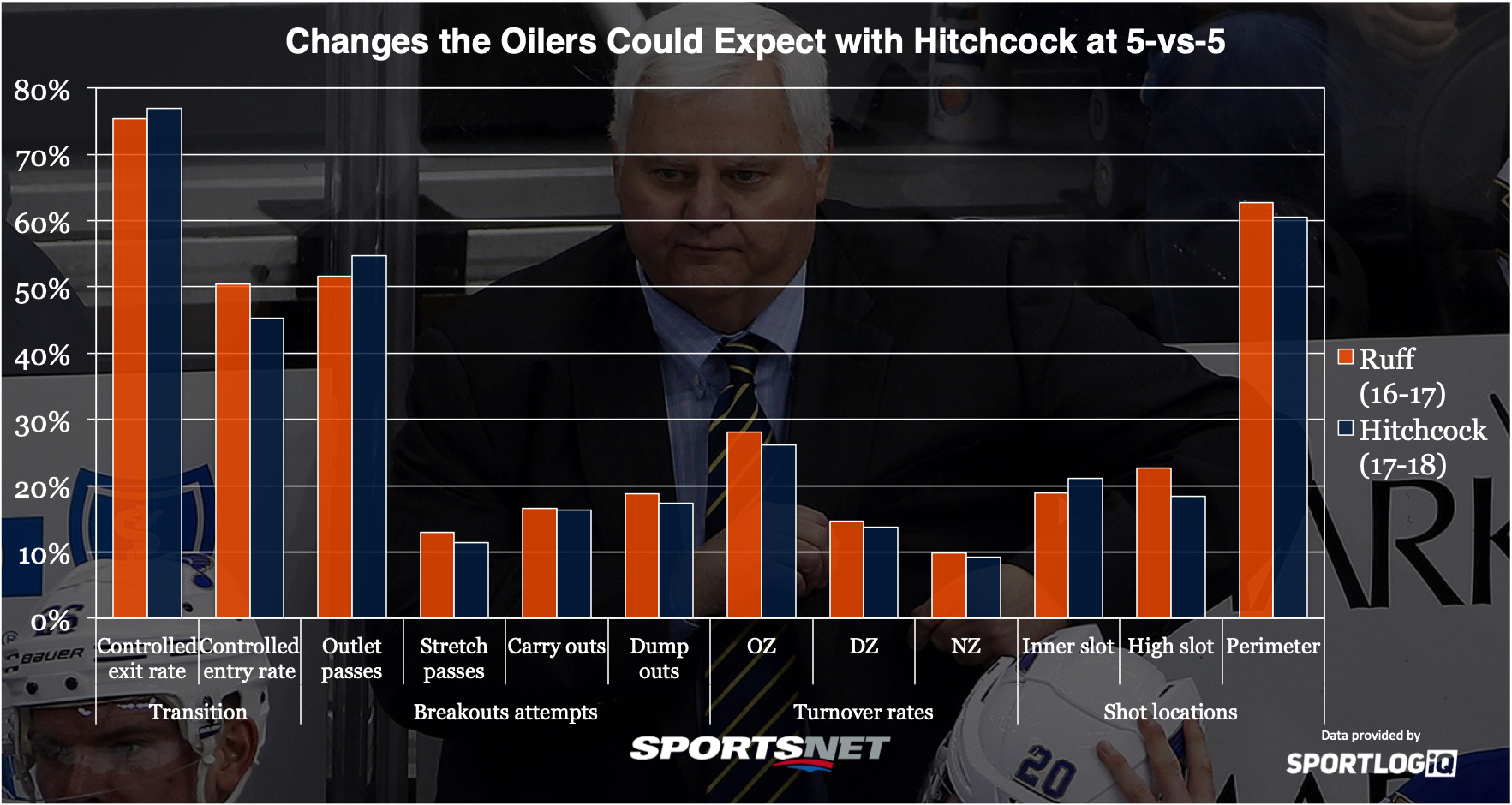 Hitchcock is seen as a coach who favours a dump-and-chase game, but while that's true for when his teams enter the zone, his Stars actually exited the zone with possession more often than Ruff's. This could benefit players such as Connor McDavid and Leon Draisaitl who like to have the puck on their stick in the neutral zone.
Hitchcock does have his teams dump the puck in more when they're entering the offensive zone, likely because of his risk-averse nature. Players who generate chances on the forecheck, such as Ty Rattie, Ryan Spooner, and Ryan Nugent-Hopkins, could benefit from that, as could active forecheckers such as Drake Caggiula and Jujhar Khaira.
Hitchcock's breakouts are very old school, focusing more on short outlet passes instead of long-bomb stretch passes and carry outs, which means his teams usually generate fewer odd-man rushes. But they also break out more cleanly on their attempts and move up the ice as a unit more often than not.
Another artifact of Hitchcock's less risky coaching style is that the Stars were able to cut down on the percentage of plays they made that ended in a turnover in every zone. Though, unfortunately, the biggest dent was made in the offensive zone, and one thing I've noticed anecdotally is that players and teams with very low offensive zone turnover rates are sometimes teams that don't take the necessary risks to score goals often enough. There are obviously exceptions to that, and any team with McDavid could be one of them.
One surprising thing about Hitchcock's Stars is they shot from closer to the net than did Ruff's Stars, with fewer perimeter shots and more high danger scoring chances.
It's important to note that the league as a whole has increased its shot quality each of the past couple years, but while you could write off Dallas' improvement under Hitchcock here as a league-wide trend, that would ignore the idea he, traditionally, suppresses offence. On some base level Hitchcock is embracing the changing NHL game.
That doesn't mean he won't focus on defence. When you look at the Stars, you can clearly see the changes he implemented.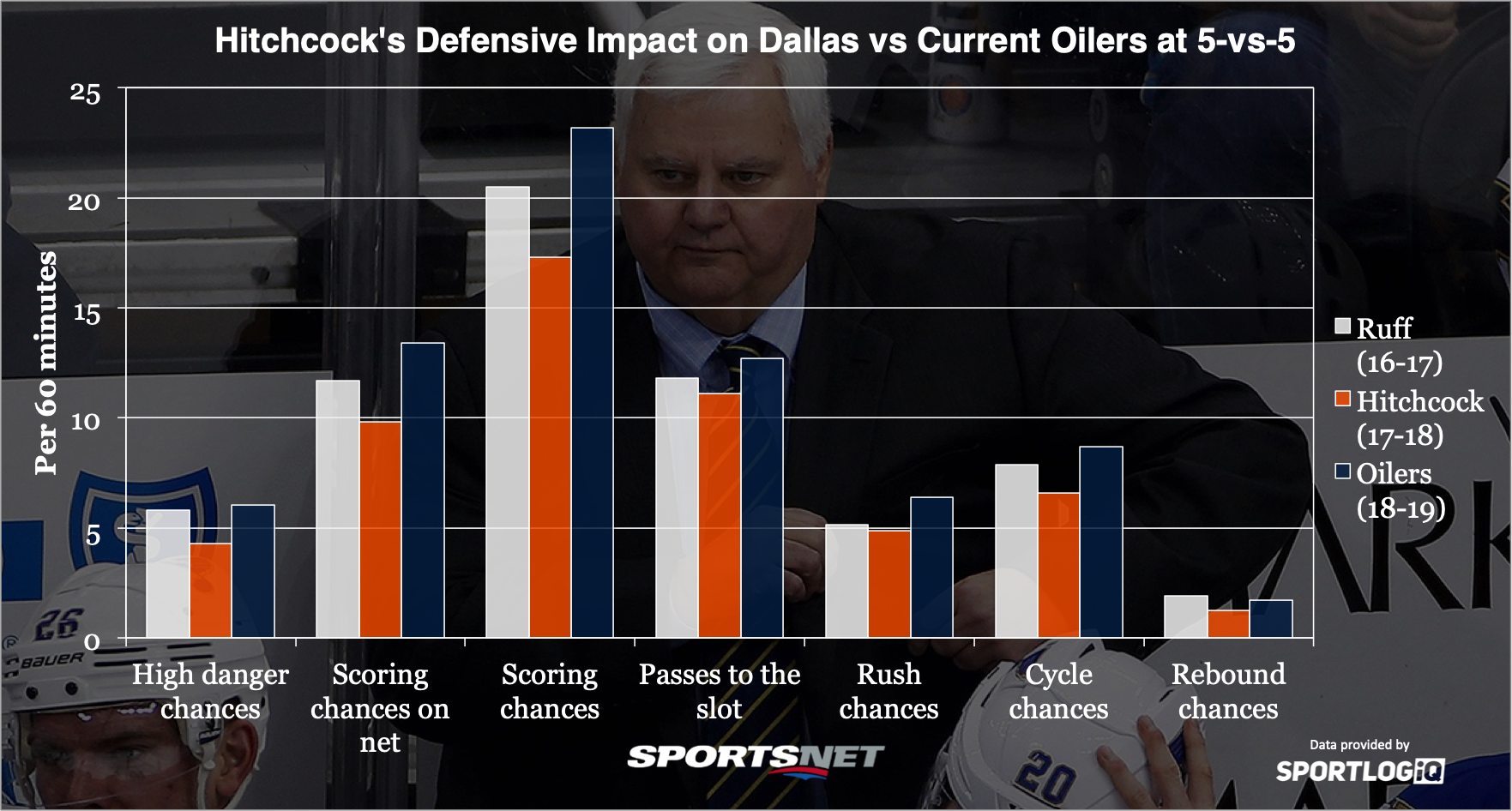 Remember: offensive statistics on a per minute basis are up across the league year over year three straight seasons. Now, look at Dallas' defensive performance changes under Hitchcock.
Say what you will about the quality of hockey, Hitchcock took a very average to slightly below average defensive team in Dallas and made them into one of the best defensive teams in the NHL last season. They allowed the fewest high danger chances, fewest chances off the rush, fewest rebound chances, fewest chances against overall, and second-fewest chances that were preceded by a cycle pass.
The turnaround was incredible. And though it didn't land the Stars in the playoffs that was due more to poor luck than poor play.
Without the benefits of training camp, I doubt Hitchcock can achieve the same sort of results with this Oilers team that is about the 20th-best defensive team in the NHL right now, but it will be an area to watch.