The 2014 Stanley Cup Final has provided us with a stark contrast in goaltending styles. The patience of Henrik Lundqvist vs the impetuous Jonathan Quick. A battle of depths as well as the philosophy of getting to the play ahead of the puck or just getting to the play to stop the puck. Outside of their athleticism, they represent two totally different philosophies of how to play the position.
History has proven that Henrik Lundqvist's intelligent measured approach is more repeatable than the freelance approach of Jonathan Quick.
When you analyze Lundqvist's play, you can see his hockey IQ in progress. The philosophy behind his inside out technique is based on simple math. The tighter you are to your goal line, the shorter your routes to the puck. This is extremely helpful on backside and rebound recoveries because the distance he has to travel is minimized because of his starting point. It also allows him to get into position faster and identify potential dangers earlier in the process. He isn't tied to his goal line as he adjusts to situations when needed with added depth when he identifies the lack of lateral danger.
When we isolate both goaltenders most common trait, athleticism, we see it applied in entirely different ways. Lundqvist uses his athleticism late in the play, it allows him to play deep and maintain his feet and read and react. His style of play has proven difficult for goaltenders to replicate because of his ability to make reactionary saves while standing on his goal line.
Jonathan Quick's athleticism is on display every moment he is on the ice and becomes readily apparent within the first 5 minutes of action. He is extremely aggressive and is comfortable in playing at extremely aggressive depths because he is confident his athleticism can bridge the longer recovery routes he always places himself in . This confidence leads to a gambling style in which he drops early on plays and explosively recovers. He plays extremely low and his flexibility allows him to seal the ice after initial recovery pushes propel him towards the puck. Elevating the puck is key to beating him, but he attempts to dominate the angle and block elevation with frontward leans.
When I watch Quick play, I feel cheated. Although he offers a fan friendly style of play, I feel if he took a more analytical approach to the position and applied his athleticism only when needed, his results would be more repeatable and he would be among the games elite. Through six seasons he hasn't proven his current style is repeatable spending half his career at average or below.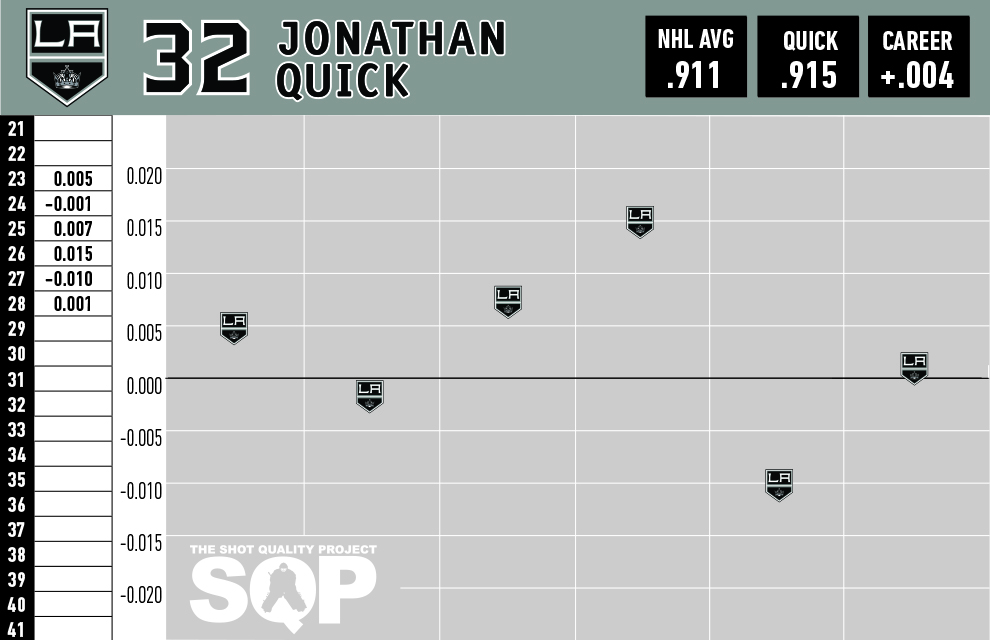 Goaltenders in general tend to ebb and flow because they can't control their environment, but Quick is extremely reliant on coverage to his blindside and second chance opportunities because of his outside/in approach to the position. It showed during the first round series with the Sharks when the Kings failed to cover for him when wandering from the blue paint.
Lundqvist plays a style that is not as system reliant. Sure he is still vulnerable to the same type of dangers as Quick, but he mitigates the damage through his inside/out style. If a team is giving up too many backdoor plays, he becomes less exposed because of the decreased distance he needs to travel. Not once during Lundqvist's regular season career has he finished below the league average in save percentage.
Quick's wild inconsistency has been front and center during the 2014 playoffs. I tracked Lundqvist and Quick in the same manner as Rick Nash last week and created an expected goal total based on their performance on the way to the 2014 Stanley Cup Finals.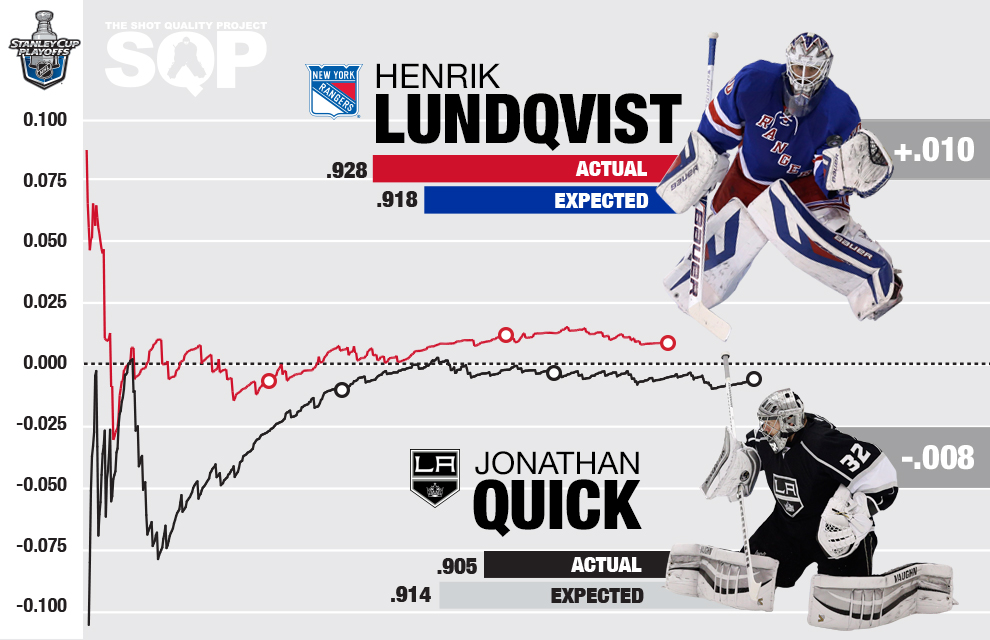 We can see by his expected save percentage that Quick was exposed to a slightly tougher workload than Lundqvist overall (.914 to .918), but his inconsistent nature almost cost the Kings in the first round as they failed to provide the adequate support for Quick's style. Contrast him to Lundqvist who has maintained a consistent level above expected results for the majority of the playoffs. It is easy to see how it is rational to believe that a more structure based goaltender could benefit a strong team like the Kings. If we look at the results of Quick's less aggressive teammates during Sutter's tenure we get some head scratching numbers from unexpected sources. Ben Scrivens (+.017), Jonathan Bernier (+.010) and Martin Jones (+.020) all benefitted from less is more over the last two seasons.
Quick always remains a wildcard for me because of his style, but over small bursts he can provide elite goaltending to rival Lundqvist. Is Lundqvist the better goaltender? Without a doubt. His data backs it up, as does his approach to the game. He is the biggest reason the Rangers are playing for the Stanley Cup. The problem is these playoffs have shown that the Rangers need an elite level Lundqvist to win playoff games, the Kings have been doing it against the elite of the Western Conference with backup level support. Lundqvist is capable of stealing the Final, but the Kings might not require elite level goaltending to win again.