The story of the L.A. Kings over the past few years is pretty straightforward: They dominate possession at 5-on-5, but struggle to turn that into goal difference, mostly because they can't finish. L.A.'s Corsi% of 55.9 percent from 2011 through 2014 leads the NHL by a wide margin—Chicago sits second, nearly two points back. Unfortunately for the Kings, they've scored just 52.6 percent of the 5v5 goals in their games over the past three seasons. That isn't bad—eighth overall—but you'd hope to turn such a big Corsi% edge into an equally big share of the goals scored.
It does, however, give you a team that can win in the playoffs if it gets some bounces, which is really about as much as you can hope for in the modern NHL.
In 2011-12, the Kings shot 6.0 percent at 5v5 in a league in which the norm is about two points higher. They bumped that up to 7.8 percent in the playoffs, Jonathan Quick was unbeatable and they cruised to the Stanley Cup as an eighth seed. In 2012-13, they shot 7.6 percent in the regular season and, when they couldn't find bounces (among other problems) in the playoffs, their 5.8-percent shooting percentage at 5v5 caught up with them. They were eliminated in the Western Conference final by Chicago in five games.
This year the Kings posted a 56.8 percent Corsi% in the regular season, tops in the NHL, and 6.5 -percent 5v5 shooting percentage, 29th overall. An excellent year from their goalies meant they scored 55.6 percent of the 5v5 goals, good for third in the league. Same old Kings: Unbelievably good in terms of possession and unbelievably lousy at finishing.
This problem is underlined when you look at L.A. with and without Anze Kopitar at 5v5. With him on the ice, the Kings shot 7.9 percent. That's not particularly good by first-liner standards, who tend to be over 9 percent. But Kopitar's outrageously good possession numbers save him. His 59.9 percent Corsi% (along with a .929 save percentage) have helped the Kings to score 61.3 percent of the goals when he's on the ice the past three years, the 20th best number in the NHL.
However, the Kings have shot a collective 5.8 percent at 5v5 without him, which is awful. To provide some context, 593 skaters have played at least 1,000 5v5 minutes over the past three seasons. Only 34 of them have seen their teams shoot 5.8 percent or worse when they're on the ice.
As a result of this inability to turn shots into goals, Los Angeles has been outscored 208-188 at 5v5 when Kopitar's on the bench, despite crushing the opposition in terms of shot volume. The Kings test the bounds of the analytics community's love for possession because they generate so little from it. If you look at the Kings in this year's playoffs heading into Game 5 against Chicago, you find that things have been much better.
It's not surprising that Kopitar's Corsi% is lower than it is in the regular season—a diet of first lines in the Western Conference playoffs is considerably different than a diet of first lines in the regular season. What is surprising is that pucks are going in for the Kings at 5v5, both when Kopitar is on the ice and when he's on the bench.
There's an obvious potential explanation for why pucks are going in when Kopitar's on the ice: Marian Gaborik. He has a long history as an elite finisher and his addition at the trade deadline provided the Kings with a very specific skill that they lacked. L.A. isn't going to shoot 12 percent with Kopitar on the ice in the long run, but adding a finisher increases the chances of something like this in the short run.
But what about when Kopitar isn't on the ice? What's driving the increase in shooting percentage there?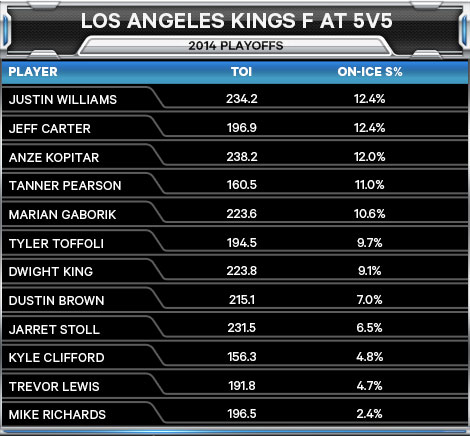 These are L.A.'s 12 most-commonly used forwards so far in the playoffs. The lineup has been pretty consistent—the only other forward used was Jordan Nolan, who played three games. You can see that five of L.A.'s mainstays the past few years have pretty lousy numbers. We know about Kopitar and Gaborik. Justin Williams and Dwight King have also spent some time with Gaborik, which has likely helped them.
It's Jeff Carter, Tanner Pearson and Tyler Toffoli who really stand out here, giving the Kings a line that a) doesn't involve Kopitar and b) has finished. They haven't had that consistently for three years. When Los Angeles has another line that can finish, all of the sudden that edge in possession becomes that much more valuable because it turns into a bigger edge in terms of goals.
The harder question is whether what Carter, Pearson and Toffoli are doing is real or just a run of good bounces. There's reason to think that L.A.'s system inflates Corsi while suppressing shooting percentage. It doesn't mean that they can't have a run where pucks go in—L.A. scored at 5v5 in the 2011-12 playoffs and the offence then fell dormant for two years—it just means that L.A.'s lows and highs in shooting percentage might be a bit lower than the typical team.
As a rule, observed performance is a mix of skill and chance. The bigger the sample, the more we're observing skill instead of chance. In the case of Carter, Toffoli and Pearson producing a high on-ice shooting percentage, we're really just talking about the playoffs.
It seems reasonable to conclude that Carter has elite offensive ability and that this can be expected to manifest itself in the form of a good shooting percentage when he's on the ice. Since 2007-08, Carter's teams have shot 8.2 percent at 5v5 when he's on the ice, which includes shooting 7.3 percent inside Darryl Sutter's offensive abattoir—not great but, on a team that possesses the puck like L.A., you can do great things with it.
The real question marks are Pearson and Toffoli. There are some indicators that they might be for real. It's hard to draw much from minor-league numbers to project NHL performance, but one benchmark of some note is that guys who can produce offence in the NHL tend to be able to score at least 0.75 points per game in the AHL. Toffoli accomplished that and Pearson was just a point short.
Perhaps more importantly, in Toffoli's case, he's posted an on-ice shooting percentage of 8.5 percent in 784 regular-season 5v5 minutes so far in his career, while spending less than 20 percent of his time on ice with Kopitar. In other words, he has NHL results that suggest that he might be able to provide some finish in Sutter's system without needing Kopitar on the ice.
It will take a few years to know whether L.A. has hit on another group of players who can score in Sutter's system or if this is a hot stretch, like the Kings experienced in the 2012 playoffs. Either way, LA's run through the playoffs has demonstrated what possession married with a bit of finish can do. It's not a pleasant discovery for the rest of the Western Conference.