They are two words we hear a lot at this time of year. But for most, we don't understand exactly what they mean, how the process works, and especially how they came to be.
Trade call.
Let's roll back the clock a few years…
Bertuzzi is a name familiar to a lot of hockey fans. Those of a certain vintage remember Todd well.
He's famous… and infamous.
Not everyone, however, would remember another Bertuzzi, who is actually a relative of Todd's, a cousin of his father's, who impacted the course of history in the NHL in a very big way himself.
It was at the 1992 draft in Montreal, that the Quebec Nordiques finally relented and agreed to trade their reluctant superstar Eric Lindros, who they had drafted first overall the year before. From the start, Lindros had no interest in playing for the Nordiques, especially owner Marcel Aubut. And he made that crystal clear, refusing to play.
The standoff lasted a full year. But finally, the Nordiques realized they had no other choice. They had to make a trade.
At one point, there were 14 teams with a keen interest in Lindros, a generational player in his day, who had endured a similar standoff when he was in junior. He had told the Sault Ste. Marie Greyhounds he didn't want to play up north, but they drafted him anyway. And he refused to report.
Eventually, the Ontario Hockey League changed its rules to allow a first-round pick to be traded and Lindros wound up in Oshawa. It's a deal that worked out well for both teams.
Anyway, back to 1992 and in the overnight hours leading up to the draft, Cliff Fletcher and the Maple Leafs looked like they had made the best offer. But then Mike Keenan and the Chicago Blackhawks upped the ante.
Talks continued through the morning involving several teams. Finally, on the morning of the draft, June 20, 1992, the Nordiques traded Lindros. Not once, but twice. To the New York Rangers and the Philadelphia Flyers.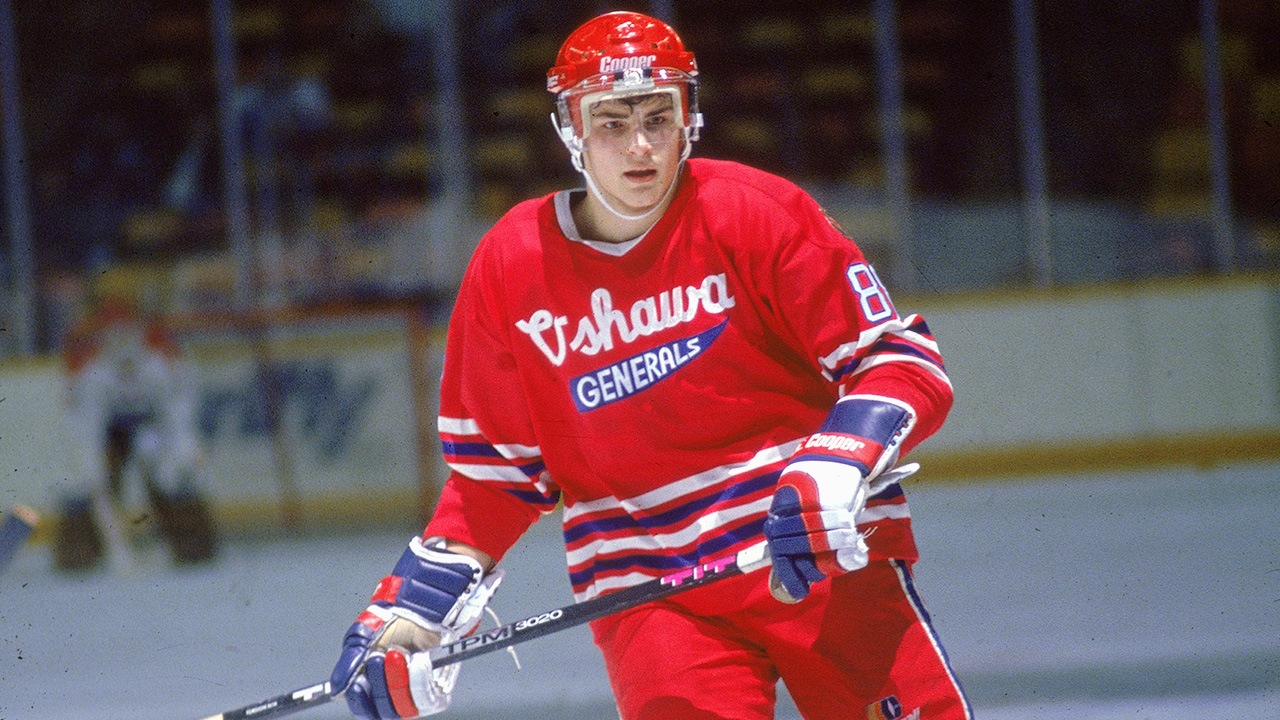 Aubut made deals with both teams, trying to improve his return, and essentially left it up to the league to sort out which one would stand.
The Flyers had put forth an offer of Peter Forsberg, Mike Ricci, Ron Hextall, Steve Duchesne, Chris Simon and Kerry Huffman, as well as two first-round picks and US$15 million in cash.
The Rangers had a similarly sweet deal, but had raised the cash portion to $20 million, which appealed to Aubut. So two deals were agreed upon by the Nordiques.
Enter Larry Bertuzzi, a prominent Toronto labour lawyer, who had handled negotiations with NHL officials and had conducted other business for the NHL over the years. He was called in to determine which team would get Lindros – New York or Philadelphia?
The first thing Bertuzzi did was ask for the league's bylaws and, specifically, the rules for what constituted a trade.
"I asked one simple question: give me all the written materials about what constitutes a trade… and any background information I needed to know," he said. "I was handed a single sheet of paper, with two lines on it, saying if there was a dispute over a trade it would be settled by the league president or an independent arbitrator."
That was it.
There was no formal language to explain what actually constituted a trade, or a procedure to file one.
Of course, it was a different time. It was a league and a world where handshakes mattered. Every GM played by the same unwritten rules. GMs would agree to a deal and eventually one of them would call the league president with the details and when it would be announced. Simple. If a GM doubled-crossed another, his reputation would be sullied and his ability to deal would be damaged beyond repair.
"I received evidence from other clubs about how trades were made, what constitutes a trade," said Bertuzzi. "What I learned was, it was a relatively informal procedure, usually engaged in by the general managers, who effectively operated, I think, by the rule that said, 'burn me once, shame on you; burn me twice, shame on me' and so they knew they had to deal with each other and as a result dealt with each other informally and fairly.
"So the absence of the rules was replaced by the presence of an awful lot of good faith amongst the general managers."
But this deal involved owners and a different set of standards. And there was nothing from stopping someone like Aubut from doing what he did, from literally double dealing.
But it couldn't happen today.
In the end, of course, Bertuzzi wound up ruling that Lindros belonged to the Flyers. Their deal had been agreed to before the deal with the Rangers, but what sealed it for Bertuzzi is Aubut had given Flyers' owner Ed Snider a piece of paper with Lindros' phone number on it. Aubut had said all along he wouldn't give up the number until a deal was done.
And so it was.
After that, the NHL, under new leadership, with commissioner Gary Bettman coming aboard, put a formal written procedure in place for making a trade.
"They put in a new policy that basically let everyone know that a trade is a trade when you follow this, this and this… and that seems to have eliminated any confusion in the last 26 years," said Bertuzzi.
[snippet id=3816507]
It was the language he expected to see when he took on the Lindros trade case. L'Affaire Lindros gave birth to the trade call. Teams now either call or email the league with details of the trade. The league's central registry office then starts the check process, reviewing contract terms, salary cap ramifications, whether the draft picks included in a deal exist, no-trade or no-move clauses, all of the necessary details for a trade to happen.
When the league has all of that information at hand, a trade call is scheduled with the teams. On the call, the league goes into all the details to make sure the teams understand and there are no surprises.
Trade calls can last anywhere from 15 minutes to half an hour depending on the complexity of the deal.
And on trade deadline day, as long as the league is notified prior to the deadline, the trade calls can take place well after.
But since the Lindros fiasco, a trade is not a trade until central registry makes it official.