On radio after the world juniors I floated the idea that Patrik Laine might turn out to be a better NHL player than Auston Matthews a couple of years down the line. Pushed by the interviewer to estimate the chance of that, I hung out a 20 per cent chance that Laine would be the best player of the 2016 draft class. I said there was about a 10 per cent chance that a player other than those two would emerge as the best in show, whether it's Jesse Puljujarvi, Olli Juolevi, Mikhail Sergachev or someone else.
I took a little fan heat over this. The way this draft had been framed at the start of the season was that it was Matthews and then everyone else. Back then it wasn't framed as a McEichel proposition. Even a couple of veteran NHL scouts suggested that the chances of a long-run Laine > Matthews proposition were closer to 10 per cent. And if fans or scouts pumping Matthews' tires said to me that I was being too swayed by Laine's performance leading Finland to the under-20 gold in Helsinki, I'd have to admit that it might be the case.
Still, I stuck by the idea of Laine's shot at being the best even if he didn't go first overall. In fact, I felt I pulled the chute a bit by estimating 20 per cent on Laine. In the broadest strokes, history would show that the second player in a draft has at least a one-in-five chance of eclipsing the first overall. (Debate Steven Stamkos and Drew Doughty among yourselves.)
A lot of games have been played since then and Laine wound up being the MVP of the Finnish League playoffs and the World Championships, unprecedented stuff. The NHL combine presented an opportunity to revisit the idea, at least within the industry.
I talked to scouts in three organizations just to take the temperature at the top of the draft. Two of the scouts work for lottery teams that watched the Leafs and Jets have their names called—that is, the Matthews-Laine pick was one that their jobs would ride on. The other scout knew with metaphysical certainty back in September that his team had no shot at getting one of the top two picks—that is, he could view it objectively, with a professional interest.
Let's look at the last one first, the organization that landed in the playoffs (with a strong history of drafting well recently).
Scout One (playoff team): "We still draw our lists up starting from No. 1 no matter what, whether we're not picking in the top 20, whether we don't have a first-rounder. We had one of our European scouts make the case for Laine over Matthews, but the rest were all on Matthews. With the European scout, I'm not saying that it was a national pride thing or anything like that. He saw Matthews a lot—as much as any of us—and Laine more than me or others on our staff. I've been watching Matthews for three years, more than that really. I think I know him pretty well. Can I say with absolute certainty that Matthews is going to be better than Laine as a rookie or in five years time? No. Do I think it's more likely that [Matthews will] be a better asset, a more important player? Yes. How sure am I? It has to be more than 50 per cent or else I'd have it Laine first, right? Laine did open my eyes, though. Definitely closed in on Matthews over the season. I can see [a scout] make a case for Laine—and I think it's really down to them, maybe Puljujarvi in another year would be in the conversation."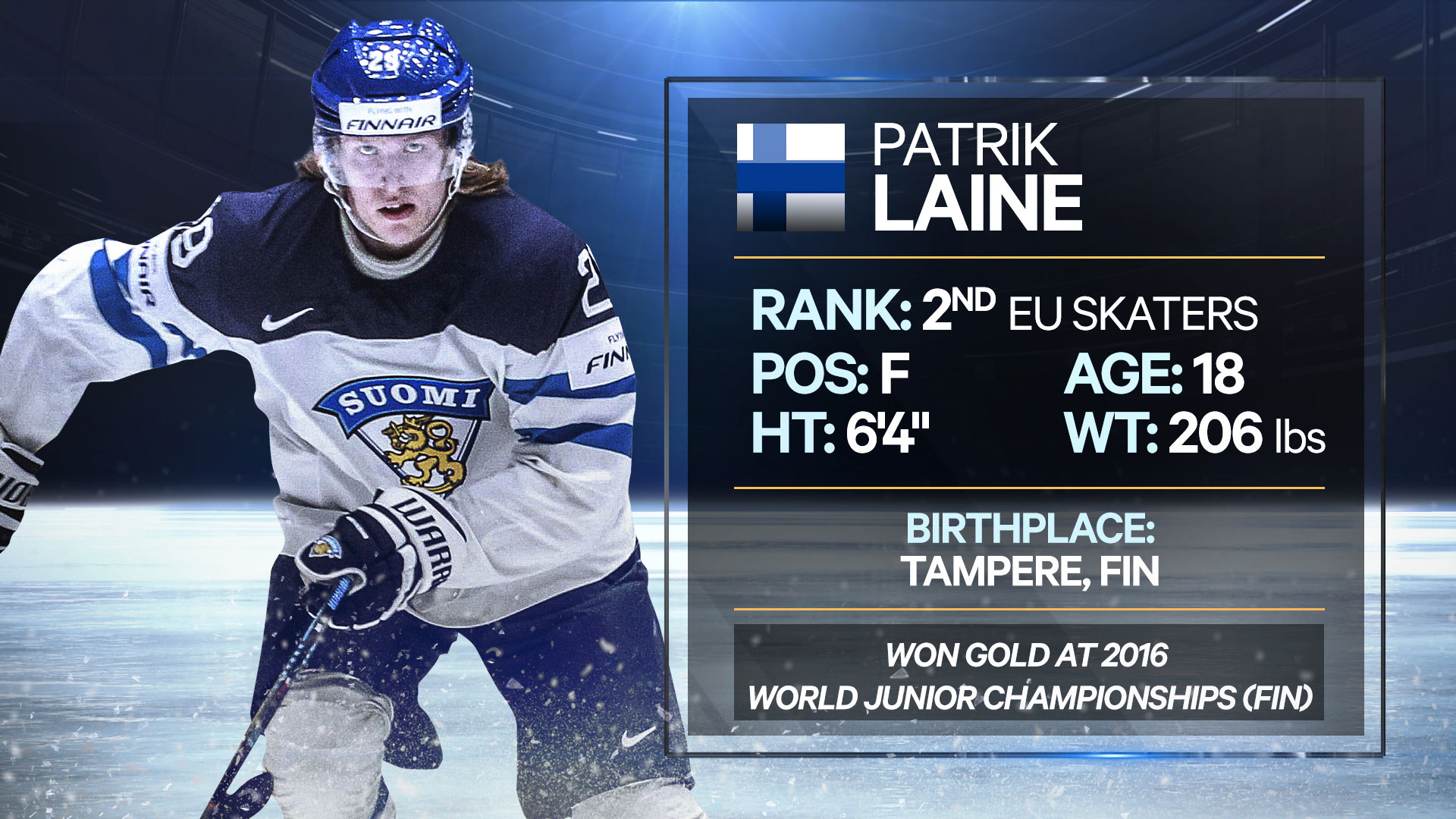 I tried pushing Scout One to put a percentage number on Laine's chances, but he balked. "Look, we had a guy in our meetings stand up and make a case for Laine as No. 1 and he wasn't laughed out of the room. He gets his cheques signed by the same guy I do and he's done good work for us. He's a respected guy. That means he thinks it's more likely than not Laine's better than Matthews right now and long term. And it would have been easy for him, knowing that the scouting director liked Matthews, just to go along with everyone else and not bother. Politically, he might have thought it made sense to agree. But still he went ahead."
Okay, with Scout One, again, it's worthwhile to remember that the top of their list was really put together for amusement purposes only. A scouting director does evaluate staffers by looking at lists a year or three down the line in an overall approach, but what the scouts have on their lists when the team's pick rolls around is what is remembered most fondly or not. More important to this case study is a team that had skin in the game—that is a place in the lottery.
Scout Two (lottery team): "We were all in on Matthews. It's a purely positional thing at our end and I suspect it's going to be that way with the Leafs or with most teams. You have added value for a centre over a wing. Matthews is a centre. We are looking for a No. 1 centre. He fits the bill. Period. Our scouts knew that all season. It really wasn't discussed any more deeply than that. We asked the questions about skill, about work ethic. We were completely comfortable with the call. We had scouts work just about every game he played in the Swiss League and every game he played anywhere else [world juniors and world championships]. We did our homework because we had hopes that we'd get [the first overall] pick. And we were disappointed that we didn't."
Scout Two was pretty much an open-and-shut case, so while I had his attention I asked him for a different comparison, that is Matthews versus Jack Eichel. Matthews missed being eligible for the 2015 Draft by a matter of days, and many have speculated that he would have gone No. 2 behind McDavid if his birthday had fallen within the deadline. So I asked Scout Two for his pick between them—and with Laine thrown in the mix. With Laine, I told Scout Two to take positional bias out of his consideration as much as he could.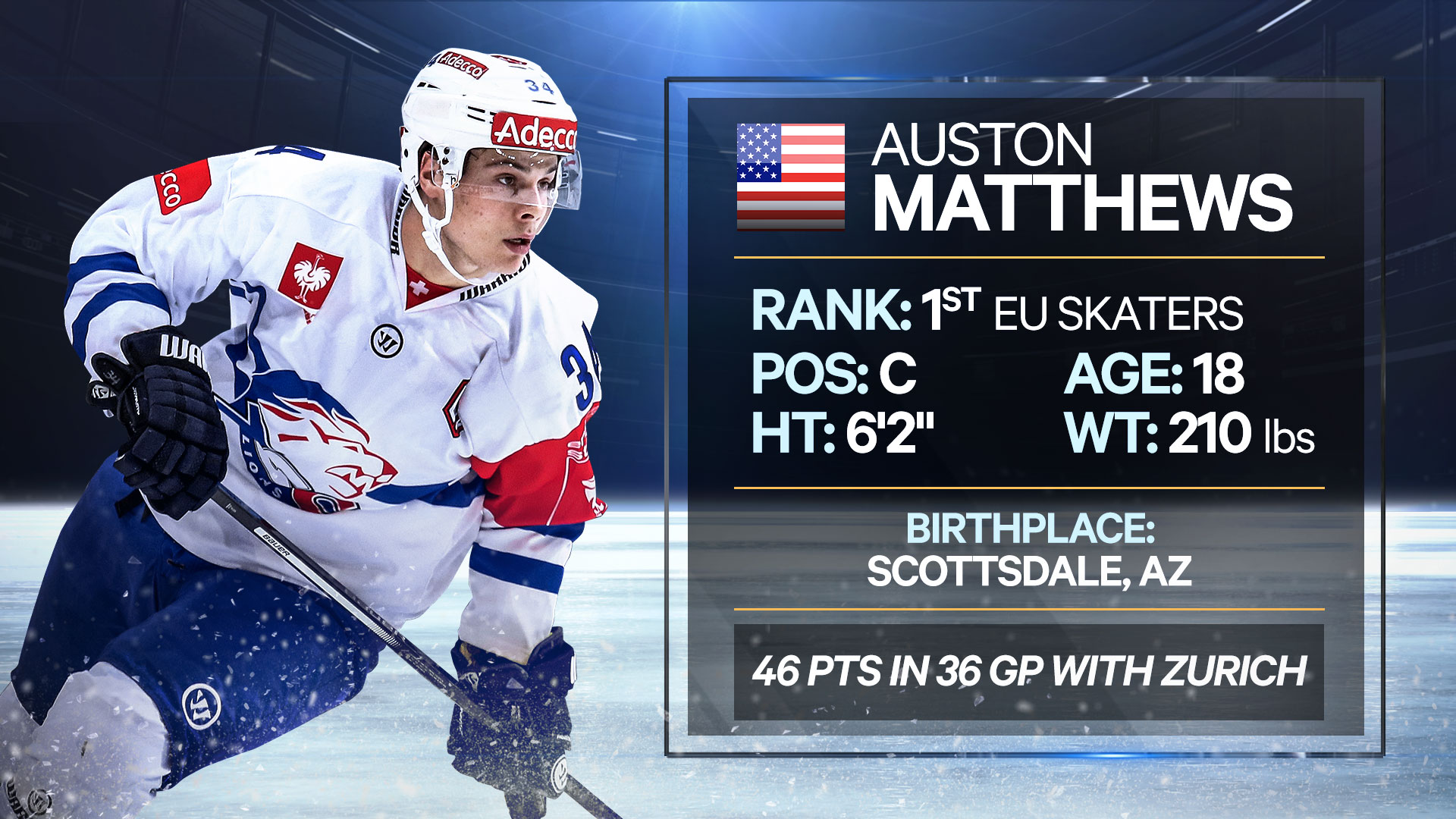 Scout Two: "I take Eichel over the pair of them. I just see Eichel having better skating, some speed, another gear that [Matthews and Laine] don't have and I think that's going to help him out and make him better longer into his career than the other two. And I think Eichel's skill level is ahead of Matthews—[Eichel] gets underrated by a lot of people on that count."
Finally to Scout Three. The centre bias wasn't so much a factor in the decision facing his team, so he came to the team meetings at the combine with a more open or objective mindset than Scout Two.
Scout Three (lottery team): "I have Matthews over Laine. I did three trips to Europe and had multiple views. I think what you said [about a 20 per cent chance of Laine being better in long run] is fair. He closed on Matthews for sure. The interesting thing is that our European scouts, our full-time guys and part-time guys, had Laine over Matthews—they were outvoted in the room, but it did get me thinking about it.
"They had [Laine] there going back to before world juniors. It's not that they were nationalistic about it—I don't think a Swedish scout is pulling any harder for a Finnish kid by default over an American kid playing in Switzerland. They don't work like that at all. It made me think about it—are we just comfortable [as scouts] with what we think we know best? I was thinking about it especially when we talked to Laine at the combine—I can see that this guy really wants to be the best player and he believes he can be, not that he's just saying it. Matthews seems like a cool-character kid and taking everything in stride. Laine just has some sort of other energy going on. Whether he can sustain it, I don't know. But I can understand if someone trusted the opinions of our European scouts more than my own. Maybe [our scouting director and GM] did—our Euros are established guys. They've been around years longer than me. But [our European scouts] couldn't get them off Matthews for Laine."
All three scouts questioned would bet their children's college fund on Toronto selecting Matthews No. 1, mostly for the reasons why Scout Two was all-in on Matthews. Likewise all three had Winnipeg going with Laine at No. 2, on the assumption that he pulled away from his countryman Puljujarvi as the season went on and cemented his case with the professional post-season.
And I still feel like I pulled the chute at the 20 per cent estimate of Laine's chances of being a better and more important player. I would think 33.33 per cent would be my best guess right now and that's not going out on a thin limb based on the conversations with these three scouts and with history as our teacher.