When I broke down the NHL's top 23 centres during the pre-season, the focus was on keeping the sample sizes large enough that the statistics used would represent a true evaluation of each player's contribution to his team. Because of this, I wanted to use a three-year sample, with a cutoff of 2,000 or more minutes played at 5-on-5.
Unfortunately that meant rookies weren't eligible, and apparently in Toronto they really care about some kid named Auston Matthews. Well, I didn't feel comfortable including him in the official rankings, but I went back and ran the numbers on Matthews' rookie year to see where he'd rank among the NHL's elite, and it turns out he's pretty good.
As a rookie, Matthews led all centres in multiple categories, including 5-on-5 goals per 60 minutes, 5-on-5 scoring chances per 60 minutes, 5-on-5 high-danger scoring chances per 60 minutes, and loose-puck recoveries per 60 minutes.
All in all, Matthews' rookie season would rank him seventh in the NHL among centres, if he were to repeat that year two more times. Keep in mind that when I did this project last year, Connor McDavid's rookie season would have had him ranked sixth. I changed things up fairly significantly this season, so how would McDavid's rookie campaign compare to Matthews' directly?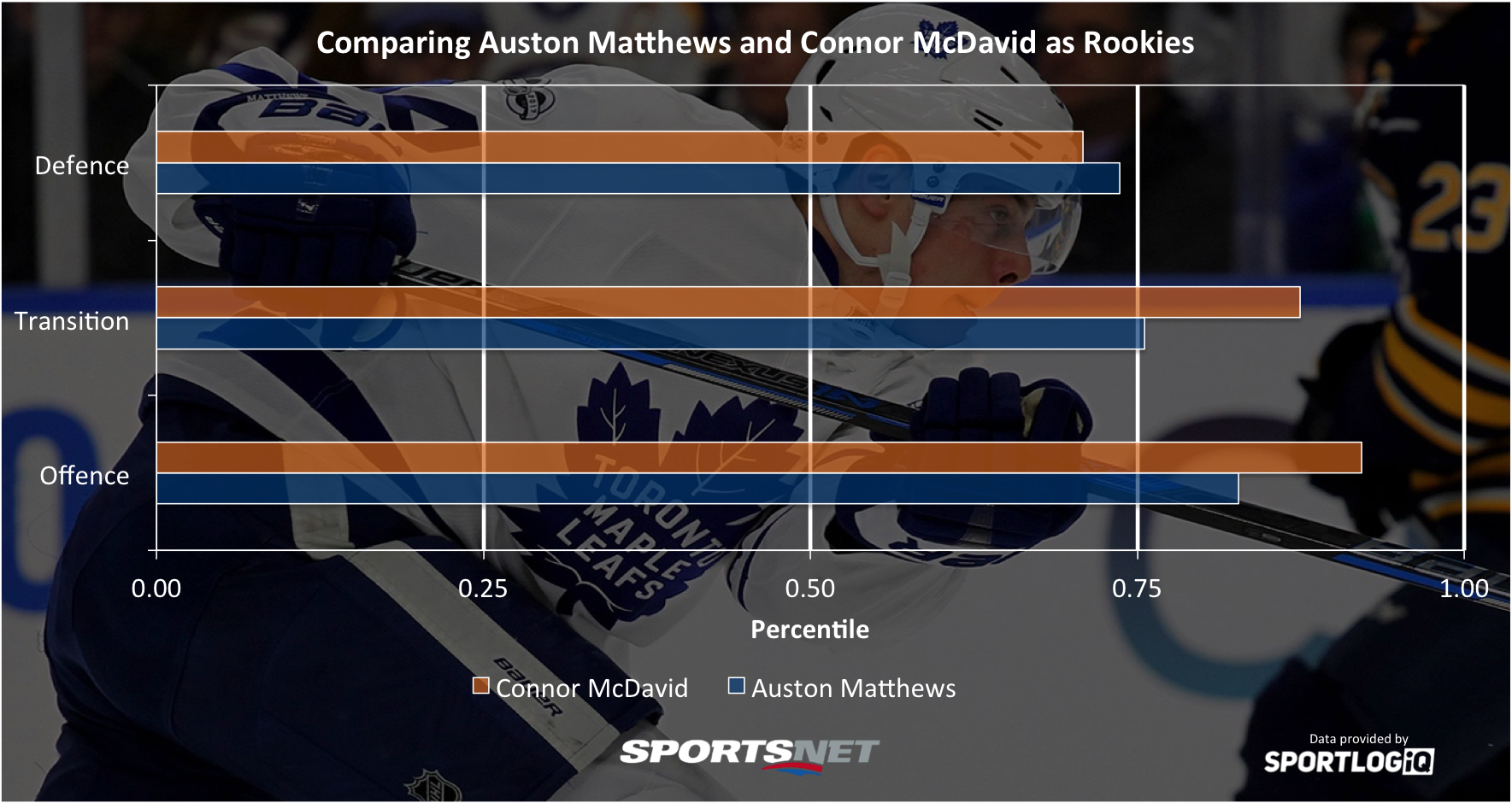 In the new point system McDavid's rookie season would have seen him ranked as the fourth-best centre in the NHL, so you can see he took a big leap as a sophomore, and that he is significantly ahead of Matthews, as great as Matthews is.
One area Matthews was stronger than McDavid as a rookie was without the puck, which comes down mostly to his league-leading puck recovery ability.
So what exactly is it that would prevent Matthews from becoming a peer of McDavid's? One thing that works against him is that last season his on-ice goals for per 60 minutes relative to his teammates was actually below average, owing in part to the Leafs boasting a more balanced lineup than the Oilers do, but if you dropped McDavid onto the Leafs, he'd likely still blow the doors off offensively on a relative scale.
Matthews was held back offensively last year partially because of how often he played with Zach Hyman, who was either snake-bitten or seriously lacks in finishing talent, depending whom you ask. Matthews set up Hyman for more inner-slot scoring chances than any other two players combined for last season, on which Hyman cashed in just four times on 56 chances at even strength.
That 7.14 shooting percentage would be rough from that area anyway, where the average shot beats goalies 22.6 per cent of the time, but add in pre-shot movement and you're looking at an expected shooting percentage around 30 per cent for an average player.
That essentially means the impact of Hyman's poor shooting last season was about 13 fewer goals for while Matthews was on the ice, and likely several more primary assists.
Things aren't quite so simple as all that, because Hyman has influence in other ways that passively affect goal scoring that perhaps a more skilled finisher wouldn't, but that dynamic undoubtedly held back Matthews' offence last year.
Another area Matthews could improve is his play between the blue lines, where he didn't move the puck up the ice as well as you'd expect of a player of his skill level. Watching him in pre-season this year though, it looks like he's already addressed that.
What's crazy about Auston Matthews is despite playing in the media centre of the hockey world, on the team with the most fans, he might still be underrated.