Among goal scoring machine Justin Faulk, and analytics darlings Jaccob Slavin and Brett Pesce, sometimes it's easy to forget that the Hurricanes also have Noah Hanifin on the blue line, the fifth overall draft pick in 2015.
At 20 years old, Hanifin is already in his third NHL campaign, and while he hasn't lit the world on fire yet and turned heads with consistency, his game has been strong for a young player.
When coming up with rankings for the top-23 defencemen in the NHL project, Faulk ranked 15th, while Slavin ranked 19th and Pesce 29th. Hanifin lagged behind his teammates pretty significantly, but ranked 79th, making him a mid-tier No. 3 defenceman in the NHL at just 20 years old.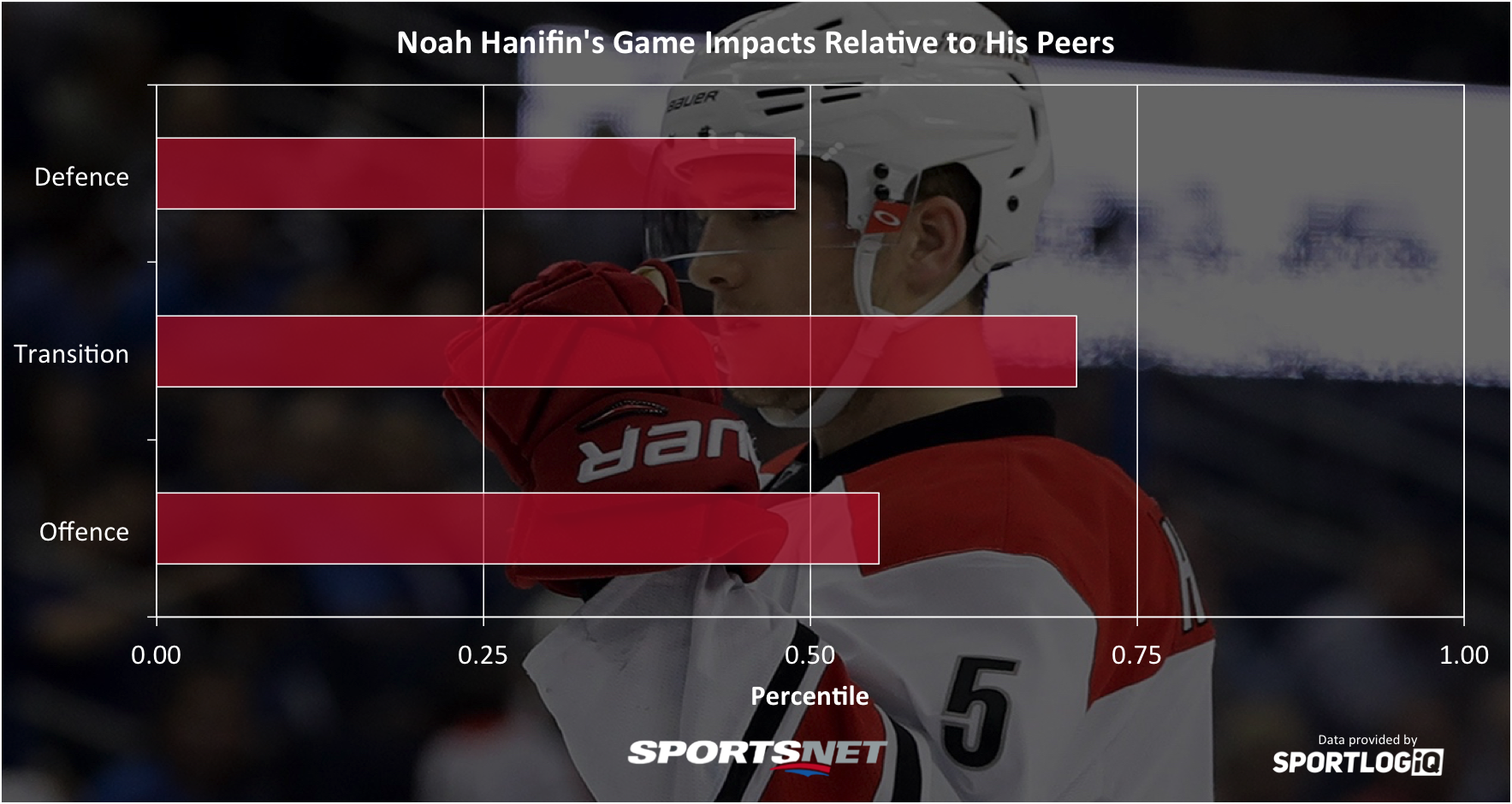 Hanifin's biggest strength is his transition game, but he could use some work without the puck, and he hasn't exactly been dynamic offensively. However this year he already has a goal and three assists in seven games, so it's possible his game is taking a step forward.
With the caveat that it's only been a handful of games, Hanifin has seen his involvement in scoring chance creation for his team at even strength jump from 2.6 per 20 minutes in 2015-16, to 2.7 last season, to 3.9 so far this year.
If he's able to maintain that level of involvement in scoring chances, his offensive numbers should follow suit and lead to a breakout year. But that's far from guaranteed, because there haven't been enough games for that statistic to have any persistence yet.
All we can really say is that, so far, Hanifin has been really involved on offence.
With Hanifin possibly taking a step towards being a first-pair defenceman, some might ask whether the Toronto Maple Leafs are regretting passing over Hanifin in favour of Mitch Marner at the 2015 NHL Draft, especially considering the perceived weakness of Toronto's blue line.
Marner had a brilliant rookie season offensively, but there have been some warning signs in his game, with Emmanuel Perry's WAR statistic ranking him as Toronto's worst regular player last season.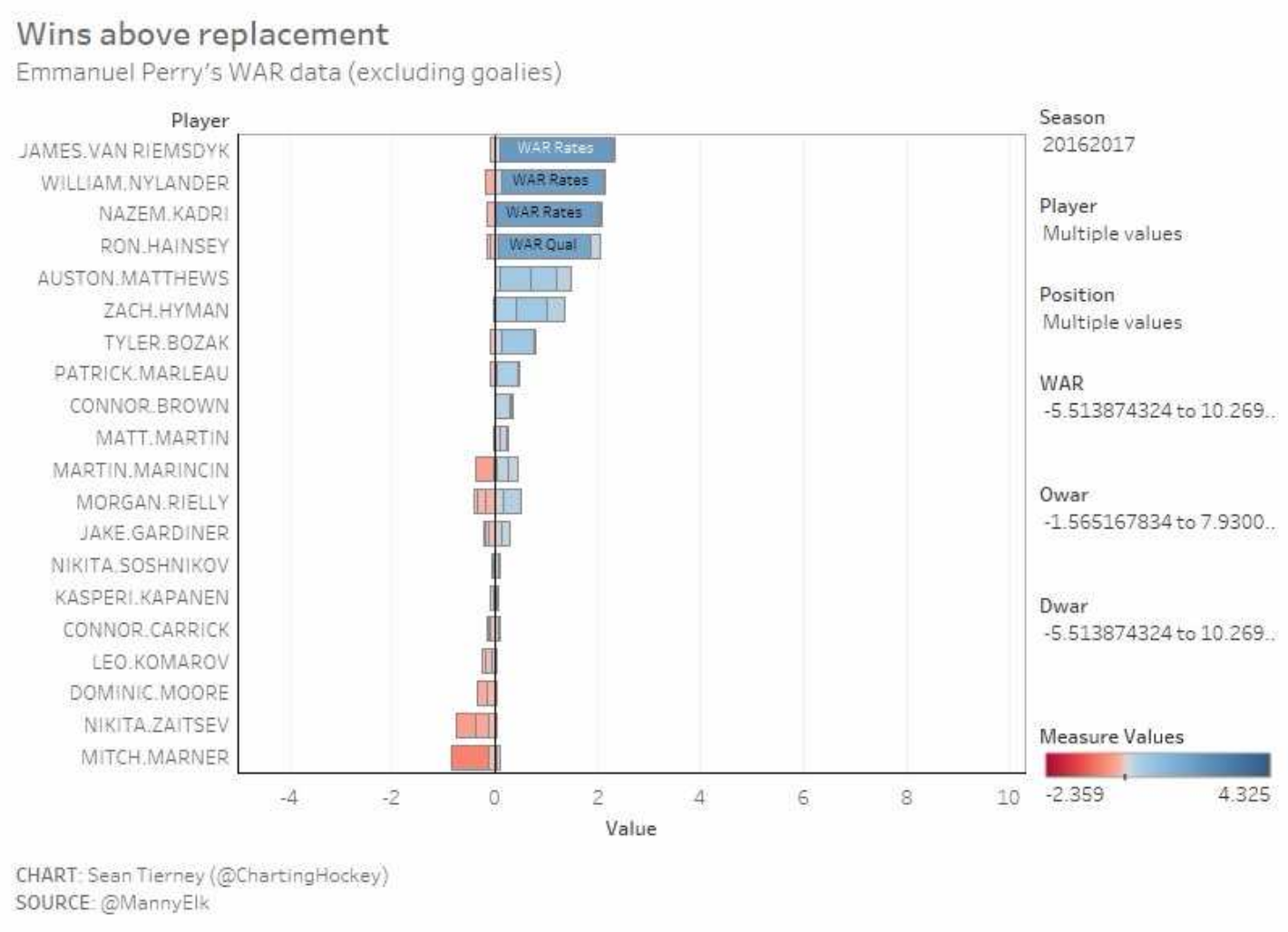 Marner has had a brutal defensive start to this season, which has led to a demotion to the fourth line, and yet he still has six points in nine games.
The question is hypothetical anyway, but even with the weaknesses in Marner's game, would the Leafs trade him for Hanifin if the offer were made? The trade may benefit Carolina, who could use some high-end offence and already has the defensive depth to spare a very good one, but the hypothetical trade or re-draft probably doesn't fit the Leafs' needs.
[snippet id=3638225]
Toronto could use an upgrade on defence for sure, but the type of defenceman they need is a tough-minutes eater who is strong at both ends. Jake Gardiner and Morgan Rielly are both very strong transition players, and both actually rank ahead of Hanifin over the past three seasons in impact — Gardiner at 27 and Rielly at 47 — and both scored better on the defensive side of the puck, too.
It's possible that Hanifin will surpass both of them relatively soon, but he is a very similar style of defenceman and just not what the Leafs need.
Now, if the Leafs could pry a player like Jaccob Slavin away, that would be a phenomenal fit, but you would probably have to fist fight the Hurricanes' analytics department to get them to even consider it.
Imagining what would happen if we re-ordered the draft can be fun, but ultimately when you hear Mike Babcock say he thinks Marner will be a star in the NHL, the team probably isn't regretting that pick.
[relatedlinks]