The biggest reason the Toronto Maple Leafs have had no trouble piling up goals since the beginning of last season has been 2016-17's rookie class, which included a franchise cornerstone in Auston Matthews, and possible future stars in William Nylander and Mitch Marner. Underrated among those flashy forwards though, is Connor Brown.
Brown had a different path to the NHL than his peers, gutting out two seasons in the American Hockey League for the Marlies and honing his game before getting his first real shot with the big club.
Unlike Matthews, Nylander, and Marner, Brown hasn't found a consistent line to call his own yet. He's spent time on the shutdown line with Nazem Kadri, he's played on the fourth line, and he's spent time with Matthews when Nylander was taken off that line last year.
Shuffled all throughout the lineup to fill holes, Brown has fit pretty well anywhere he's been put, showing himself to be a fairly versatile player who can make an impact at both ends of the ice. But every player of his calibre deserves some level of consistency, so where exactly does he fit?
On most teams, Brown could easily slot in among the top-six forwards, he may even be a solid first line guy if he's the support player on that line, but the Leafs are unusually deep at forward, so it gets complicated.
Through his first full season in the league, Brown hasn't been a big possession driver at even strength, but he hasn't been a drag either. What this means is that he's not a player you build a line around, but we already knew that; he's a complementary player.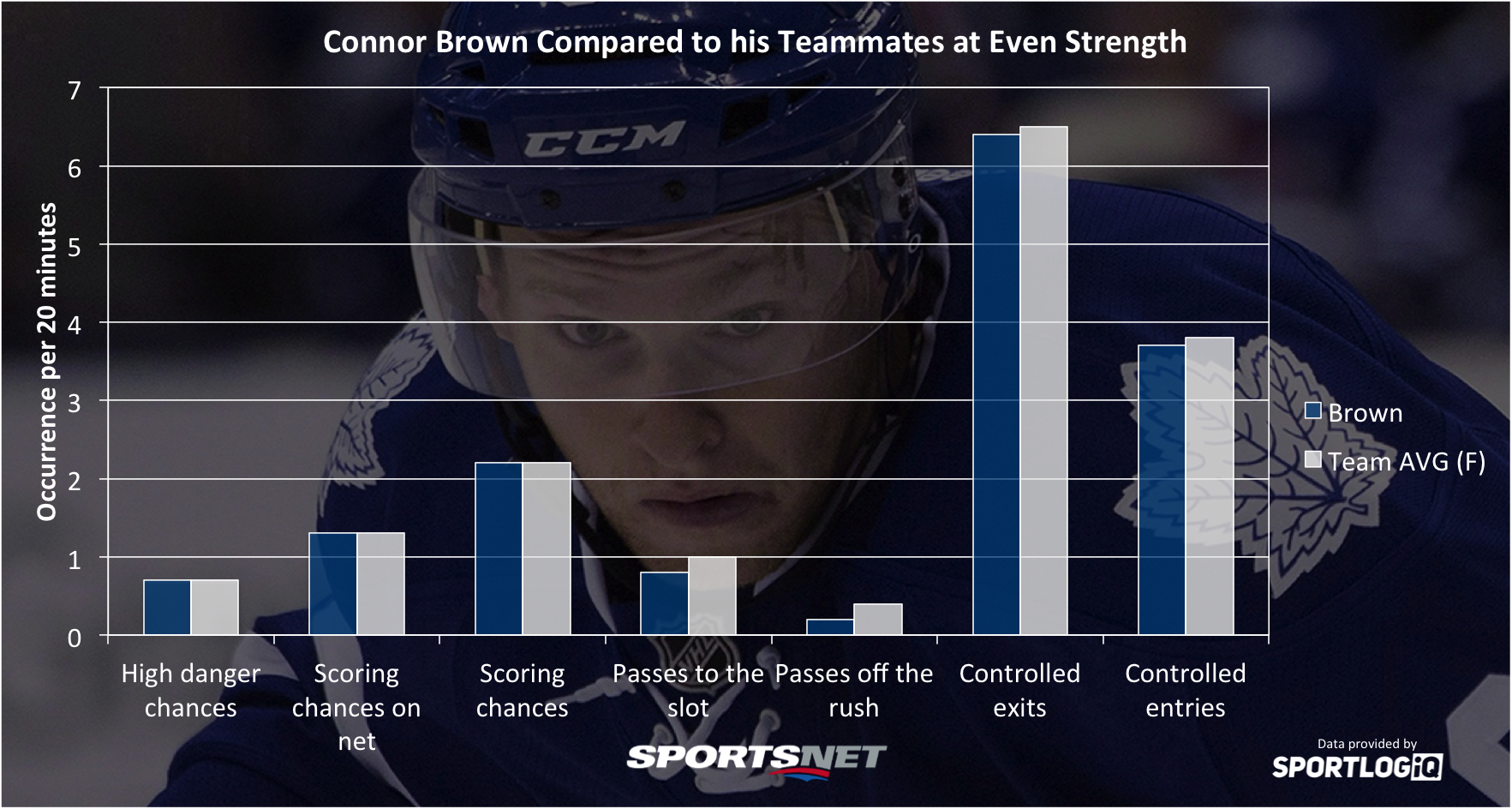 When you look at Brown's statistics from 2016-17 compared to his teammates, it's amazing how often he's right at the team average or very close to it. Remember that when it comes to offensive statistics that the Maple Leafs are among the best teams in the league, so the averages are higher, but overall it looks to me like Brown fits pretty perfectly as a sixth or seventh best forward.
That isn't really surprising when you think about it, because players at that talent level are usually the ones who get shuffled around the lineup. It's always tough to separate out a player's talent from the team they're on and the role they play, but if your sixth or seventh best forward is scoring 20 goals in the NHL and is sound defensively, that seems like a pretty good sign for your forward group.
Brown's best value to the organization may be this summer, when his versatility may allow them to let Leo Komarov walk instead of giving him a hefty raise, as Brown can step into his role alongside Kadri on the tough-minutes line with relative ease.