TORONTO – The focus of the NHL's trade deadline naturally centres around the moves teams make in an effort to take a run at the Stanley Cup.
Always has been, and once again will be as the hours tick down towards 3 p.m. ET, on Monday.
But an unmistakeable undercurrent has emerged over the last week and will be part of our deadline day conversation as well – the cold-blooded manner in which the Maple Leafs have gone about turning their cap space into draft picks.
Never has an organization approached a roster teardown in quite this manner, a notion that was hammered home late Sunday night when Toronto added veteran forward Brooks Laich, defensive prospect Connor Carrick and a 2016 second-rounder from the Washington Capitals for Daniel Winnik and a 2016 fifth-rounder.
Put another way: The Leafs were willing to take on an extra $2.25-million cap hit for this season and next while shipping out Winnik at the deadline for the second straight year in order to move up three rounds in the draft and add a 21-year-old right-shot defenceman with a little bit of NHL experience.
This was not the type of trade you would have seen before the advent of the salary cap, especially since Laich spent 12 years as a heart-and-soul player for the Caps only to get dealt from a top-tier Cup contender to the league's 30th-place team.
The organization even sent out a tweet thanking Laich for representing it with "class and pride." Captain Alex Ovechkin chimed in by saying he'd be missed.
Laich's parting gift to Washington is the cap space his departure opens up – with the team now able to take on more than $2 million in additional salary commitments. GM Brian MacLellan called Winnik a "versatile player who plays with grit and can be used in all situations" and will be searching the market for a little more help on the blue-line come Monday.
Clearly, the NHL's top team is in its window to chase a championship now because it surrendered some defensive depth by parting with Carrick.
One scout labelled him a "solid pick-up" for the Leafs, projecting him as a potential No. 4 or No. 5 defenceman who can chip in on the power play. For an organization playing the long game he's likely to slot immediately onto the NHL roster, allowing another prospect like Viktor Loov or Stuart Percy to remain with the AHL-leading Marlies.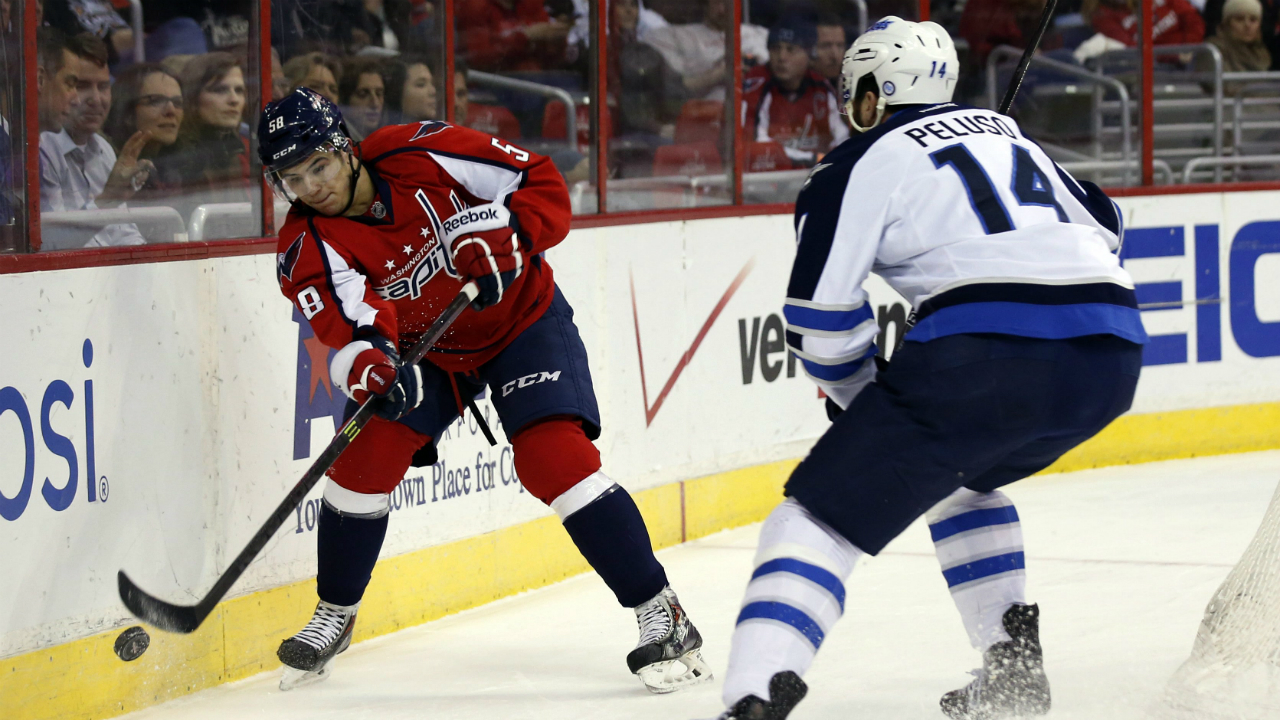 Newly acquired defenceman Connor Carrick (58) passes the puck past Winnipeg Jets right wing Anthony Peluso (14) during the first period of an NHL hockey game, Thursday, Feb. 6, 2014, in Washington. (AP Photo/Alex Brandon)
The Leafs' approach to this trade deadline stretches back to last summer and has played out in three acts:
• First they signed and acquired as many useful players on expiring contracts as possible;
• Then general manager Lou Lamoriello started selling off his assets early, turning Shawn Matthias, Roman Polak, Nick Spaling and James Reimer into a bevy of draft picks over the last week while opening up a ton of cap space in the process;
• Finally, the team is using that space to acquire more futures by taking on a contract like the one that belongs to Laich, which carries a $4.5-million cap hit this year and next.
It's a shrewd bit of business that has left the Leafs with 28 draft picks over the next three years, including 12 this summer: Two firsts, two seconds, two thirds, two fourths, a fifth, two sixths and a seventh.
Lamoriello will be actively looking to add to that haul on Monday with rentals P.A. Parenteau, Brad Boyes and Michael Grabner among those still available. The team is also dangling Jared Cowen, a buyout candidate who carries a rare salary credit, as an asset to cap-strapped teams.
And finally, we can't overlook the fact that the Leafs can still add $8.1 million in salary commitments on deadline day as well.
As we work our way through the final hours of wheeling-and-dealing, there will be plenty of eyeballs on the Anaheim Ducks and St. Louis Blues – two contenders that have been notably quiet so far. The Loui Eriksson decision in Boston warrants close attention, as does the Tampa Bay Lightning's attempt to honour Jonathan Drouin's trade request.
The Dan Hamhuis no-movement clause in Vancouver and Kris Russell's impending departure from Calgary are two other situations we'll be monitoring.
And the Leafs?
They'll continue making headlines of a different kind, acquiring picks and prospects at a rate rarely seen thanks to the organization's financial wherewithal and CBA-stretching creativity.
Trade deadline day is here. Enjoy the show.