TORONTO – Jonas Johnson is a calm man. Especially when it comes to watching hockey.
And yet there he sat with a small knot in his stomach just before sunrise on Sunday morning, tuning in live from his home in Gothenburg, Sweden, while the Toronto Maple Leafs hung on for dear life. His wife, Anna, typically falls in and out of sleep during games played a continent away but there was no way she was dozing off after seeing their son, Andreas, score his first career goal in the Stanley Cup playoffs.
"At the last period, I felt a little bit nervous, actually," said Johnson.
This is unusual. He learned long ago that his feelings about a game from the periphery won't have any impact on the outcome. It's a product of having played so many big ones himself.
But as the Boston Bruins churned around the Leafs zone late in Game 5, trying to climb back from a 4-1 deficit to eliminate Toronto, he watched not only as a parent of one of the participants but also as someone who remembers being so nervous for the first of his 135 Swedish Hockey League playoff games that he was barely able to skate.
"It was a tough period for them and I know that they had a history five years ago when they lost a game like that," said Johnson. "History is history, but you always hope that that doesn't affect the players that were on the ice that time. I think it was five players or something like that. And, of course, it's five important players because they have the experience.
"It's important that they don't feel the history."
It is only because of his family's history that Andreas Johnsson found his way to the Maple Leafs. And, parenthetically, it's only because of their history in hockey that he now spells his last name with an extra "s" – since the equipment man with the Frolunda Indians incorrectly put "Johnson" on his father's sweater (and later his) even though it is spelled "Johnsson" in their passports.
Andreas corrected the mistake after moving to North America.
That they play under slightly different last names only underscores how comfortable Jonas Johnson was in letting his sons become their own men. He never pushed Andreas or Jonathan – a forward with MODO in Allsvenskan – towards hockey. The only household rule was that they had to see any activity through for a season before deciding if they enjoyed it enough to continue.
That said, Jonas Johnson played in the SHL until age 39 and retired with the third-most points in Frolunda's history. His boys basically grew up inside the team's dressing room, bumping fists with players after wins and collecting sticks and occasionally getting to skate on the ice at Scandinavium.
"It made me fall in love with hockey," Andreas says now.
Frolunda was his favourite team and his father was the captain. Jonas Johnson spent years centring a dangerous line with Tomi Kallio and Niklas Andersson. Andreas considered them all his favourite players.
When Frolunda won the SHL championship in 2003, Kallio scored the winning goal in triple overtime – although Andreas had fallen asleep in the stands because the game went so late. When they won again two years later, he was awake to see Andersson score the golden goal in overtime.
That 2004-05 season was a unique time in Sweden because of the unprecedented lockout that cancelled NHL games for a year and sent star players to Europe en masse. Frolunda loaded up.
"I remember it very clearly," said Andreas. "[P.J.] Axelsson, [Daniel] Alfredsson, [Samuel] Pahlsson, Sami Salo. Who else did we get?"
"It was a special year for us," his father said. "Probably the best year for the whole league – like it was so many skilled players in every team. We had a great year. I remember actually we had the final against Farjestads, and [Zdeno] Chara, he was playing in Farjestads, and so it's pretty funny to watch Andreas play against him right now."
Time folds on top of itself. It was the defence pairing of Chara and Charlie McAvoy that Andreas snuck behind on Saturday night when he took a lovely pass from Nazem Kadri and scored the biggest goal of his life. But consider as well that Johnsson is a product of the 2013 NHL draft – taken a couple months after Toronto's Game 7 collapse at TD Garden.
Had they not blown that infamous 4-1 lead, they wouldn't have owned the 202nd pick they used to select him. Maybe he would have ended up somewhere else instead.
Strangely enough, Andreas became a seventh-round pick just 11 years after his dad was taken in the same round. Jonas Johnson was 32 when the St. Louis Blues selected him 221st in 2002 – teams could still do that then – but never even attended training camp here in part because he was so established at home with a young family.
"It was close," he said. "I always say that you shouldn't regret things, decisions, but of course it was a tough decision. I can feel that maybe I wanted to have the chance a little bit earlier. I'm happy with the way things turned out.
"It doesn't help me to regret things, so I don't think about it anymore."
Reaching the NHL was always No. 2 on his son's list of childhood dreams. The top priority for Andreas was to play for Frolunda and he achieved that goal while still a teenager – eventually helping the club win its fourth SHL championship in 2016.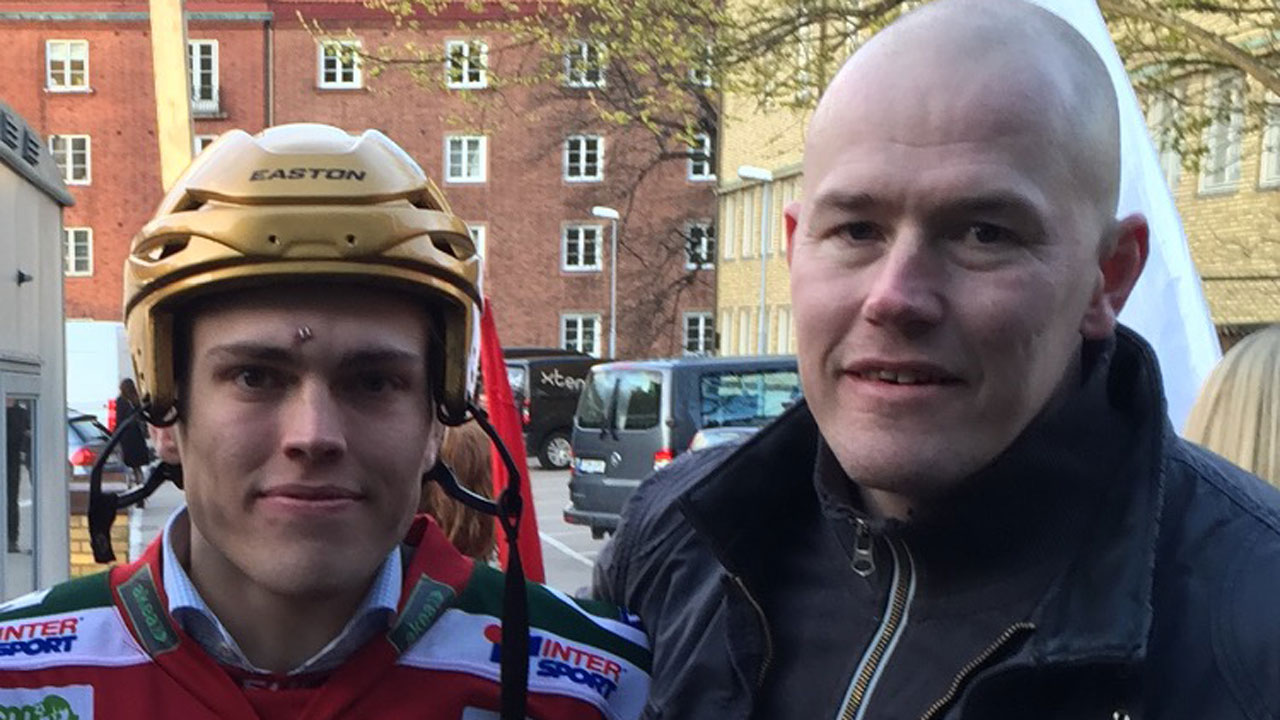 When I first asked him about calling his dad for a story, he lit up. On more than one occasion he circled back to make sure I had the number. There's been moments in Johnsson's time with the Leafs where he had flashbacks – like when Tyler Bozak's son, Kanon, started bumping fists with players after pre-game warmup or when Patrick Marleau's boy, Brody, came out for a skate on his birthday.
"It's awesome to be a kid and get the opportunity," said Johnsson. "I was super lucky. It brings a lot of joy in me."
His father is modest about his own role in the son's success. He credits the organization for how they handled Andreas after he suffered a concussion in his second American Hockey League game two years ago. He also takes comfort in the way they've helped him adapt to life in a new country and put him in a position to earn a callup from the Leafs last month.
"The [Marlies] coaching staff have been really, really good – great – with him."
Jonas Johnson will tell you that there are differences between him and his son. The most obvious is the height – he's six-foot-two while Andreas falls somewhere between him and Anna at five-foot-nine. But it extends to the ice, too.
"I was a centreman," said Johnson. "He's a winger, he's quicker. I wasn't only a goal-scorer, but he's more of a scorer. He has always liked to score goals, so I think it's not much that's similar.
"He's quicker and … better."
Good enough to make it all the way to the NHL. Andreas will suit up for another Leafs playoff game Monday and Jonas will be watching, trying to keep those nerves in check in the dead of night.