Speculation has begun about whether or not Nazem Kadri is a part of the Toronto Maple Leafs' core going forward.
It was a disappointing offensive season for Kadri, who failed to hit 20 goals for the second straight year, but still led the Maple Leafs in points with 45, and ran away with the shot lead at 260, nearly 100 shots more than the next best Leaf.
His season ended early thanks to a suspension for a cross-check to the head, which was not his first run-in with the NHL's disciplinary committee.
Lou Lamoriello has sung Kadri's praises several times this season, but he did the same for former captain Dion Phaneuf earlier in the year, perhaps boosting his stock ahead of his trade to the Ottawa Senators. The situations aren't parallel; the two players are at vastly different stages in their careers, with Kadri a restricted free agent this summer. Yet still, it has Leafs fans and media wondering what the plan is with the 25-year-old centre.
In order to get a better idea of the player Kadri is, and whether or not he's good enough to commit long-term dollars to, let's look beyond his production and at his underlying numbers, which should give a better idea of what's to be expected of him going forward.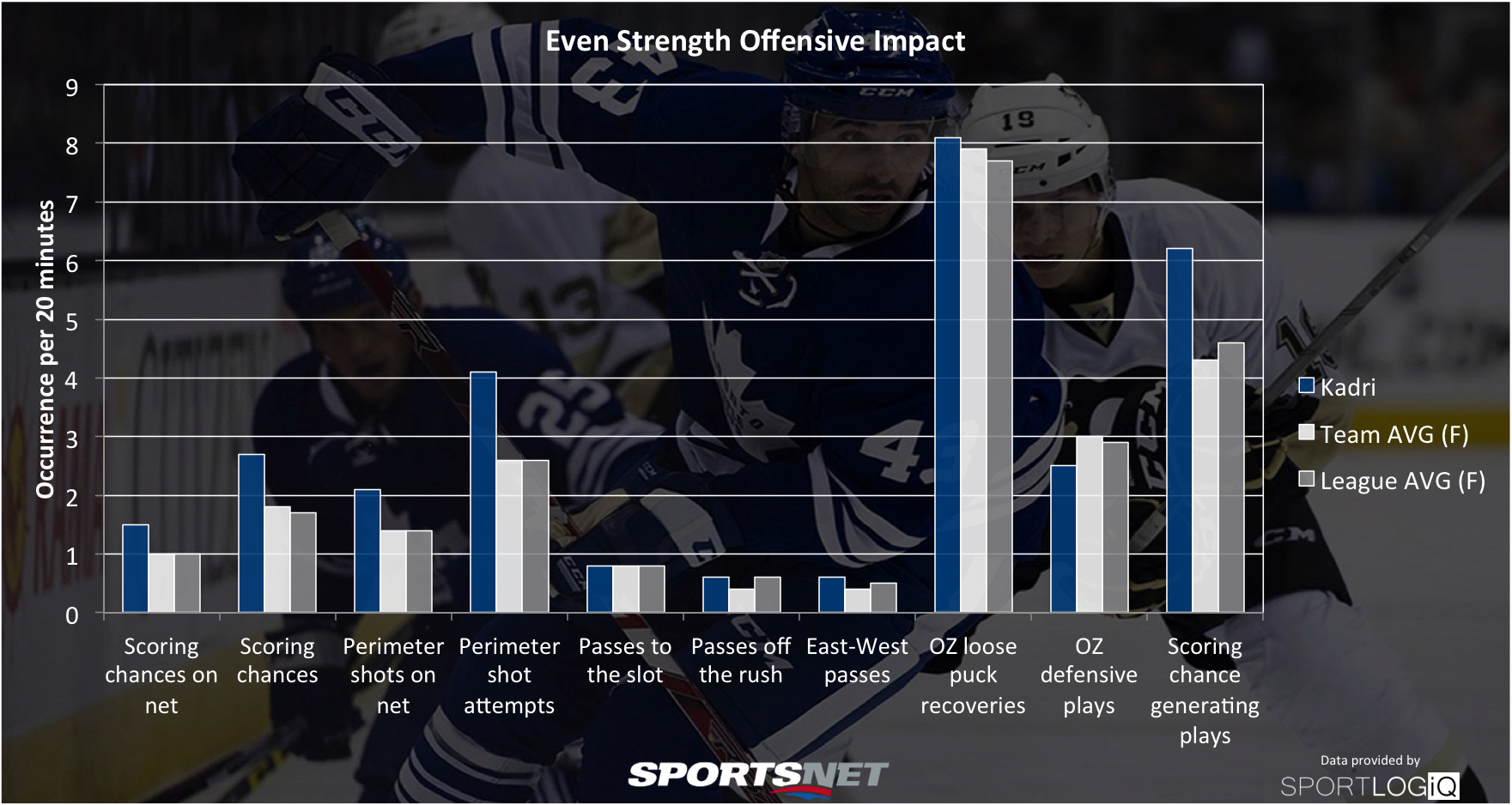 What should be immediately apparent is that Kadri is a shooter first. Kadri led the Leafs in shots, but more importantly he led them in scoring chances by a wide margin. Kadri is 10th in the entire NHL in even-strength scoring chances per minute played, just a hair ahead of John Tavares. That's a little surprising for a player that seems to have a tough time hitting the 20-goal mark, but his shooting percentage is barely over half of his career average this season, meaning his goal totals should rise.
Kadri doesn't stand out much when it comes to passing. He passes off the rush and East-West a bit more than his teammates do on average, but he's by no means a high-end playmaker, relying more on his shot to create scoring opportunities either for himself or with rebounds.
Kadri is also a decent forechecker, specifically in pouncing on loose pucks. He's less involved in the removal of puck possession from opponents (defensive plays) than the average Leafs forward, but as a shoot-first player that's to be expected. He should be the player retrieving the puck as F2 on the forecheck, or in support in a shooting position as F3.
In terms of generating scoring chances, Kadri leads all Leafs by a significant margin, and rates within the top half of all first-line forwards in the NHL. So where is the production?
Part of the reason is a lack of talent surrounding him on the Leafs, on a roster that was purposely underwhelming this season. That leads to fewer shots that come off of cross-ice puck movement, which lowers the expected shooting percentage. Kadri is also transitioning into being a true high-volume shooter in the NHL; part of that has been a bit of a 'spray and pray' style, and not all scoring chances are created equal.
For example, let's look at Kadri's shot attempt locations.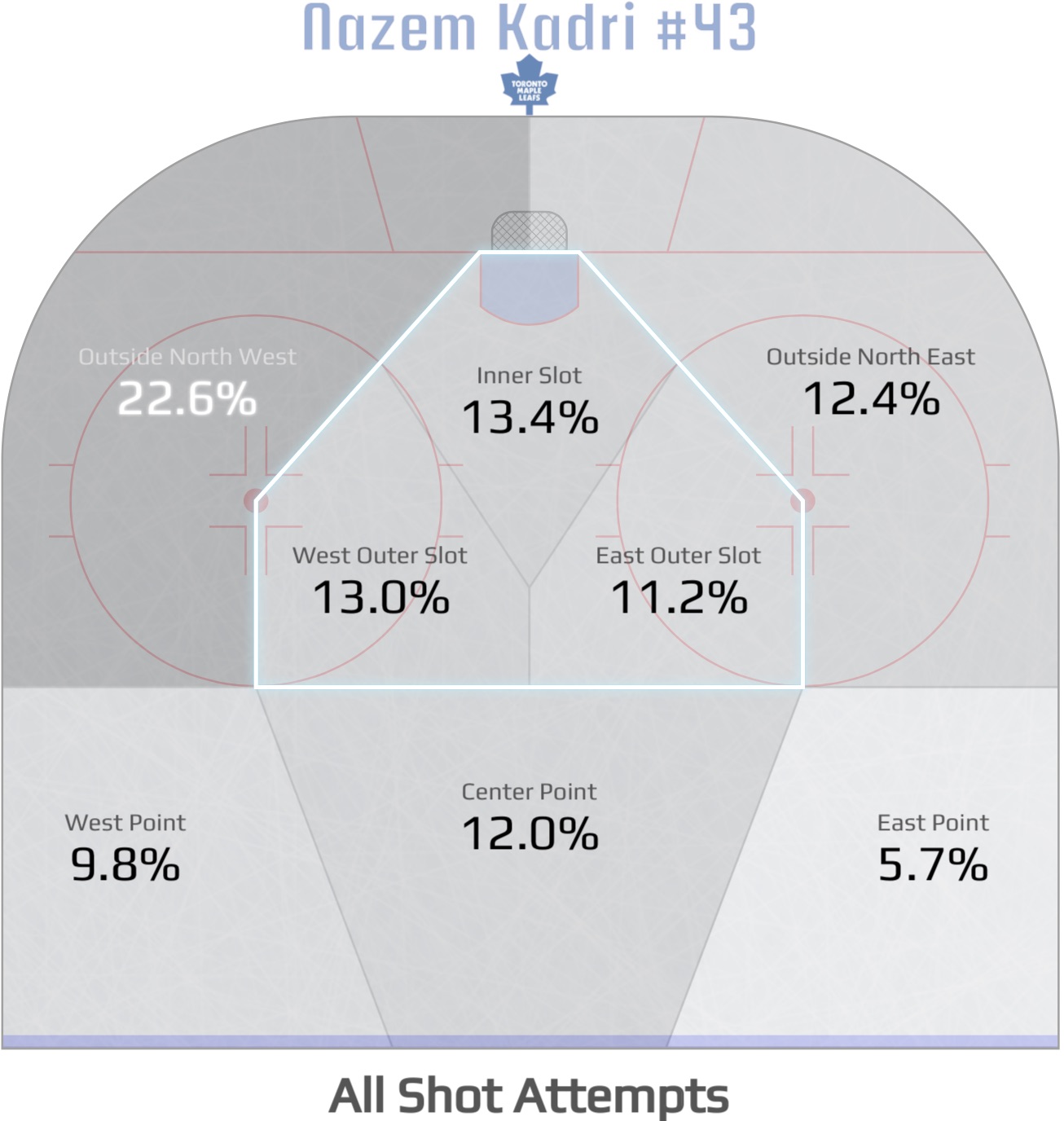 A huge portion of Kadri's shot attempts come from the left side down low, where as a left-handed shooter he has bad angles to score from. He also takes fewer of his shot attempts from the inner slot than most players do, just 13.4 per cent, so despite a high volume of scoring chances, his average shot quality is not very good. Let's compare him to Tavares, who produces scoring chances at almost the exact same rate, but has scored 32 goals to Kadri's 17.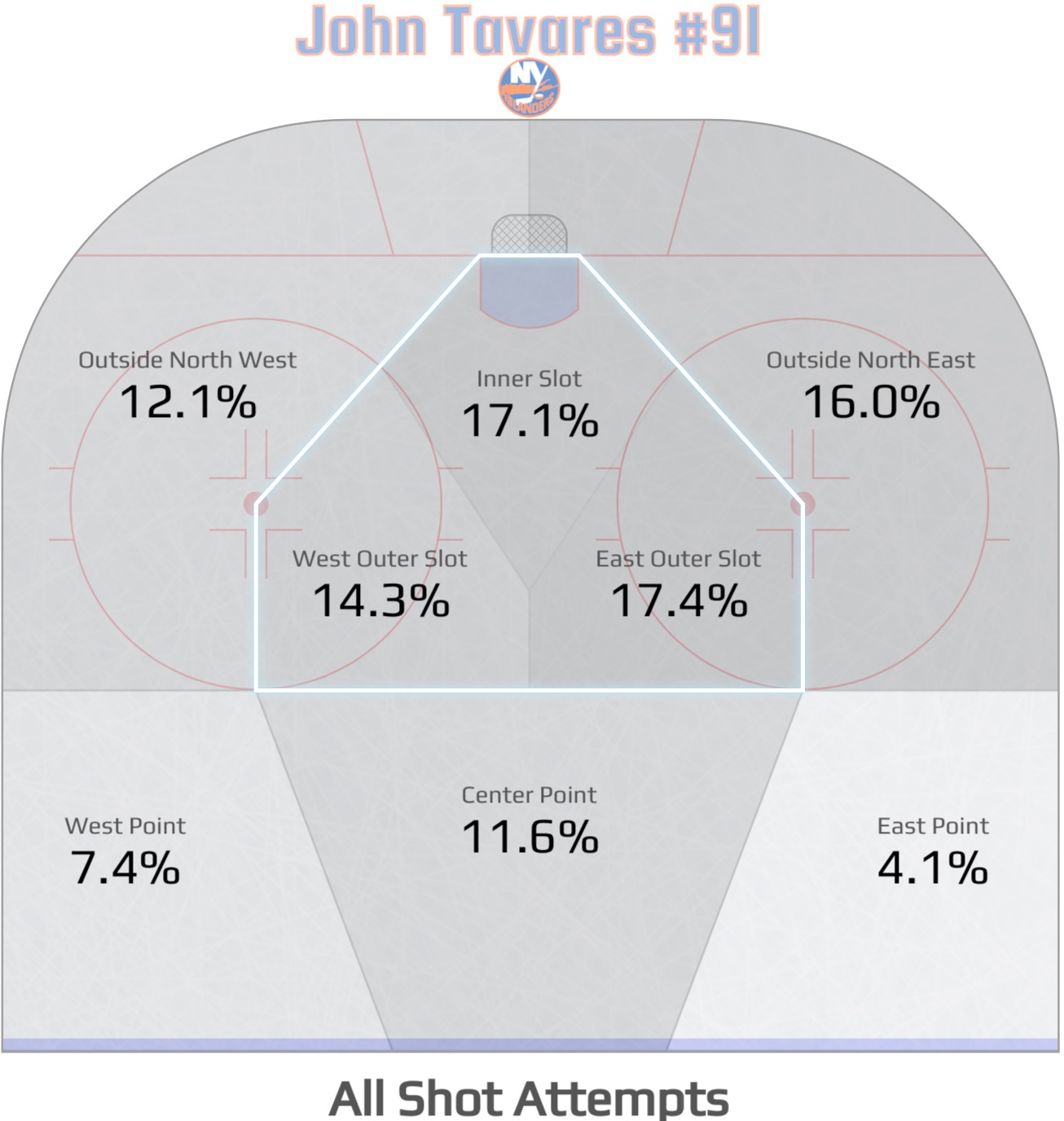 Notice that Tavares takes a much higher percentage of his shot attempts from his off wing, giving him a better angle in general, and takes a higher percentage of his shots from the inner slot.
Kadri's shot volume makes up for his shot locations a little bit, but the results for him will always be a lower shooting percentage unless he can find ways to get into better shooting positions. Some of this is on his linemates, but not all of it.
However, this isn't to say Kadri can't be a big time goal scorer, it just explains why he hasn't been despite his high scoring chance and shot numbers. Kadri has demonstrated the skill to get shots on net at a high volume, the next step is to pick his spots a little bit better.
If Kadri can change his shooting pattern, even slightly, and maintain the volume he produced in 2015-16, it's possible he could push 30 goals in the future.
That's a rare talent in the NHL these days, especially when you already know the player is decent on the defensive side and drives possession effectively. At 25 years old, the Leafs would be smart to take a risk and go long-term with Kadri, who looks like an ideal option as a second-line centre for a contending team.