With the Toronto Maple Leafs on the edge of playoff contention for the first time since 2013, and legitimately decent for the first time since 2004, there's been lots of talk about what they need to address to go from merely good, to a playoff threat.
Pretty much all analysts and fans alike agree that the main issue the current roster has is on defence, though what kind of upgrade they need there depends on your perspective of the game.
The name that keeps getting tossed out as a possible piece they can afford to move is James van Riemsdyk, a high-end offensive winger who has one season left on his contract at $4.25 million.
There are a few complications to this idea though, the first being that while defencemen are in high demand, wingers usually aren't, meaning that when you're trading van Riemsdyk, you're unlikely to get a defenceman who is as good at his position as van Riemsdyk is at his.
The second wrinkle is that van Riemsdyk's contract is an incredible steal, so the Maple Leafs are not likely to be in a rush to unload it, and it would take a great deal to persuade them.
Even if the Leafs were able to find a defender who fits their needs for van Riemsdyk, they're unlikely to be interested if the player doesn't have term through a contract, or control through restricted free agency. The Maple Leafs are not currently in their best possible Stanley Cup window, so why pay big prices for a rental?
All these factors lead me to believe that a van Riemsdyk trade is fairly unlikely, but the question isn't really whether it's likely or not, it's whether it's a good idea for the team to pursue.
Wingers are more replaceable players than defencemen are, especially when they're relatively one dimensional like van Riemsdyk, but for the Leafs, most of their current, NHL-ready talented wingers shoot right. William Nylander, Mitch Marner, even Connor Brown and Zach Hyman, all shoot right, while van Riemsdyk shoots left. So what happens if van Riemsdyk is gone?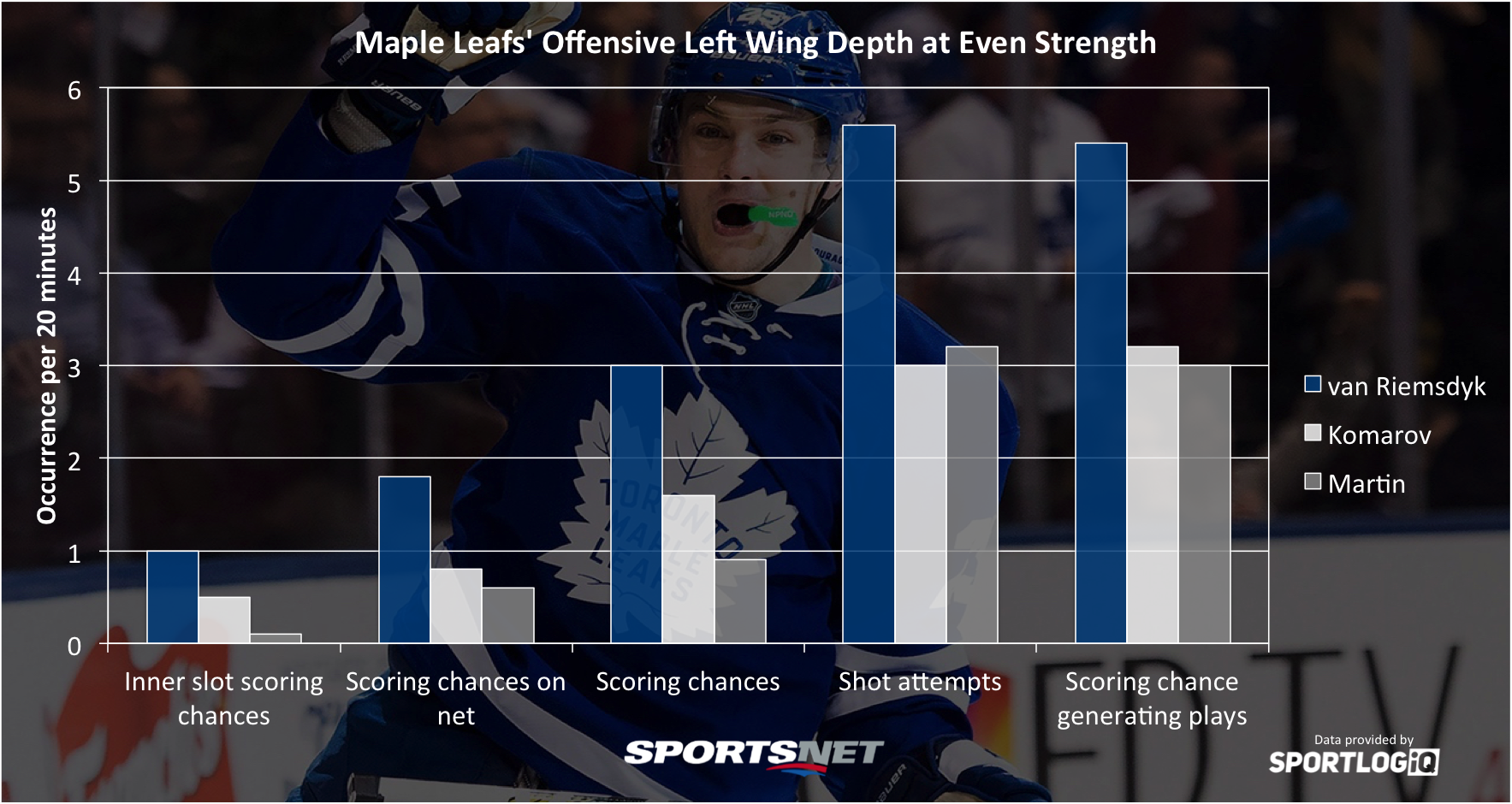 In terms of NHL depth, the Maple Leafs' left side goes van Riemsdyk with 17 goals and 41 points, Leo Komarov with 8 goals and 16 points, and Matt Martin with 4 goals and 7 points. Brendan Leipsic has been excellent for the Toronto Marlies in the AHL, but whether he can ably replace a veteran player who consistently pushes the 30-goal and 60-point marks every 82 games is up for debate.
The NHL-level options for replacement aren't just poor, they're awful, which has to raise the question of how desperate the Leafs are for a top-end defenceman?
Earlier this year I took a good look at the Maple Leafs' defence, concluding that they had the makings of a solid top-four group, and since then it has only improved. While the Leafs had some terrible defensive outings early in the year, a large reason why Frederik Andersen's improvement through the mid-season was so strong was because the Leafs were able to cut down on dangerous chances against.
Mike Babcock has done an excellent job managing the growth of Morgan Rielly, and Nikita Zaitsev seems to be adjusting well to the NHL as the season goes on. The second pairing of Jake Gardiner and Connor Carrick has remained strong as well, so that only leaves the third pairing that's been trouble.
The Leafs, like any team, would benefit from the addition of a premier defenceman in his prime, but the fact is, unless they believe they can win the Stanley Cup with over half of their top-12 forwards being rookies, I don't really see the point in making a big splash right now, and no third-pairing defenceman is worth van Riemsdyk.
The Leafs should attempt to upgrade their third pairing, but not for any significant cost. As tempting as it is to try to catch lightning in a bottle, this is still a development year for all their young players. Some playoff experience goes a long way in learning what it takes to win at this level, and the Leafs have another calendar year to evaluate what they might want to do with van Riemsdyk before he hits unrestricted free agency. What's the rush?