NEWARK, N.J. – This particular 18-wheeler is travelling at a high rate of speed. What the Toronto Maple Leafs need now are some steady hands to keep it on the road.
It was only last weekend, believe it or not, when the Leafs arrived in Washington following a successful swing through California which included a big victory in Los Angeles. That propelled them to second in the Atlantic Division and left them nine points clear of the Detroit Red Wings, the closest playoff pursuer in the Eastern Conference.
That comfy cushion is no more.
The Leafs now have no margin for error and seemingly no confidence following a 3-2 loss to New Jersey on Sunday night, their fifth in an eight-day span that has produced many more questions than answers.
"I don't think we're playing that bad," said sniper Phil Kessel. "I think we're playing OK. We get chances and just we're not getting them to go right now as you can see.
"It's a tough stretch, I'll tell you that much."
There is no relief in sight with the league-leading St. Louis Blues set to visit Air Canada Centre on Tuesday and a tough back-to-back against Philadelphia and Detroit on Friday and Saturday. This is already quite bad, yes, but could it easily get worse.
And while many among the fanbase seem to be directing their frustrations at James Reimer – the goalie of record during the entire five-game losing streak, who was yanked against the Devils on Sunday – to place this all in his crease is to ignore the much deeper issues at play here.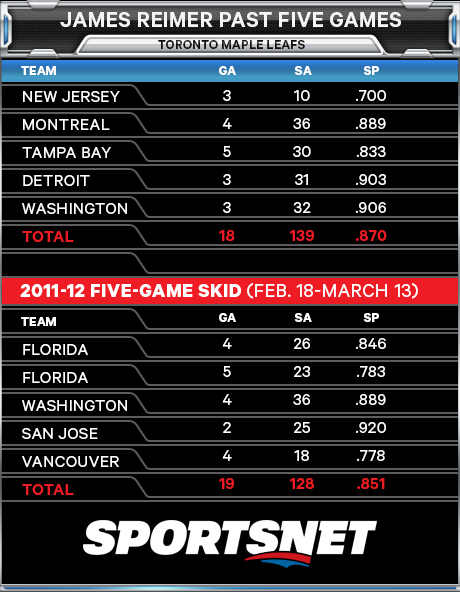 Poor starts and mental errors are clearly at the root of the problem. It was a bad line change by David Bolland that allowed Damien Brunner to come in on a 2-on-1 and open the scoring. Then on the very next shift Travis Zajac got behind defencemen Dion Phaneuf and Carl Gunnarsson for a breakaway that Reimer stopped.
The next great Devils opportunity came early in the second period when Patrik Elias got in on a breakaway and scored with a nice deke. When Jon Merrill floated a shot through Reimer 42 seconds after that, Carlyle gave him the hook.
"We made some key mistakes that let them come in all alone on him," Tyler Bozak said of Reimer. "We haven't helped him out one bit. Obviously it's easy to pick on the goalie when things are going bad for a team."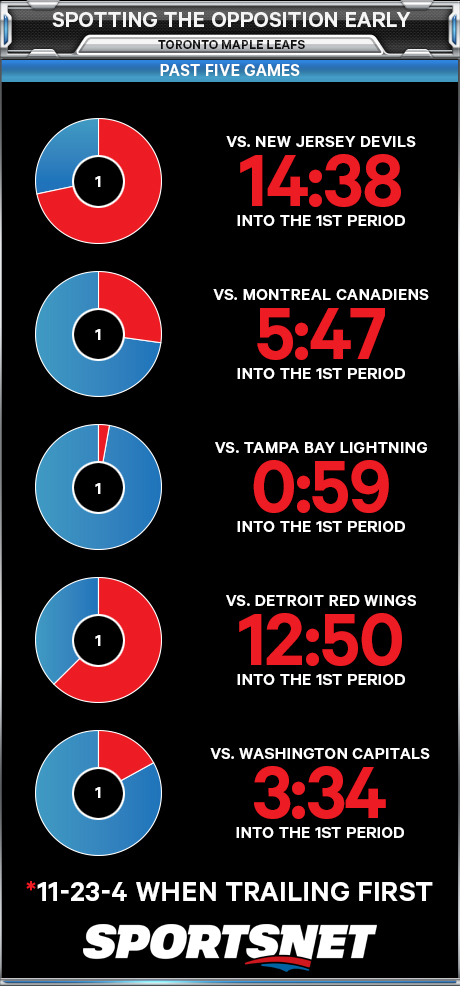 One of the bright spots on this night was the relief work by Drew MacIntyre, the 30-year-old journeyman who stopped all 14 shots he faced in his fifth ever NHL appearance. That might be good enough to earn him his first career start at this level if Jonathan Bernier's groin strain hasn't improved in time for the game against the Blues.
Stranger things have happened.
MacIntyre has been pining for a chance to prove that he can play at the NHL level while bouncing from organization to organization and league to league. The Leafs are the 13th different pro team he's made an appearance with and all of the work he put in during those various stops has given him confidence.
"(I have) experience," said MacIntyre. "I know it's not NHL experience, but I've learned lessons. Trial and error. I've figured out how to be comfortable in situations – that's the biggest thing is the mental kind of block of NHL because my whole career I've never been able to get there."
The Leafs are currently dealing with their own mental block, which has only been exacerbated by the number of teams passing them in the standings.
No one appeared more frustrated after the latest loss than James van Riemsdyk, who had numerous quality chances but failed to score on any of his team-leading five shots. He's been held without a goal in 10 of the last 11 games.
"It's my job to score goals," he offered up without being asked about the recent drought.
There are other offenders. David Clarkson has two points in 24 games and failed to make any impact in his first game here since signing with Toronto. Second-liners Joffrey Lupul and Nazem Kadri didn't so much as register a shot against Devils goalie Cory Schneider on Sunday. The team failed to capitalize on a 5-on-3 power play that lasted 76 seconds.
Perhaps the most concerning thing of all was that it was another incomplete effort in a game that should have been viewed as the most important of the season.
"We have to find a way to stop the bleeding here and do everything in our power to regroup with this hockey club," said Carlyle. "When we do play, for stretches we look like we're a team that can play with anybody and then we're inept in some areas."
For what it's worth, Reimer has continued to show grace despite the obvious disappointment of being unable to bail out his teammates during a wild week. After chatting with goalie coach Rick St. Croix in the visiting dressing room at the Prudential Center on Sunday night, he highlighted the positives that he expects to take from this tough situation.
"As crazy as it sounds, I know I'm becoming a better goalie and obviously a better person," said Reimer. "Obviously, it's been a ton of adversity in many different forms.
"When you can weather it and keep your chin up, you just get better."
His teammates would be wise to try and follow suit, but that will be no easy task. Right now this group is veering towards another disastrous collapse and everyone can feel the growing sense of impending doom.