After a 72-point regular season, it's hard to call Tyler Johnson a breakout star, but for fans getting their first extended look at him there's no doubt he is just that for the 2014-15 Stanley Cup Playoffs.
But his sudden goal outburst doesn't have him among names like Wayne Gretzky or Sidney Crosby, more like playoff "legends" Ruslan Fedetenko, Fernando Pisani and RJ Umberger. Those are names that scream of a player getting hot at the right time, while also tagged with fluke and unsustainable. Any time players have a shooting percentage in the high 20s and produce at a 60-goal pace red flags are raised for suspect performance.
Now, Johnson isn't Steven Stamkos, but I'm not sure that this is all luck-based either.
STANLEY CUP PLAYOFFS: | Broadcast Schedule
Rogers GameCentre LIVE | Stanley Cup Playoffs Fantasy Hockey
New Sportsnet app: iTunes | Google Play
The Red Wings gave Johnson a steady dose of Pavel Datsyuk and Niklas Kronwall, and the Habs used P.K. Subban and Tomas Plekanec. I made the assumption last week that the Rangers would match Rick Nash's line against Johnson's "Triplets" and use the Marc Staal pairing on defence. But through two games, New York has been using the Derek Stepan line as well as Ryan McDonagh-Dan Girardi against Johnson's line—the same unit the Rangers used to limit the damage against Crosby and Alex Ovechkin in the first two rounds. That is a ton of respect when you play on a team with Stamkos.
---


Download Sportsnet magazine now: iOS | Android | Windows
---
With that type of competition and his current scoring rate, his performance is tough to fathom and definitely seemingly unsustainable. Looking at his shot metrics, it is difficult to understand how he can be plus-five at even strength.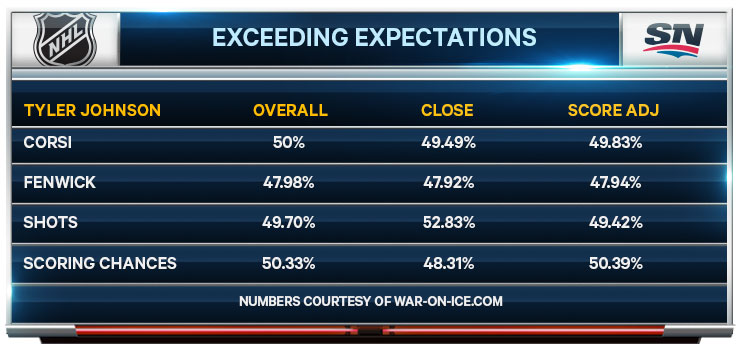 Johnson is pretty much on par or below the break-even point these playoffs. That makes absolute sense when when looking at his deployment and generally leads back to a conclusion of luck and probability. With an expected-goal total based on location and pre-shot movement we begin to see how he has managed his even-strength totals. Running those numbers against shot-based metrics (which measure each shot as equal) the numbers went from Johnson treading water to Johnson dominating.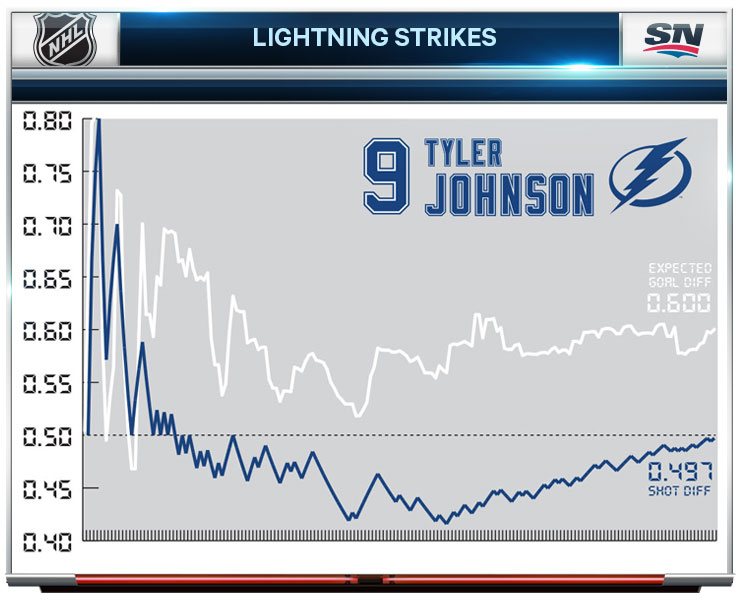 When accounting for important goal variables (pre-shot movement including passes, rebounds and tips) Johnson's numbers spike to a dominant 60 percent. When plotting the actual shot locations we also see why he and his line are shooting the lights out. When all shots are equal we don't discount shots from outside the blueline or the exterior low-quality red shots measured versus the high-quality green shots that take up the most quality real estate around the crease.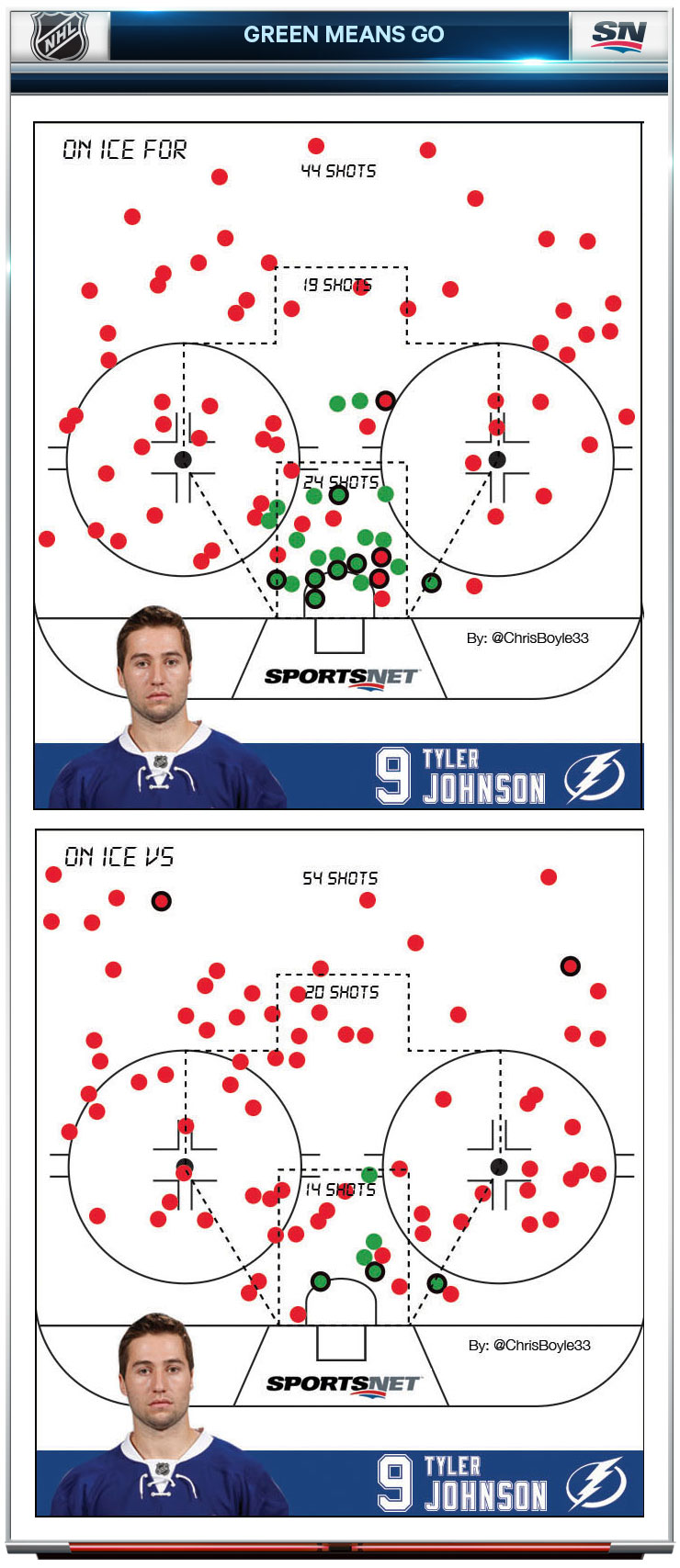 Johnson's line is dominating the highest-scoring area on the ice with high-quality green opportunities—shots with high probability of success thanks to pre-shot passes and blazing speed that force movement by the goaltender. Defensively, Ben Bishop is getting a lots of clean looks and has allowed a couple of long-range low-percentage red goals. An incredible performance from a third-year player being expected to carry a heavy playoff workload.
Johnson also passes the eye test because of his incredible speed and the highlight-reel goals he has scored the past month. This was evident when I reviewed his even-strength shots.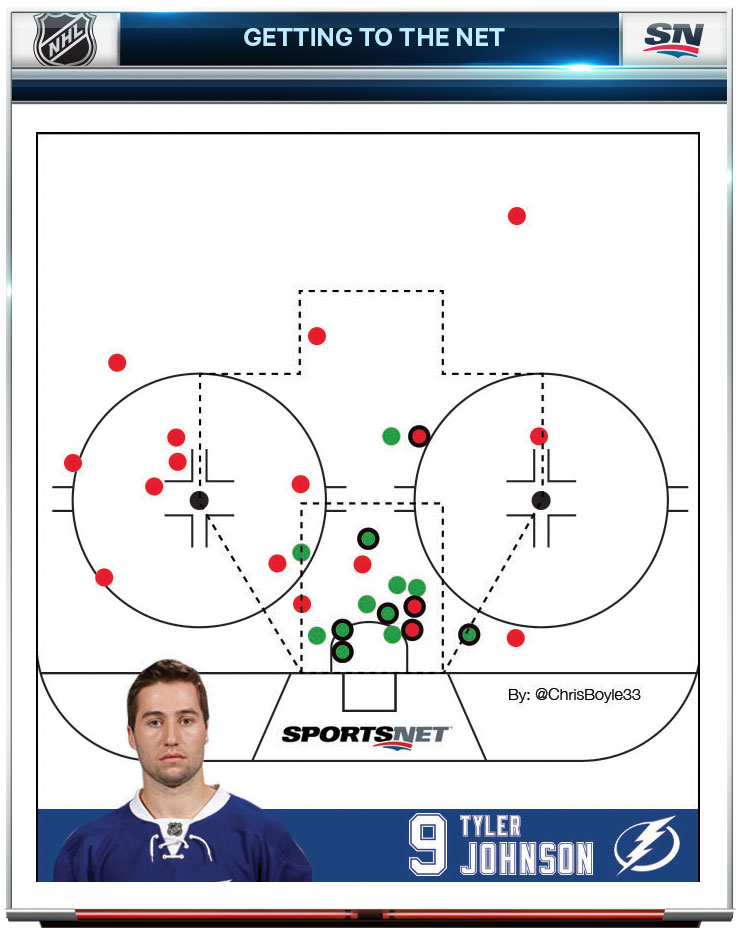 With the importance of zone entries established, we also see why Johnson is such an effective offensive player. He has controlled the neutral zone with speed and exposing defencemen who don't challenge zone entries.
Of his 27 shots at even strength, 24 were the result of zone entries, 14 of which Johnson was individually responsible for. He has been attacking the blueline with speed and exposing slow D-men to the outside with blazing net attacks, cutting to the middle to cross-up coverage, creating space for supporting linemates and second-chance opportunities as well as manipulating passing lanes that expose the royal road. It is an effective use of his speed and one that not all speedy players take advantage of.
Is Tyler Johnson a 60 goal scorer? No. He doesn't shoot the puck enough. He has been full value for his production and fluke or luck isn't a term I would use to explain his goal-scoring explosion. He has threaded some needles on some incredible shots versus Petr Mrazek in the first round and Henrik Lundqvist in game two, but assuming average finishing abilities on the opportunities he and his linemates have created, I have Johnson at five expected goals instead of eight. If we accept that he has above-average shooting ability, his production isn't that far off what he should be producing based on his actual play.
The Lightning cannot win the Stanley Cup if Johnson is channeling his inner Umberger. The question is can he continue to produce these types of opportunities against a Rangers team that has been able to negate Crosby and Ovechkin? Johnson won't continue to shoot 30 percent, but he will continue to produce high-level green opportunities and provide continued cover for Stamkos.