TORONTO — The life of an NHLer can be a circuitous affair, with players at every level often enduring more than a few changes of address over the course of their careers. But even the most well-travelled of the big-league fraternity would marvel at the ride Glace Bay, N.S.'s Logan Shaw has been on over the past half-decade.
Drafted 76th overall in 2011, Shaw's path to the NHL has consisted of a whirlwind five-year stretch that's spun him through eight different cities and three different leagues. Now, after another brief AHL spell to start the season, he's been picked up by the Winnipeg Jets as he seeks another shot.
Shaw's 2018-19 campaign began with seven games as a Gull in San Diego, the coastal Californian town just one of a number of unique dots on the map that he's passed through recently. That collection has included a fair few locales that were about as different from his native Nova Scotia as one could imagine, like the city in which his professional career began: San Antonio, Texas.
It was there, in 2013–14, that Shaw got his first taste of playing hockey regularly in an entirely new environment, spending his first professional season with the AHL's Rampage.
"I was obviously scared and nervous," Shaw says of making that jump into such a drastic change of scenery. "But I just did what I always tried to do. I just worked hard, did my best on and off the ice…. We had a coaching change and stuff happened in San Antonio, but nothing changed for me. I just did my own thing."
Shaw managed to weather that first test with the help of veterans like Jed Ortmeyer, his road roommate and one of 10 experienced skaters on that Rampage roster over the age of 30. But after settling into the Texas lifestyle and the upgrade in competition, Shaw was thrust into a veritable North American tour through the minor leagues as he worked his way up to the sport's highest level.
Celebrate Our Community. Celebrate Our Game.
First, during the same season as his Texan debut, Shaw was sent to Cincinnati, Ohio, to play for the ECHL's Cyclones. After another year in San Antonio, he was off to Portland, Maine, to play for the AHL's Pirates in 2015—16. That stint brought a shot with the big club, too, ushering Shaw to Florida to don a Panthers sweater for his first 53 NHL games.
The following season was split between Springfield, Mass. (for the AHL's Thunderbirds), San Diego (for the AHL's Gulls), and, finally, Anaheim for another lengthy NHL opportunity. In 2017–18, Shaw earned his first full big-league campaign — which, of course, included a waiver-wire move from Anaheim to Montreal. He started the 2018-19 campaign back with AHL San Diego, before being released from his contract Friday. On Sunday, the forward was signed to a one-year deal by the Jets, bringing him north of the border once again.
Career-wise, there's no doubt this five-year stretch has been gruelling. But in terms of life experience, of Shaw's growth as a person, there's something to be said for the unique value in the ride he's had. The Glace Bay native says, most importantly, he cherishes the friendships he's made along the way, despite the tough road. But this road might just wind up being the most memorable part of his career, according to the man who served as his most recent head coach.
"Number one, you get to experience lots of different people," says former Oilers coach and now Gulls bench boss Dallas Eakins, who's done plenty of moving himself. "Different teammates, different cultures within different cities. You get to experience different coaches and how they coach, different organizations and how they're managed."
And on the ice, all that change has simply helped Shaw grow his game, turning him into a valuable, adaptable weapon able to slot in anywhere he's needed.
"I think as a player, it's really helped me be able to adjust to different situations," Shaw says. "I was a right winger basically my whole career, and then it was in those playoffs in Florida that first year, [then-head coach Gerard] Gallant put me at centre. They put me at centre in Anaheim, too… then back to the wing. Then Montreal claimed me on waivers because they had injuries and needed a centreman.
"So I just learned to adjust to different situations that come up in the game. Now I just consider myself a forward — I kind of bounce around, whatever position I'm needed in the lineup. And I think that's a good way to be, more of a versatile player rather than just a straight right winger or centreman."
Eakins doesn't need any convincing of the fact that Shaw's career has shaped him into a versatile threat.
"You know what, the greatest thing is that he's smart enough to understand that," says Eakins. "He doesn't take the approach of, 'Oh I'm getting screwed because they're putting me on the wing' or 'I'm getting screwed because I'm playing centre,' or 'I'm on this line or that line.'
"He's simply a guy who said to me, 'Play me wherever you like. I'm going to give you everything I have.'"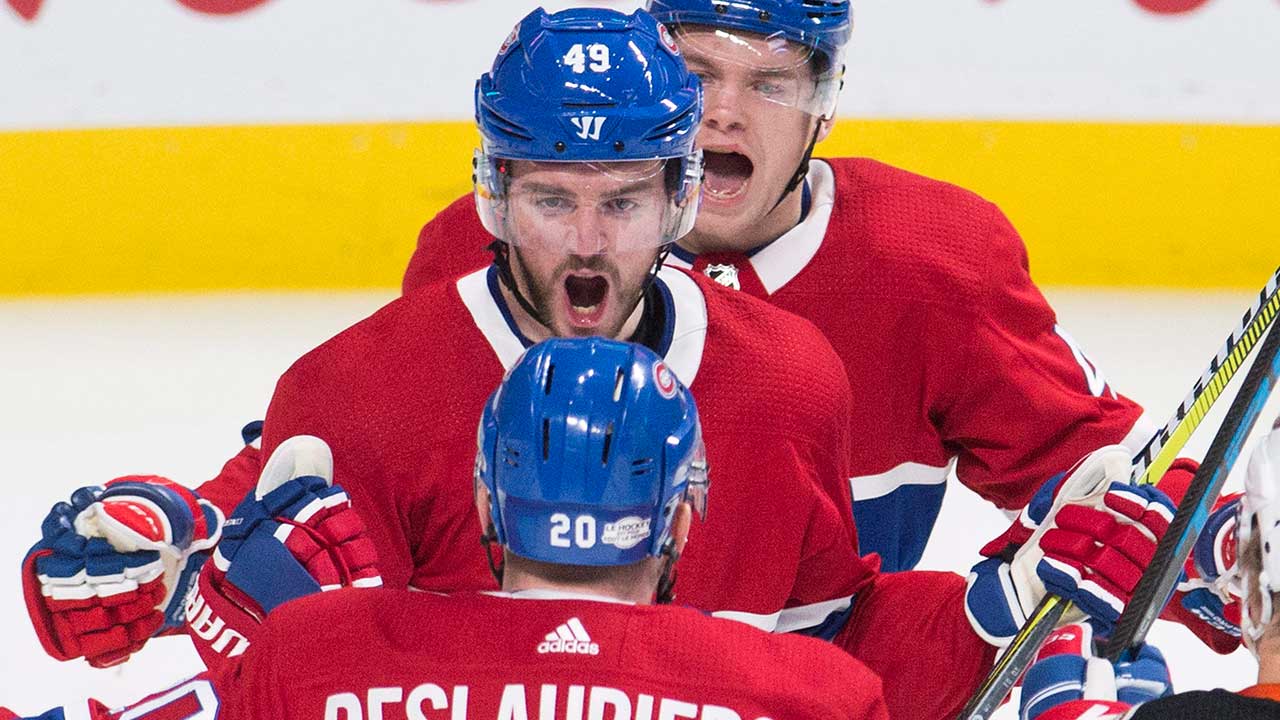 Shaw's blue-collar mindset helped him achieve longevity others in his situation might not have found. But the origin of that approach is no mystery. It's the same one carried out by most young players from his tight-knit hometown — the town that granted him keys to the city after he first made it to the NHL level, and the one that dubbed June 11, 2016, Logan Shaw Day.
"I'm super proud of where I'm from. I always have been. I always will be," Shaw says of Glace Bay, where Rogers Hometown Hockey touches down this weekend.
Taking his first laps around the ice in Glace Bay rinks and remaining a junior player in Cape Breton for the first four years of his competitive hockey life, Shaw's loyalty to the area runs deep. And the community has always answered with loyalty of its own, as it has to all the other young locals honing their game there.
"We'd be playing games in atom, bantam, triple-A, and you'd have 500 or 600 people at the rink," Shaw recalls. "That's a lot of people for your kids to play in front of — the support was always there for young kids in the area."
"He's simply a guy who said to me, 'Play me wherever you like. I'm going to give you everything I have.'"
It's that same collective approach that's driven the Nova Scotian hockey community to stick together even as its stars move off in wildly different directions. The province's two most dominant exports, Sidney Crosby and Nathan MacKinnon, are the clearest examples. Both at the pinnacle of the sport, one might expect the duo to spend their off-seasons hidden away, working only with the best of the best while preparing to dominate the NHL scoring charts.
Instead, they return home, skating in Halifax each summer with the same group of fellow Nova Scotians who lined up against them years ago — Shaw included.
"I've skated with them since I was 19, and I'm pretty fortunate," Shaw says, adding that there's no question the summer sessions have helped improve his game. "You skate with the best players in the world, and you're going to get better. I love Halifax for that — those guys are there pushing each other on and off the ice, and it's great to be part of that."
While it might seem a surprising choice to some, there's no confusion on Shaw's part as to why he, Crosby and MacKinnon all look to their roots each summer in their quest to improve their game.
"It's special," Shaw says of his home province and its tight-knit community. "Everyone comes back to Nova Scotia because it's home. The people are proud to call it home. It's a beautiful place."