There is nothing that makes a parent prouder than seeing their children succeed at something they love. For some families, that means following a father's footsteps into pro sports.
In honour of Father's Day, we thought it would be a good idea to look at some of the best father/son combos in pro sports. Some of the best athletes of all time can thank their dads for paving the way for them.
Father: Dell Curry
Sons: Steph and Seth Curry
Former Toronto Raptor Dell Curry was a reliable shooting guard throughout his 16-year NBA career.
But his legacy will now always be tied to his son Steph, a two-time NBA MVP and possibly two-time NBA champion. Steph in many ways has taken his Dad's shooting skills and used them to transform the way basketball is played. Even from a young age, Dell's oldest son was shooting the lights out.
Between hanging out with President Obama and breaking video games, Steph now spends his time beating his Dad at HORSE.
Father: Ken Griffey Sr.
Son: Ken Griffey Jr.
Historically known as the first father and son pairing to play in MLB at the same time, the Griffeys were one of the more popular duos in sports. When they became teammates in 1990 with Seattle, they hit back-to-back singles in their first game together.
More recently, Ken Sr. was by his son's side when it was announced that Ken Jr. had been elected to the Hall of Fame. And the two are on a campaign to promote awareness towards prostate cancer, which Ken Sr. was diagnosed with in 2006.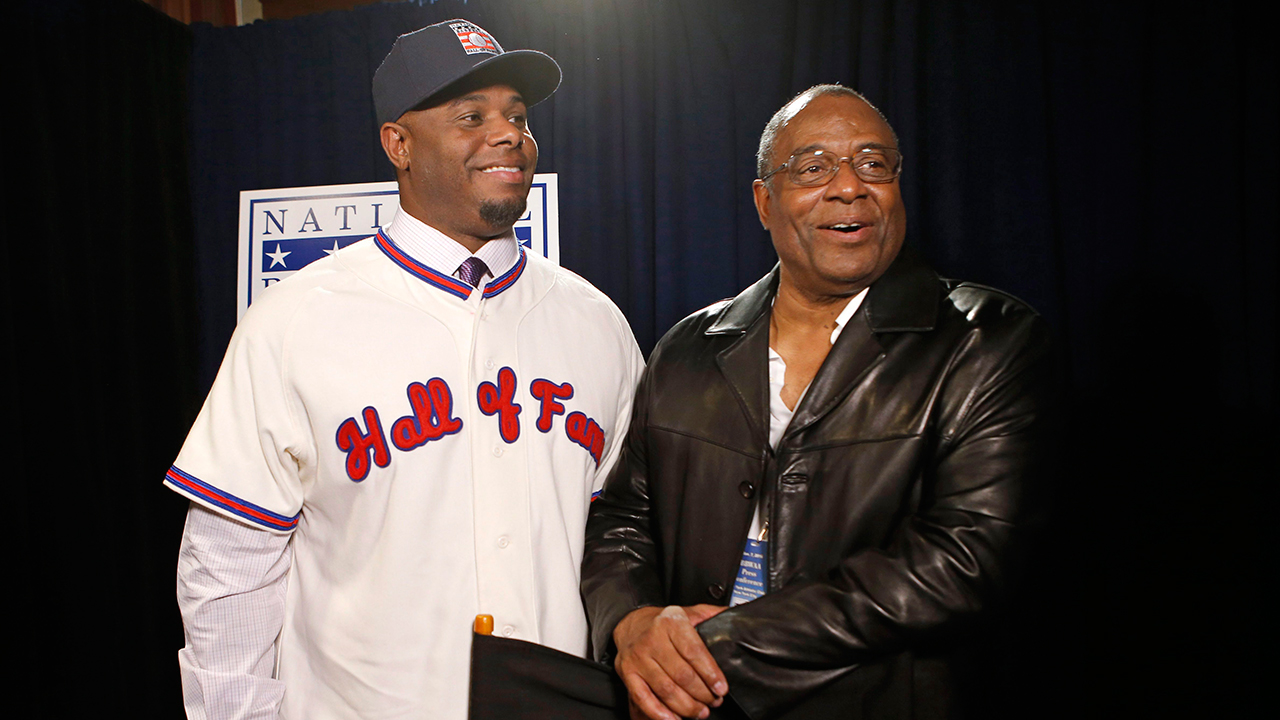 Retired Seattle Mariners outfielder Ken Griffey Jr., and his father, Ken Griffey Sr. get together during a photo session at a press conference announcing his election to baseball's Hall of Fame. (Kathy Willens/AP)
Father: Gordie Howe
Sons: Mark and Marty Howe
The legacy of arguably the greatest dad in sports was honoured last week when Gordie Howe was laid to rest. Gordie came out of retirement in the early 70s to play with his sons, because all he wanted to do was make memories with his kids.
Of all the stories about Gordie from the recent weeks, one stood out to me. Ron MacLean told it, as relayed to him by Harry Neale, who was coaching the Howes in Hartford at the time.
Gordie and his sons Mark and Marty were on the team. The Howes always kept it professional, never using the words "dad" or "son" in the dressing room. But one night in Quebec City, a Nordiques defenceman fell and Mark, who was playing left wing right in front of the Whalers bench, hollered to Gordie, "Dad!"
Gordie, playing right wing, was just crossing his own blue line.
He hit Mark with a tape-to-tape pass in stride and Mark went on a breakaway and scored. Crusty old Whalers veterans Dave Keon and John McKenzie smiled.
It doesn't get any better than that.