One of the things you hear around hockey circles in Toronto recently is that Jake Gardiner has been among the biggest beneficiaries of Mike Babcock coaching the Toronto Maple Leafs. Personally I would say Nazem Kadri and Tyler Bozak have seen the biggest career renaissances over the past two years, but let's look at Gardiner.
An analytics darling, Gardiner has his fair share of detractors due to infrequent brain farts with the puck in the defensive zone leading to some highlight-reel goals against, but in a general sense Gardiner's on-ice impact has been excellent for years.
Some level of detail is lost in simple on-ice numbers though, and the devil is always in the details for a player who is relatively gaffe-prone. So if Babcock has had an impact on Gardiner's game, we should be able to see it in the detailed statistics somewhere.
Before we get to that point though, we need to know where to look. We can use the same broad spectrum comparison as I used in ranking the top-23 defencemen in the NHL last season, splitting Gardiner's two most recent seasons up and seeing if he's improved in a specific area.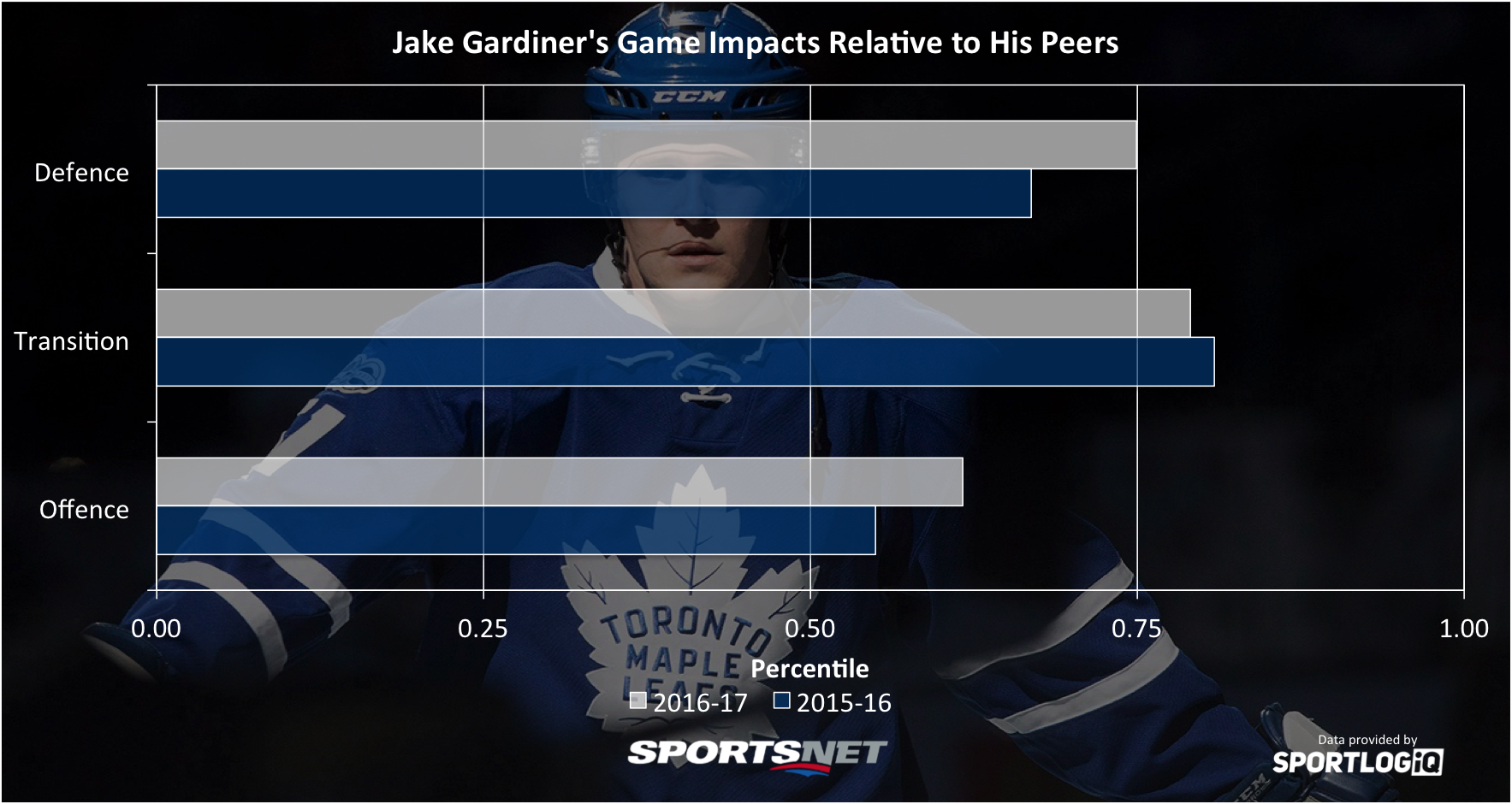 Gardiner's transition game in 2016-17 was slightly behind where he was the year before, but it's close enough that I don't think there's much there to talk about.
Where Gardiner's game did change a bit more significantly is offensively and defensively, so let's dig in a bit there.
The main change offensively came from an increase in primary assists at even strength, and a better on-ice goals for per 60 minutes relative to teammates. It's possible that Gardiner changed some things offensively that allowed those improvements, but he didn't create more scoring chances than the season before, or make more incisive passes. It looks to be a bit of bad luck in 2015-16 despite strong play, and getting more bounces in 2016-17.
Fantasy Hockey Pool
Play the Sportsnet Fantasy Hockey Pool for your chance to score big with over $22,000 worth of prizes to be awarded!
Defensively though, there were some changes.
Gardiner stepped up his aggressiveness on loose pucks in the defensive zone last season, using his speed to his advantage to create more opportunities for his team to clear the defensive zone. The other area Gardiner improved in is his puck management.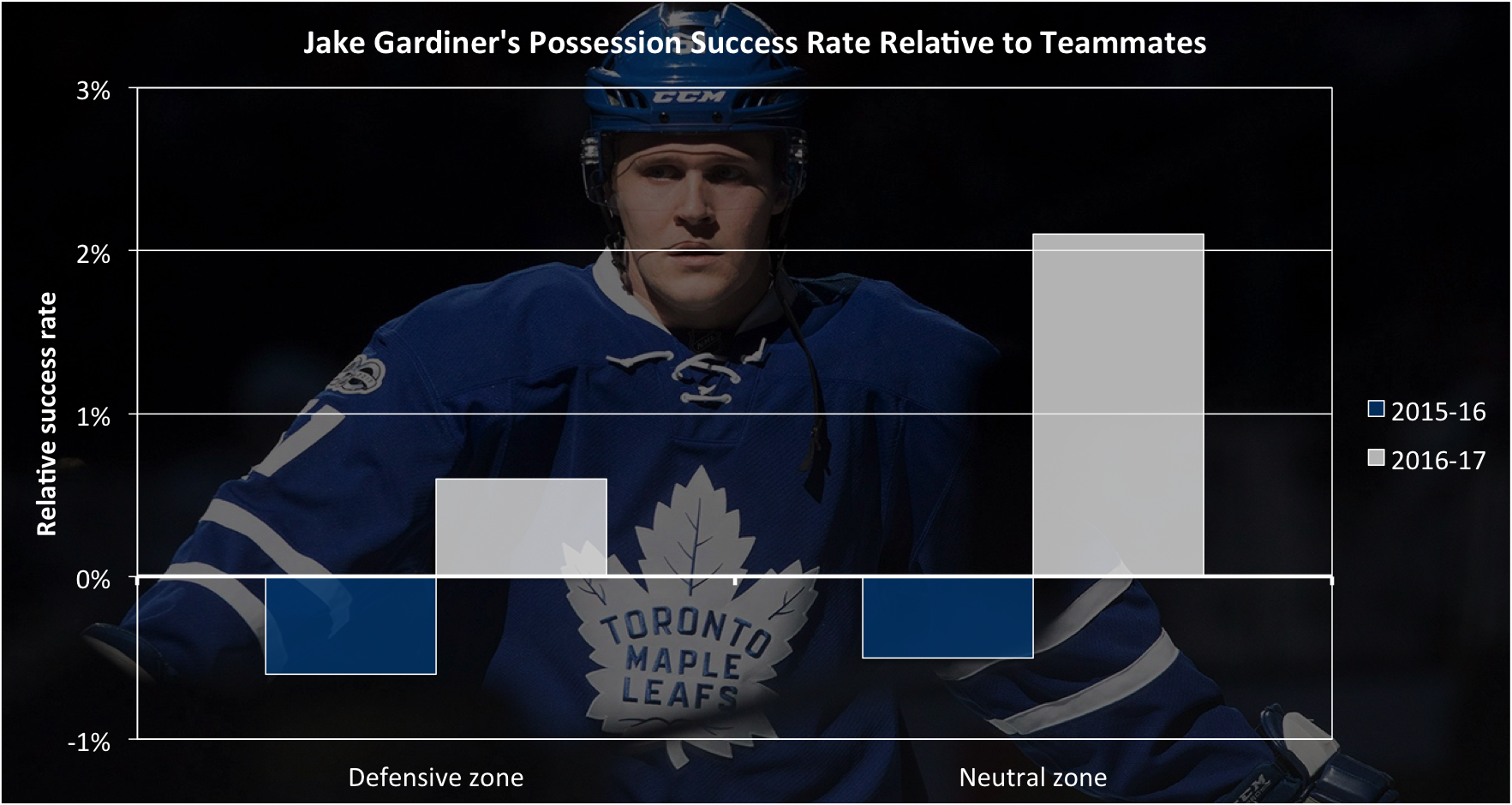 Possession success rate is essentially what percentage of plays a player makes that are successful. Whether it's passes, or skating the puck out of the zone, or a dump out, Gardiner had been below average in the defensive and neutral zones in 2015-16, and made big strides there in 2016-17.
This doesn't mean Gardiner has worked the mistakes out of his game completely, but clearly the year-over-year trend is a good one.
Babcock has kept Gardiner relatively sheltered compared to most second-pairing defencemen in the NHL, and who knows if this improvement from Gardiner is due to working with his coach or just natural maturing of his game. But there's definitely something there to suggest he's improving his attention to detail.