It isn't certain, yet, that the current iteration of the Los Angeles Kings is done as a Cup-contending team. It's merely clear that Rob Blake, rather than Dean Lombardi and Darryl Sutter, will be the man tasked with reviving the flagging franchise.
For three years, Lombardi and Sutter ran the best team in hockey. All told, the Kings went 41-23 in the playoffs, winning the Stanley Cup in 2012 and 2014 and advancing to the third round in 2013. Those achievements made them, respectively, the most successful GM and head coach in franchise history.
In the three years since, the Los Angeles has missed the playoffs twice and succeeded in winning only a single playoff game. Ownership concluded, justifiably, that new approaches were needed. The dismissal of Sutter and Lombardi on Monday was a natural extension of that conclusion.
Sutter may be hard to replace. For all their offensive faults, his Kings remained a dominant shot-metrics team, and his reputation should survive the last couple of seasons. Lombardi too should find employment again, but his prospects at a GM position will not be helped by what has transpired lately in L.A.
[snippet id=3332601]
The task of revitalizing the Kings is going to be made considerably more challenging both by the generous, long-term contracts Lombardi handed out to old players, as well as his disinclination to address losses in team speed and skill over the years.
The good news for Blake is that the core of the Kings is still sound, and should be for a few years.
Anze Kopitar (30 in August), and Jeff Carter (32) provide reliable anchor points up front, and steep declines in their performance should still be a few seasons away. Tanner Pearson and Tyler Toffoli, both 24, are key complements to those centres.
Defensively, none of Drew Doughty, Alec Martinez or Jake Muzzin is yet 30, and L.A. has a wealth of young support pieces (Derek Forbort, Brayden McNabb, Kevin Gravel and Paul LaDue).
Forbort replaced McNabb as Doughty's go-to partner this year, but that may have been a mistake. Forbort's mobility makes him attractive, while McNabb can make high-profile errors, but the underlying metrics are clear cut: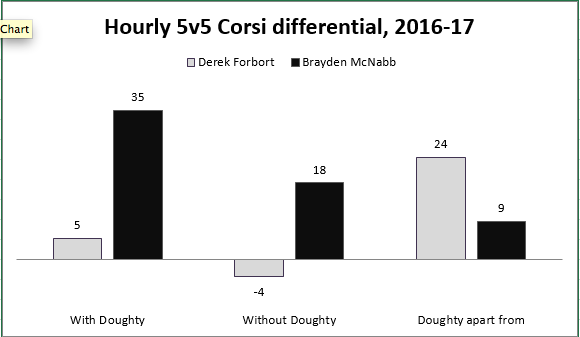 There's room for shot-quality arguments in hockey, but when we're talking 30 shots per hour it's hard to believe that shot volume isn't decisive.
In net, Jonathan Quick is 31 and on the same timeline as Kopitar and Carter. He's a capable starter and he's under contract forever, so goaltending shouldn't be an issue as long as he's healthy.
Blake will need to negotiate new contracts with Toffoli and Pearson. He needs to add speed and offensive skill generally. Critically, he needs to address two longstanding holes created by prior departures:
• An offensive winger to play in the top-six, replacing what Justin Williams (and for that matter, Marian Gaborik and Dusin Brown) used to provide.
• A right-shot option on the second pairing, a hole that hasn't been adequately addressed since Slava Voynov left.
Finding the money for all this could be a challenge, but the timing isn't bad. Colorado and Vancouver are going to have to consider hitting the reset button on their rebuilds, while the expansion Golden Knights are years away from being competitive.
| Player | Age  | Cap Hit | Term |
| --- | --- | --- | --- |
| Dustin Brown | 32 | $5,875,000 | 5 years |
| Marian Gaborik | 35 | $4,875,000 | 4 years |
| Trevor Lewis | 30 | $2,000,000 | 3 years |
| Kyle Clifford | 26 | $1,600,000 | 3 years |
Still, it's going to be a tall order to move some of these deals. The term on Brown and Gaborik is such that even Vegas might look at them and conclude there's a risk of a playoff run overlapping with those deals.
Los Angeles should not hesitate to pay if it means getting rid of those contracts. The team has nearly a full complement of picks in each of the next three drafts and can dip into the prospect well if necessary. Even so, it's probably only going to be able to move one if any of those big-ticket deals.
The other deals should be easier to move, given the way rebuilding clubs love veteran winners. Kyle Clifford's physicality should be attractive, and help cover up for the fact that he ranked 363rd among NHL players (min. 300 minutes) in 5-on-5 scoring efficiency this year, a sub-fourth-line pace.
[snippet id=3317575]
Some of the money shed in these deals will obviously go to retaining Pearson and Toffoli.
Some should probably go to free agency. There are a number of cheaper, lower-end forwards who might help, but the real prize would be a fit for Kopitar's wing. T.J. Oshie or Alexander Radulov would do nicely, though both should have plenty of options. Defensively, there aren't a lot of right-shot fits; assuming that Kevin Shattenkirk goes East the only guy who really stands out is Cody Franson.
Adding Franson would also allow the Kings to go shopping for additional forward help with one of their left-shot defenders, ideally Martinez. It should be entirely possible to add another significant player to the mix up front — either a top-six winger or a quality third-line pivot — given the value that a quality defender signed long-term carries.
The road forward isn't going to be easy, but Blake isn't in an untenable position, either. The Kings are solid down the middle, from centre to defence to net. If he can add some talent up front and rebalance his blue line without breaking the bank, another Stanley Cup parade isn't out of the question.
[relatedlinks]