Every season we tune in to endless streams of scouting, draft and prospect coverage and hype, gleefully anticipating the "next one". The NHL and the surrounding media attention builds up teens into idols before they skate in an NHL game. All of this despite the fact that projecting prospect development is an amazingly challenging task.
The most recent rendition of the "Next One" is Colorado Avalanche forward Nathan MacKinnon. We know he's a very good player, the only questions remaining are how good he can be, and how quickly he gets there. Last year as an 18-year-old rookie, he posted 24 goals and 63 points. That's not just "good" production for a kid his age, it's amazing. It actually tied Jeff Skinner for the second highest 18-year-old point total in the NHL since 1987-88, behind only Sidney Crosby. (MacKinnon also posted 10 points in seven playoff games, giving him a total of 26 goals and 73 points in his first 89 NHL games.)
---
More NHL on Sportsnet:
Subscribe: Rogers GameCentre Live
Rogers Hometown Hockey | Broadcast Schedule
---
Only three 18-year-olds have hit 63 points in the past 26 years, but how many rookie phenoms come along, post great numbers and then develop into generational talents?
We know Crosby did it, he's still fourth all-time in NHL career points per game, but who else comes to mind when we think about 18-year-old production? I already mentioned Skinner, but let's explore the list of other high-scoring talents who produced at that age. Some of the names might surprise you.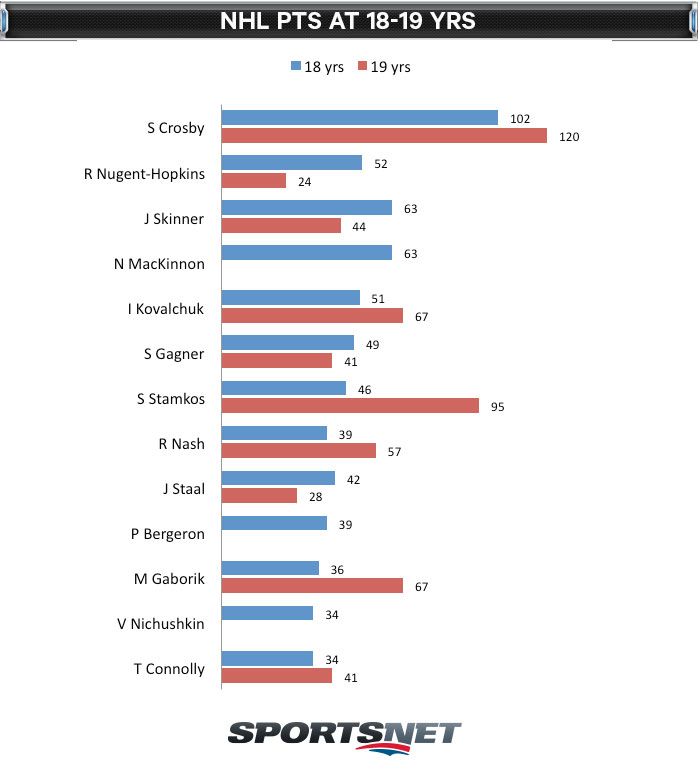 Given the names on this list, MacKinnon looks likely to become a top talent, but it is also entirely plausible that this season isn't one of jaw-dropping improvement.
Charts don't actually make predicting or projecting future performance any easier. Part of the problem in comparing scoring totals is how reliant the results are on games played, time on ice and other factors beyond the player's control. For instance, Ryan Nugent-Hopkins looks like he fell off drastically in production, but he only played 40 of a possible 48 games as a 19 year old because of the lockout. Similarly, Patrice Bergeron didn't play at all in his 19-year-old season due to the '04-05 lockout.
In order to control for as many of these factors as possible, we can instead explore scoring and shot rates, and if we really wish to get an accurate assessment we can normalize for total time on ice. Unfortunately that also means excluding players whose 18- and/or 19-year-old seasons came prior to when the NHL started recording ice time for individual skaters.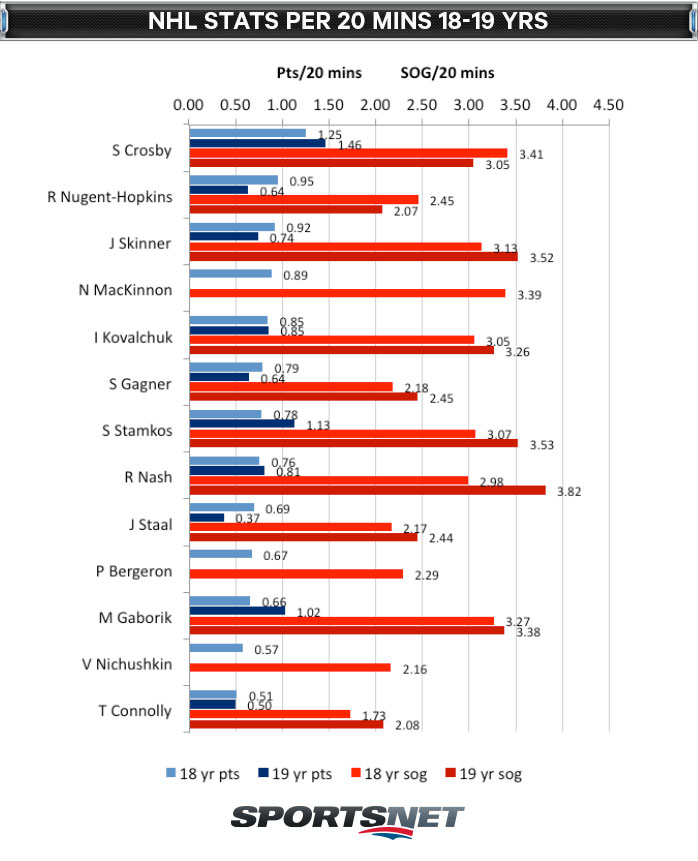 So again, it superficially looks like we might not be any further ahead looking at the rate stats. Five players saw their point output increase, while five decreased. Similarly, eight increased their shot output and two decreased it. What we can do to accommodate for the variation is look at the average change in aggregate. For this comparison group, an 18-year-old increases his pts/20 production by 19.0 percent and his shots/20 production by 21.0 percent.
Looking at shot rates is important because there are really two ways top goal-scorers produce: as high-volume shooters or high-percentage shooters. MacKinnon seems to fall into the first group as his shot rate of 3.39 sog/20 trails only Crosby's. In addition to his rate, we can also see that his 18-year-old shooting percentage 10.0 percent is on the low end for this group.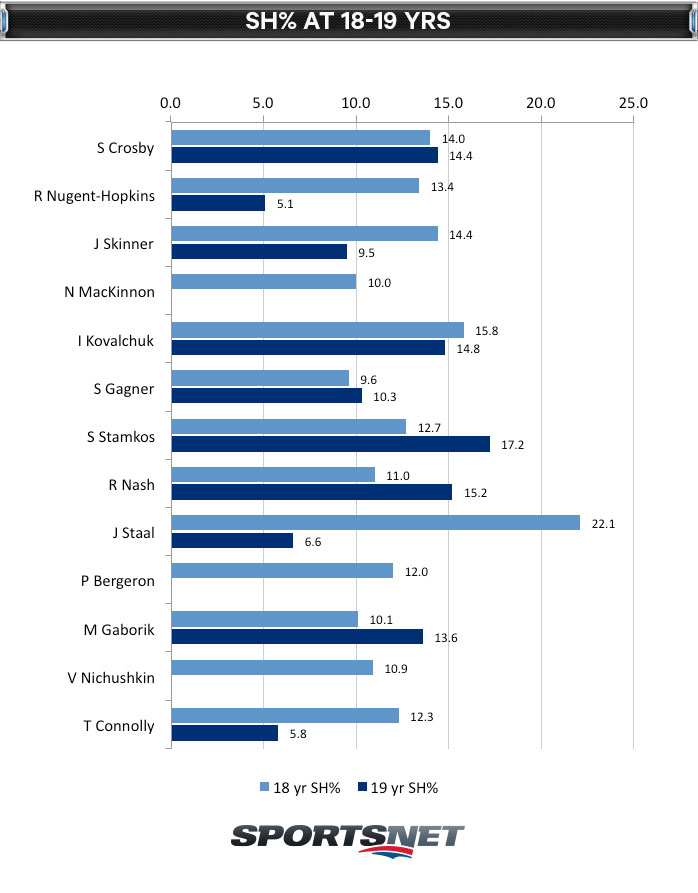 MacKinnon's relatively low shooting percentage speaks to two possibilities. The first is a high volume of shots from low-percentage areas that are less likely to result in goals. We can observe this using the Hextally visualizations courtesy war-on-ice.com. The graph below shows MacKinnon's shot rates and shooting percentages (both absolute and relative to the rest of the NHL) from various locations in the offensive zone. Larger hexagons indicate more shots from that location, while darker colours indicate higher shooting percentages. Obviously, MacKinnon was largely a perimeter shooter last year.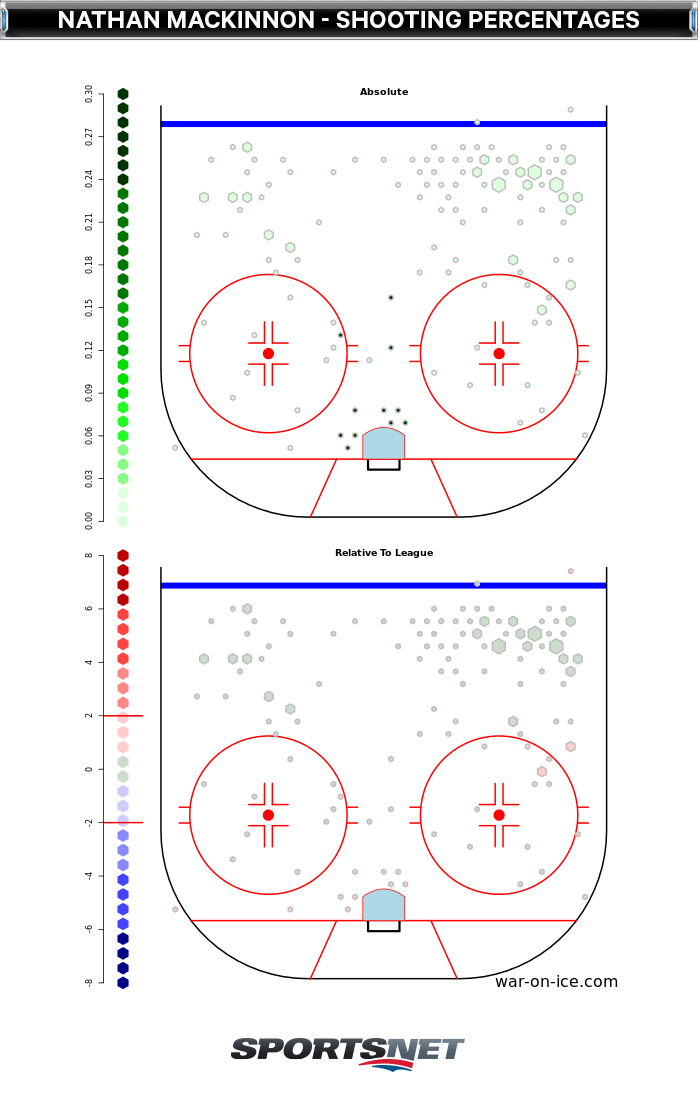 Comparing the trends for shooters with similar volumes, you can see that shot locations and rates shift and change year to year. Increased shot frequency from dangerous scoring areas will go a long way to impacting a player's goal production.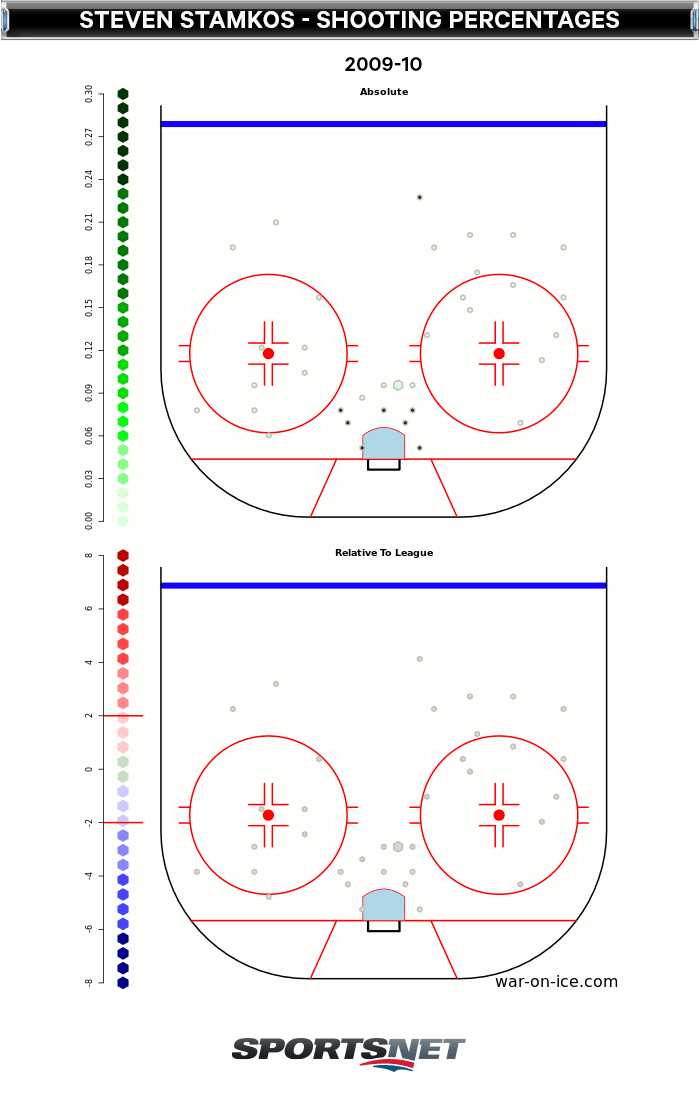 If we increase MacKinnon's pts/20 and shots/20 by the percentages mentioned previously, his output goes from 0.89 pts/20 to 1.06 pts/20 and 3.39 sog/20 to 4.10 sog/20. Predicting a jump or decline of any significance doesn't seem necessary or reasonable, so we can assume his personal SH% stays around 10 percent. Using similar projections we can also estimate that MacKinnon likely ends up a top time-on-ice player for the Avalanche next year, so as a rough estimate we can expect he gets 20 minutes a night. Thus we can estimate that he will generate around 336 shots, 34 goals and 87 points.
His teammates in Colorado had an on-ice SH% in all man-power situations of 12.08 percent, which ranked fourth out of the 10 skaters we have 18-year-old data for. If we regress that number down to around 11 percent—which is approximately the median value for the 19-year-old seasons we have data for—it lowers his point totals a bit without impacting on his personal goal scoring. It's also important to remember that he's lost two of the teammates he was most productive with in Paul Stastny and P-A Parenteau. Depending on how he fits with other players on the team such as new addition Jarome Iginla, he may or may not suffer as a result of that transition also.
Cobbling all of this together into a coherent and concrete picture is obviously challenging, but bracketing expectations around the aforementioned 87-point total seems reasonable. On the low end, I would suggest MacKinnon could end up around 73 points a year in a full 82-game season. On the high end, he may climb as far as 40 goals and 93-95 points (similar totals to Stamkos in his second season). The way that happens is if his shot locations move towards the net, and he suddenly sees a spike in his personal shooting percentage.