"Play for the Toronto Maple Leafs organization" is how Josh Leivo Twitter describes himself on his Twitter bio.
In a medium that prides itself on an economy of letters, the fact that Leivo tacks on the word organization is telling — although we're sure he typed out the phrase during the four seasons in which he ping-ponged between the AHL Marlies and NHL Leafs.
It's doubtful Levio — a man of 57 NHL games sprinkled over five winters — has ever felt like a Toronto Maple Leaf, full stop. But he's totally in the organization, somewhere.
Even after playing a career-high 16 big-league contests and earning a one-year extension in 2017-18, Leivo has seemingly been cast forever as the 13th forward on a side flush with compelling options on the flanks.
[snippet ID=3322139]
Despite good health and decent results when he does hop the boards, the 25-year-old has skated in a grand total of 34 actual, real-life hockey games over the past two seasons. There was a kinda-sorta trade request and a kinda-sorta denial.
But mostly, there's been bear-it grins and sunny public comments about staying in shape and gunning for that elusive longer look that may never materialize with the organization he grew up rooting for. Marlies graduates Kasperi Kapanen and Andreas Johnsson each leapfrogged Leivo through mid-season call-ups this past winter, and neither is eager to lose ground.
If the inevitable July departures of three veteran left wings — James van Riemsdyk, Leo Komarov and Matt Martin — cracked another window for Leivo, well, the July 7 UFA signing of Tyler Ennis may have filled that crack with 492 games and 258 points of NHL experience.
"Even if I wasn't playing, the guys kept me positive," said Leivo, smiling between a mid-July workout session at MasterCard Centre and a round of charity golf.
"This summer, hopefully it doesn't have to be that way. I'm optimistic about it, and I'm just thinking: 'Make the team and I won't have to worry about it.'
"I'm just working hard and staying on my training and making sure I don't miss the opportunity."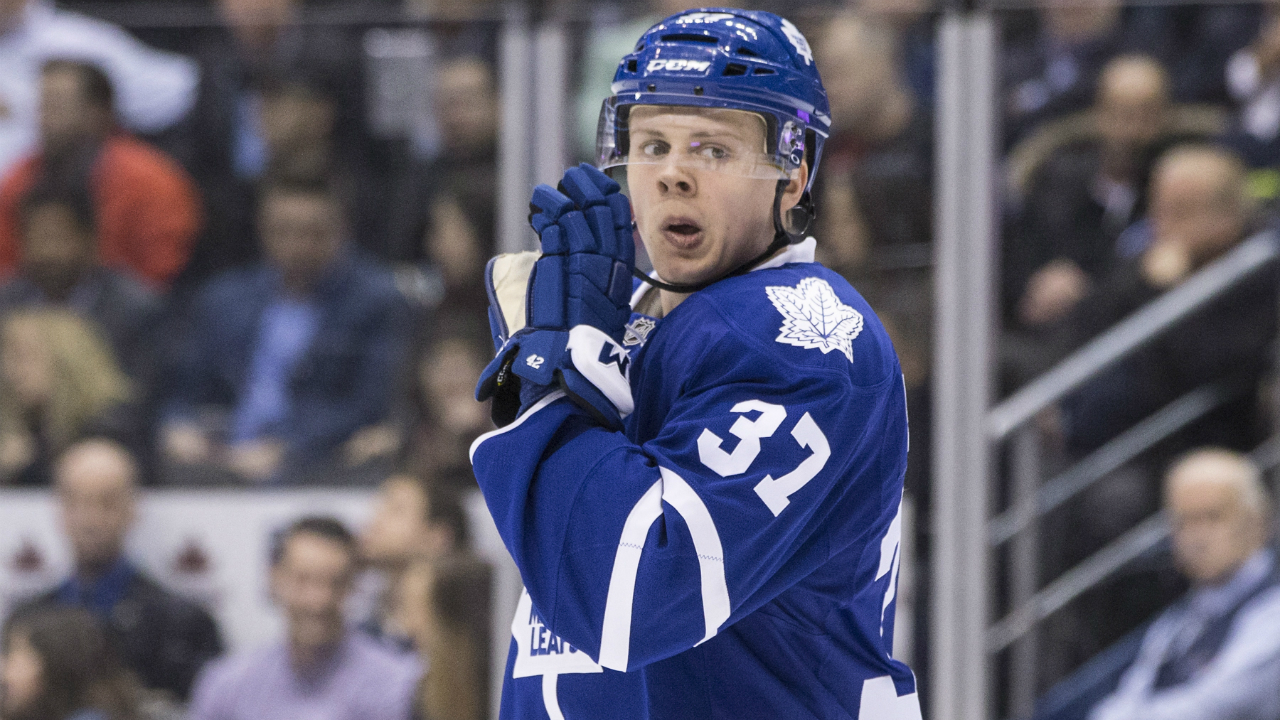 Make the team. This team, the top-heavy squad, the one loaded with proven scorers and motivated speedsters. The third-highest-scoring NHL team that just added John Tavares and will welcome a cluster of Kyle Dubas's AHL champions to September's training camp, each with the confidence they can achieve big things at the next level.
Way-too-early projected Maple Leafs lines:
Marleau – Matthews – Nylander
Hyman – Tavares – Marner
Johnsson – Kadri – Kapanen
Ennis – Lindholm – Brown
Coach Mike Babcock has already penciled in the Maple Leafs' deadly-on-paper top six (but feel free to flip lines 1 and 2 depending on your mood).
Back-to-back 32-goal man Nazem Kadri will centre a formidable third unit that should include Johnsson (unless the Calder Cup MVP makes a top-six push) on the left and either Connor Brown or Kapanen to his right.
You can't blame Leafs Nation for wondering if a fourth line is even necessary. Just give the top three units 20 minutes each and call it a night. But someone should kill penalties and stay fit in case of injury.
Babcock is bullish on Swedish import Par Lindholm, 26, to centre Line 4, and the Leafs re-signed Frederik Gauthier for support. Either Brown or Kapanen should make one hell of a fourth-line right winger.
The upbeat Brown, a versatile worker bee who appeared on all four lines in 2017-18, says he has no idea where he'll slot in. Only that winning teams boast depth, and this fall will be fun.
"It's still July. Not too many coaching staff around the MCC right now," Brown explains. "Let the chips fall where they may."
The fourth-line left wing spot holds the most intrigue.
Ennis, 28, was a bust in Minnesota. Even with the goal-starved Wild dinged with injuries, Ennis skated a total of 7:14 in Minny's five playoff games and was subsequently bought out. His most productive season is eight years in the rear view. Thrice a 20-goal man in Buffalo, Ennis hasn't been the same threat since undergoing sports hernia surgery in late 2016.
He's small (5-foot-9, 161 pounds). He has a concussion history. He also has the most to prove. Dubas sought him out, paid him the league minimum, and Ennis is our early favourite based on Babcock's tie-goes-to-the-veteran rule.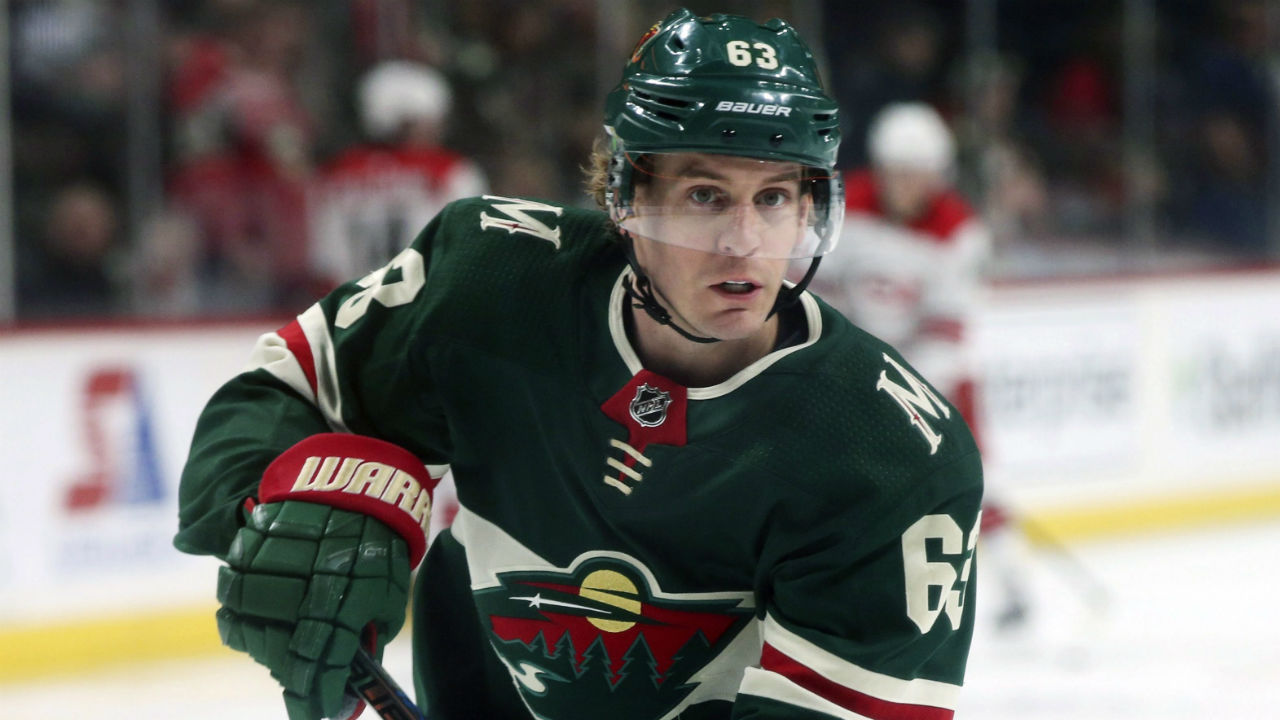 Not unlike Washington playoff hero Devante Smith-Pelly, Ennis may be down to his last NHL life.
"[The Leafs] don't see me as the player who has had some struggles the last couple of years. They see me as the player in the past who has been successful," the left-shot Ennis told Terry Koshan of the Toronto Sun.
"There is definitely frustration over the last couple of years. I have a chip on my shoulder, and I want to prove a lot of people wrong. I think it builds character. It was refreshing to talk to Toronto and get a clean and clear outlook on things.
"I'm really just motivated — that would be the best word — to have a great season."
Long shots worth watching in this crowded tussle of cap-friendly hopefuls are Carl Grundstrom, 20, and Trevor Moore, 23. Both left-shooting prospects who impressed during the Marlies Cup run and could make the leap.
Leivo is a right shot who prefers patrolling his off wing. In a competition this thick, however, the 13th man with 12th man dreams knows he's in no position to get picky.
"When I was with the Marlies I played a lot of left wing," Leivo says. "I actually like it better. I'm able to handle it on my backhand. It's nothing hard for me."
A forward moving up the Maple Leafs' organizational depth chart, however? That's another matter.