This was the off-season before the Toronto Maple Leafs hit the draft lottery jackpot. Dave Nonis and the coaching staff had been fired, Mike Babcock had been hired and Lou Lamoriello was still working in New Jersey.
For a 101-day stretch the fate of hockey's richest organization lay in the hands of Kyle Dubas, who was not yet 30 and not quite a year removed from working in the Ontario Hockey League.
It was a critical period for a wayward team. The first tentative steps of the Shanaplan. Dubas served as the primary contact in trade discussions with rival teams and ran the draft table with Mark Hunter – both experiences the newly minted Leafs GM will lean on this week as he dives head first into his new job.
"Having that 2015 draft under my belt is great," said Dubas. "It's not going to be an unknown going onto the draft floor in Dallas in this position."
The Leafs table was a hub of activity three years ago in Florida. They were in discussions throughout the weekend on a trade that would see top scorer Phil Kessel sent to Pittsburgh for a package of futures – although the deal wouldn't be consummated for another week afterwards.
They selected Mitch Marner with the fourth overall pick and turned their other first-rounder into two seconds and a third. Employing a strategy used by the NFL's New England Patriots, among others, Dubas elected to move back twice to gain more tickets in the lottery.
He flipped No. 24 to Philadelphia for Nos. 29 and 61. Then he sent No. 29 to Tampa for Nos. 34 and 68. The Leafs ended up with Travis Dermott (34), Jeremy Bracco (61) and Martins Dzierkals (68) rather than just one prospect because of that series of transactions.
It's worth spotlighting now with the team holding the 25th overall selection in Friday's draft – although Dubas won't rule out the possibility of moving up using some of his seven picks rather than trying to jump back to gain more.
"I know a lot of people say he's only a trade-down person. I don't know how it's got to that point," said Dubas. "I guess we did it twice, so sure. I think if there's an opportunity for us to add players that can help our team we have the capital in draft choices to be able to [trade up]. So I don't ever go into it saying 'We're going to do X and Y.'
"We're going to do whatever we can to do to help the team and keep moving ahead. So if that's move up, move down, stay in the same spot and pick a player we like, that's what we'll do."
Jeff Marek and Elliotte Friedman talk to a lot of people around the hockey world, and then they tell listeners all about what they've heard and what they think about it.
There is a straightforward logic behind his decisions. Dubas is someone who mines other sports for best practices and keeps an email chain among friends where interesting articles or concepts are shared.
It helps him avoid traps – like, say, studying the organization's depth chart and deciding they need to prioritize drafting a boatload of defencemen or left-wingers.
"Positional need, to me, [means] zero," said Dubas. "We want to find the best players and draft them and bring them in. We can sort that out through trades and waivers after. But the more good players we can get in the better."
You could see it in the way the Leafs approached free agency with him at the helm three summers ago. It was clear they had a team that would struggle in the wake of the Kessel trade, so they prioritized value bets over trying to land one of the bigger fish.
Matt Hunwick ($1.2-million AAV, two years), Daniel Winnik ($2.25-million, two years), Shawn Matthias ($2.3-million, one year) and P-A Parenteau ($1.5-million, one year) were all signed out of the bargain bin. They ultimately allowed Toronto to net Connor Carrick and a couple extra draft picks when Winnik and Matthias were flipped at the following trade deadline.
"In 2015, I think we knew where we were at," said Dubas. "Mike [Babcock] came into his press conference and promised that there would be pain. Our goal at that time was to sign players that in the short term we could help the competitiveness of our group and if our team wasn't competitive – which we kind of had an idea that it wasn't – that they would be lucrative for other teams to acquire.
"Not every one of those guys sort of panned out, but it was interesting to see the process and learn from that process. How we handled it."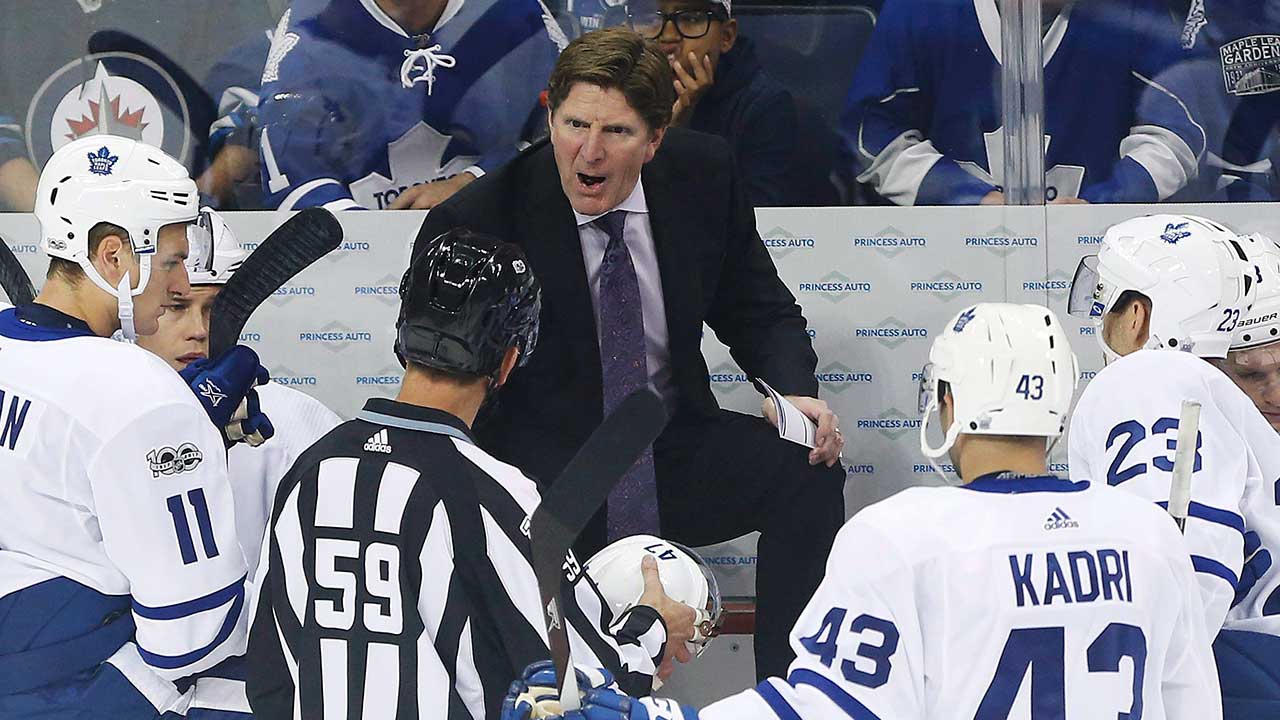 There will be a different process at work this July 1 with a team that hopes to compete for the Stanley Cup.
Dubas expects his young core of Auston Matthews, Mitch Marner and William Nylander to take a step forward just through natural progression. He's focused on building a group that is stronger than Boston and Tampa – the two teams that finished ahead of them in the Atlantic Division – and noted that he'll have to be "resourceful" in helping them get there.
Reading between the lines, it doesn't sound like he's looking to take a home-run swing at centre John Tavares or defenceman John Carlsson, the biggest names on the market. But we may be parsing his words too finely.
He certainly has enough cap room for the 2018-19 season to become a serious shopper when free agency opens.
"Now we have our own difference-makers that are our core of our team, so now we can look and add guys who can perhaps complement our own core, which we didn't have back [in 2015]," said Dubas. "So it's nice to be there. It's hats off to the development staff and Mike and his staff and the whole organization for getting us there."
The organization is riding a high after watching the Marlies win the Calder Cup last week. That team featured Dermott and Andreas Johnsson, who both spent considerable time in the NHL last season, but it also saw several other players put themselves on the radar for jobs with the Leafs, according to Dubas.
That championship was his final act as Marlies GM.
At a fan rally celebrating the team's achievement on Saturday afternoon, Dubas took the microphone outside Ricoh Coliseum and promised "The best is yet to come."
However, he isn't feeling any extra pressure to make a big splash after taking over the Leafs from Lamoriello. He may only be in his second month on the job, but it's a job he's done before.
"We have to make good decisions. I don't think I have to do anything big just to do so," said Dubas. "I think that would be a disservice to the organization, frankly. It's not about me, it's about the players and the coaches, so I don't feel there's any need for me to do anything that isn't right for the organization. If what people describe as a big splash happens to make our team a lot better, then we'll do it.
"But it's not something that's important to me at all."