TORONTO — Michael Hutchinson resembled a $50 rent-a-goalie swinging by to pocket a wad of beer money, get a healthy sweat, and help out your friendly neighbourhood men's league Thursday afternoon at Scotiabank Arena.
Sporting Florida Panthers–coloured pads and a plain white mask with a couple of silver-dollar-sized Maple Leafs decals slapped above the ears, Toronto's newest professional hockey player didn't quite look the part as he made his official Leafs debut, a hardworking but disappointing 30-save, 4-3 loss to the Minnesota Wild.
With blue-and-white pads now en route and Montreal designer Dave Leroux working away on a fresh paint job for his next mask, Hutchinson has finally had a moment to exhale, answer a pile of encouraging text messages, and wrap his brain around being the starting goaltender for his favourite hockey club.
Yes, Frederik Andersen (groin) participated in his first full practice with Toronto since Dec. 27, but No. 2 Garret Sparks has officially been sidelined with a concussion.
So, until further notice, the nets belong to Hutch, and he'll go for his first win with a Maple Leaf on his chest Saturday versus Vancouver.
"It's an amazing feeling. It's a childhood dream come true and something I'm looking forward to getting to wear from here on out," Hutchinson beamed after his first time facing Auston Matthews and Mitch Marner in practice.
"I've changed numbers over the years quite a bit, so it was neat for some people that you've played with throughout your junior career track you down and congratulate you. It was definitely cool to connect with people I hadn't talked to in a little while."
Zoom out, and the feel-good Hutchinson tale — finding opportunity inside his sixth different sweater in less than two seasons — reads as a sidebar to the grander goaltending concern in Leafland: How ready is Freddy?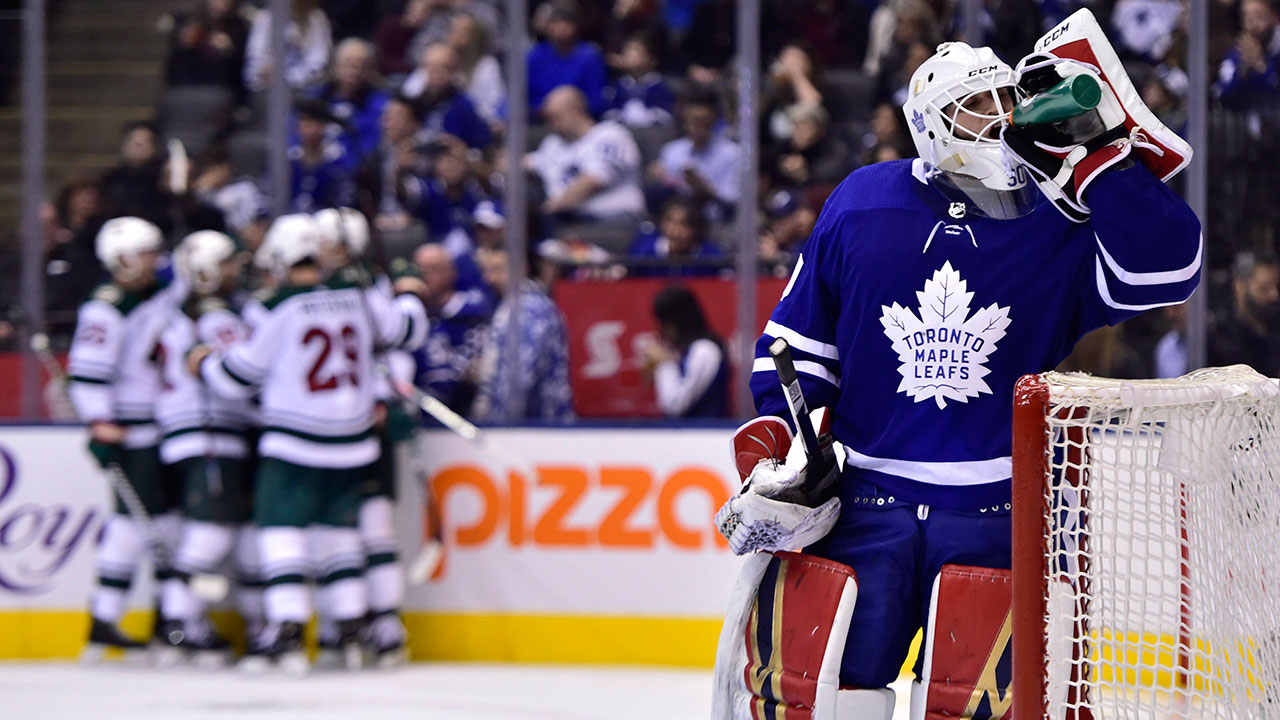 Since his arrival in Toronto in 2016, no NHL goalie has started more games, faced more shots or made more saves than Andersen, who is feeling the benefits of what will now be 16 days (minimum) of mid-season rest and was encouraged by Friday's return to the team skate.
"It could be a reset. I've been working through some pain, too. That plays with your mental side a bit. You maybe don't want to go into some specific movements and that could hinder your game and make your game a little bit slower. So it's important to be taking care of that stuff right away," Andersen explained.
"You never know. Sometimes rest can be a blessing in disguise."
Andersen wants to clarify that his groin injury was not the result of a specific incident but rather a lingering issue throughout December, one that needed more time to heal after Christmas.
He also thinks the narrative of his workload being too heavy is "definitely" getting overblown.
"People have been missing a lot of context in that discussion about how many games you're playing," Andersen said. "It's all about between the games and how much rest you're getting, so that's something you gotta take into consideration."
Andersen's brilliant November save percentage of .942 slipped to .903 in December as he battled through his ache.
It was time, he and the organization's sports science department figured, to quit beating around the bush and get the Leafs' No. 1 goalie as close to 100 per cent as possible for what they believe could be a long run into spring.
Consecutive four-goals-against losses? The Sparks concussion? Those cannot be reasons to accelerate a hasty return to action.
"You can't worry too much about other stuff like that. You have to make sure you do your rehab the right way and eventually you'll be fine," Andersen said.
"Push a little too hard and you might make it worse eventually later on. You gotta be smart about it. You can't let that stuff get in your emotions and affect you like that."
[relatedlinks]
Admitting his goaltending wasn't where it needed to be against the Islanders and Wild, head coach Mike Babcock has his sights affixed on the NHL-leading Lightning, knowing full well where the path to a Stanley Cup goes through.
"Tampa had their guy [Andrei Vasilevskiy] out for a long time and didn't miss a beat [with backup Louis Domingue going 15-4], so that's what we gotta do. If you look at our goaltending in the two games since Christmas, I just don't think we've been as good as we're capable of being. We can be better," Babcock said.
Immediately, that task immediately rests with Hutchinson, a Barrie, Ont., native who savoured the chance to go out for dinner with his parents after his Leafs debut.
"It was cool to take a step back and really appreciate the moment I was able to get," Hutchinson said.
"But now it makes you hungry for more. I'm looking forward to getting my first win and helping this team out as best I can."