Throughout this final season of his contract with the Toronto Maple Leafs, Jake Gardiner has taken his cues from a former teammate. He admired how Tyler Bozak kept his business private on the road towards unrestricted free agency last year and has tried to copy that approach.
"We never really even talked about it, that's kind of how he was," Gardiner said earlier this year. "If he was thinking about it or talking about it, it wasn't around the locker room, which I liked. He just wanted to focus on his business with this team and kind of go from there."
That's why you haven't heard anything about Gardiner's uncertain future with the Leafs directly from the man himself.
But the 28-year-old has said a lot with his actions over the last two weeks in fighting through a significant disc issue in his back to suit up for a first-round series against the Boston Bruins. It's been painful to watch and, we presume, painful for him to play.
Gardiner basically decided that whatever risks he's assuming by returning this spring are more than mitigated by what might be his final chance to help bring a Stanley Cup to Toronto. As a result, no one on the ice at TD Garden will have more riding on the outcome of Tuesday's Game 7 than him.
"He did a lot of work … to have the ability to play," said teammate Ron Hainsey. "Because he was in not great shape there for a little while, certainly. He put himself in a position to help us here, help contribute. He's obviously a great player.
"He had to go through a few weeks of rehab there, but hopefully he can come up big for us tomorrow."
[relatedlinks]
That would be the storybook finish to a fantastic back-and-forth series. With Nazem Kadri suspended, Gardiner will be the only Leafs player in uniform who was part of the Game 7 meltdown in 2013. Then there's last spring, where he went minus-5 in the deciding game at Boston and selflessly fell on the sword in front of the cameras afterwards.
"It's just not good enough, especially in a game like this," he said last April 25, taking more than his fair share of the blame. "It's the most important game of the season, and I didn't show up, so… there's not much you can say really."
Truth be told, what he's doing right now is compelling enough in its own right. Surgery was contemplated while Gardiner missed five-plus weeks at the end of the regular season and may still be required when everything is said and done here.
Were he thinking only about maximizing his value for July 1, he wouldn't be grinding through the playoffs at something well less than 100 per cent. The nature of these games dictates that his body is enduring even more wear and tear than usual.
"I think they're just playing hard hockey and everyone's going to get hit. You've just got to be ready," said Gardiner. "It's obviously tough with the physicality and everything, but the legs are feeling better every game."
The eye test alone tells you that he isn't entirely himself. The typical ease that Gardiner exhibits while patrolling the ice and handling the puck has been replaced by an awkward skating posture and more conservative approach.
Then there's the numbers, which show Gardiner having a far more precipitous drop-off in average ice time than any of his teammates from the regular season to the playoffs.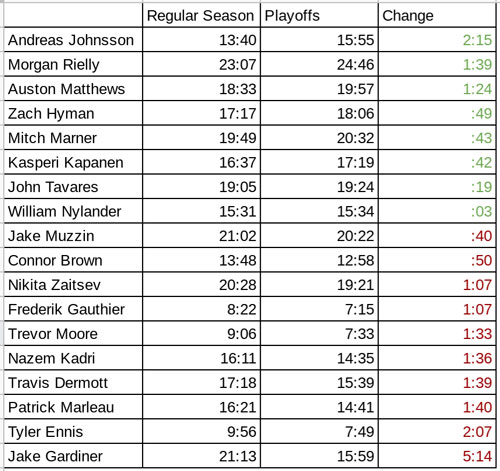 Still, he's made a positive impact while lining up with Travis Dermott on the third pairing. They're getting a healthy number of shifts starting in the offensive zone and facing largely bottom-six competition, but Gardiner has only been on the ice for one goal-against at five-on-five in this series and has helped drive positive shot metrics.
Basically, he's doing what he can. Inside the trenches, there are no questions about his willingness to pull on the rope with whatever he's got.
"I think that he's been driven to get back and play his game," said Zach Hyman.
"Obviously he's been injured. It's pretty easy to see that when you watch," said head coach Mike Babcock. "We're not playing him as much, but I talked to him today: We need him to be good for us and just simple. He's not playing against the same matchups he was before, but just be simple and be safe and when you get the puck on the offensive blue line be yourself."
This is unfamiliar territory for someone who has been a 20-plus-minute defenceman from the day he stepped into the NHL at age 21. He played just 12:31 in Toronto's Game 5 victory, one of the lowest totals of his entire career.
There is no guarantee Gardiner is gone even if the season ends Tuesday. His camp has had an open dialogue with Leafs management dating back to last summer and there's mutual interest in extending the relationship.
Jeff Blair: Bruins were at their best. Now the Leafs have to be at theirs
April 22 2019
But with the team facing an impending salary-cap crunch and Gardiner in position to command the largest contract of his career, they may simply not be able to work something out that makes sense for all involved.
He's tried to keep that idea as far from his mind as possible, even when faced with reminders about how things change. There was no conversation about it, for example, when the Leafs visited St. Louis and he went over to Bozak's new place for dinner.
"I'm sure there's some emotions when you play for a team for so long [and leave], but not during the year," Gardiner said in February. "Just play the game. If it's coming back here, it is, and if it's not it's something — you know, we'll see what happens."
There's only one way to avoid looking behind that door now. The Leafs need to win the game in Boston that Gardiner's never won before.