TORONTO — Mike Babcock is willing to let a good man go.
The Toronto Maple Leafs head coach will not stand in the way of growth; he's not afraid of empty-nest syndrome.
Todd McLellan, Bill Peters, and Paul MacLean all graduated from Babcock assistants to head coaches in their own right. MacLean even won the Jack Adams Award that has eluded his mentor. (Tom Renney leapt from Babcock's side to CEO of Hockey Canada.)
Babcock gathered McLellan, Peters and MacLean on the floor of the 2014 NHL Draft for a group photo. Babcock's smile is the widest by a Saskatchewan mile:
So, when the time comes to let Maple Leafs assistant coach D.J. Smith ascend to bigger and better things, Babcock won't beg him to stay. The Leafs won't be digging in their claws the way they did with, say, assistant GM Kyle Dubas's opportunity in Colorado.
Some quick context. The NHLPA revealed the results of its players' poll Wednesday, and Smith — somewhat surprisingly — received the most thumbs-up to this question: Which current assistant coach should be the next head coach?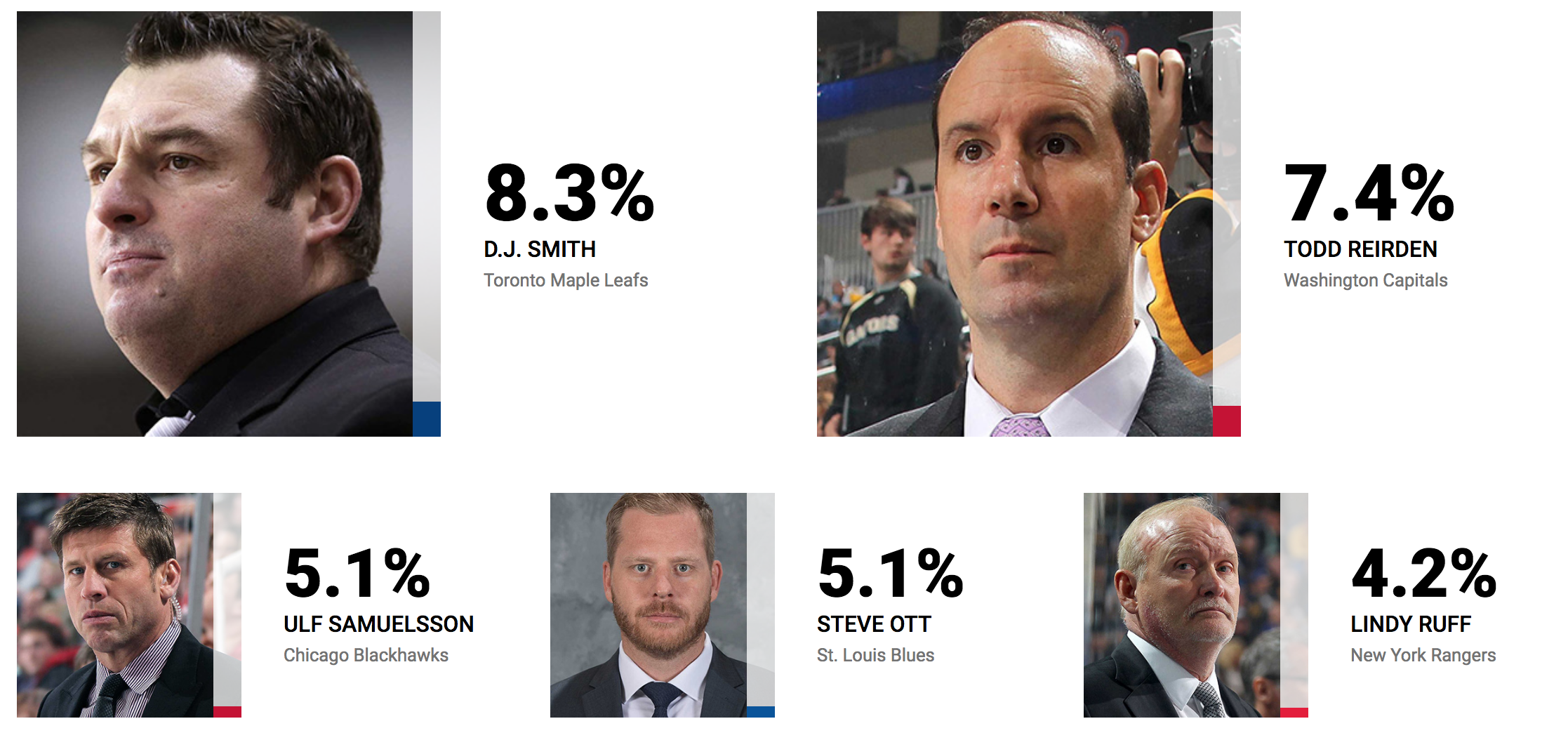 Smith took 8.3 per cent of the votes, edging out two names that frequently pop up in coach-hiring rumours, Washington's Todd Reirden (7.4 per cent) and Chicago's Ulf Samuelsson (5.1 per cent).
"The thing with D.J. is, in my opinion he's going to be a good NHL head coach. I always look when I'm hiring for serial winners: Wherever they've gone, they've won," Babcock says.
"That means something. Did you win in the playoff time? Were you able to deliver?"
Babcock scooped Smith fresh off his greatest delivery. The OHL bench boss guided the 2015 Oshawa Generals to a league championship victory over Connor McDavid's Erie Otters, en route to a Memorial Cup win, and inked a four-year deal to run Babcock's questionable blue line in Toronto. Hey, if you can limit McDavid at his best…
[snippet id=3816507]
"I'm a big believer that major junior is like NHL Lite. It's like Lite beer. It's exactly the same thing. You've got to coach stars. You've got to handle stars and have success," Babcock says.
"He's got a good ability to talk to people under him. He understands the game. He's been around here three years now and has a real good understanding of what the NHL is all about and what it takes, and I think he's going to have good success as a [head] coach."
Under Smith — who played 11 of his own 45 NHL games as Leafs defenceman before concussions ended his pro career — Toronto's defence has improved every season.
When Smith joined the franchise, Toronto's D ranked 27th overall, allowing 3.13 goals per night. The Leafs' penalty kill rated 22nd. Steadily, Smith's charges have chopped down goals allowed to 2.84 (12th overall) and the Leafs now run the ninth-best PK in the NHL.
Of course, nothing in hockey is one man's doing. Toronto's roster has drastically improved, the offence has gotten better, and Frederik Andersen is the best goalie to wear blue and white in years.
Yet the players themselves give the 40-year-old Smith a ton of credit, not only for the results but for the way he gets them.
"He's been a big influence on this team. He's got a great personality. He's an easy guy to talk to. He's helped me a lot with all aspects of it," says Morgan Rielly, the posterboy for Toronto's improving D core.
"He lets you be young when you're young, lets you make mistakes. But the more you get to know him, the older you get, the more responsibility he gives you. I think that's important."
We ask Rielly if Smith has what it takes to run both ends of an NHL bench.
"For sure," Rielly says. "He's got that leadership quality. I think that's important. I could certainly see that."
When it comes to coaching turnover, the 2017-18 season sticks out as an anomaly for its stagnancy. The playoffs start in a month, and not one head coach has been fired. Inevitably, the summer will bring shakeup, and Seattle will need a whistle-blower eventually.
[snippet ID=3322139]
Competition for those 32 jobs, as ever, will be fierce. Smith will be a free agent in the summer of 2019. There's little doubt Toronto will extend him if a head job doesn't present itself elsewhere. For now, all he's won is the respect of the guys who lace 'em up and a verbal letter of recommendation from his boss.
"To me, it's like a player: When you arrive when you're over-ready and you have confidence, you stay long. When you arrive when you're not ready, you leave fast," Babcock says. "I think he's set up good."
Consider some of the league's recent hires. Travis Green, Rick Tocchet, Gerard Gallant, Doug Weight and John Stevens have all come with the same tag — players' coach — that has been attached to Smith.
"For all the opinions that matter in something like [hiring a coach], I'm sure the players' do. We don't elect the head coach, but being looked at favourably by the players is a good thing," says Leafs defenceman Connor Carrick.
"[Smith] certainly has the personality for it. He has a good hockey mind, and he's talented in his ability to use humour to teach. That can be important over the course of an 82-game season to maintain freshness. Guys respect him a lot."
The Leafs praise Smith for his intelligence, his ability to communicate and his personality. Ironically, they're not so keen to let him speak to reporters. Like a DJ, we must go digging for sound.
"I think of myself as a hardworking, detail-oriented coach," Smith told a group of middle-school students in 2016 (via the Windsor Star). "If you study the details day in and day out, you'll leave people behind.
"It's up to you to decide what you get in life.
"Then when you do get the opportunity, be prepared to take advantage of it."
[relatedlinks]