It happens every season. Things fall into place perfectly and players start the year on hot streaks despite a few underlying indicators suggesting that the players themselves aren't really the reason for the results being achieved. Inevitably things return to some semblance of normalcy and the numbers slide back into a range we would expect. On the other side of things, the players who, despite doing a lot of the right things, seem to have a lot of the bounces going against them. Pucks not going in, goalies not making saves and generally poor results, which are often interpreted as a fault or failing of the player in question.
Fortunately, with the help of some of the more in depth numbers, we can pinpoint which players are most due for a significant regression towards their historical numbers as the season moves ahead. [Editor's note: Regression involves any movement—positive or negative—towards the mean.] This is how we identify players who—for the moment at least—are overrated and underrated.
Plus-minus is a holdover from a time when hockey statistics were in their infancy. It was a very long infancy, but we really should move past the time where we value it. The reason the statistic is problematic is because it describes team goal-scoring events (both for and against). These events are amazingly rare in comparison to shot attempts. In essence, during the course of a game goals occur randomly, and unfortunately with random events, they won't be distributed nice and evenly.
Random events bunch together. You will see sudden bursts of goals for or against while certain skaters are on the ice, and they may not have anything to do with those skaters. Goals, and their corollary statistics shooting percentage (directly tied to goals for) and save percentage (directly tied to goals against) are extremely volatile and unpredictable in terms of when they occur.
Players on the ice for a lot of shot attempts (for or against) should eventually expect goals to go in—we just can't easily predict when. Players on the ice for very few shot attempts may be on the ice for goals, but when they are, you can't assume they will be again.
Generally speaking, the volatile nature of goal scoring means we should be wary of praising players with an inordinate amount of puck luck, or deriding those who are getting very little. This is typically indicated by abnormal SH% and/or SV% numbers while they are on the ice using the statistic PDO—which is literally the sum of the two numbers.
A few years ago, many hockey pundits were discussing the demise of Alex Ovechkin's offensive production, and subsequently castigating him for his abysmal plus-minus, as if both were indicative of his poor play. A quick glance at his underlying statistics indicated that there was no obvious reason to be worried about his scoring rates, or his defensive results.
This season, a few players can similarly be excused for their results thus far. Those below are struggling to produce offence at 5-on5—either because of poor personal shooting percentages, a low on-ice shooting percentage (OISH%) for their teams as a whole or, in many cases, both. Poor offensive production while they are on the ice ends in abnormally poor plus-minus ratings.
Luke Schenn and Jake Gardiner are both finding themselves under the microscope for a variety of reasons this year. In addition to a poor run of offensive luck to start this season, Gardiner's underlying possession stats are significantly worse than in previous years. Schenn has been benched multiple times, though it is difficult to find significant fault with his results this season. In addition to the lack of offensive production shown above, he has been playing in front of .868 goaltending at 5v5, which is extremely difficult to look good in front of, and largely explains his minus-12 rating.
At the other end of the spectrum are the skaters riding absurdly high personal or team shooting percentages. These players tend to be getting far more puck luck, and often grab headlines in the early going thanks to it. A prime example is Alex Steen last season. He scored 20 goals in his first 24 games, then 13 across the final 34 games he played in an injury shortened campaign. Steen's shooting percentage was 25.3% on those first 20 goals, it dropped to 9.8% for the remainder of the season. Players do deviate from their career norms in shooting percentage for extended periods, but the larger the deviation (increase or decrease) the less likely the stretch is to last.
Filip Forsberg is taking the NHL by storm this season, he has 11 goals and 25 points through 25 games played. He is 20 years old and is shooting 14.3%—so nothing particularly screams unsustainable on that front. The part that will be difficult to maintain is his 5v5 OISH% of 13.24. Elite players have managed to sustain an OISH% above 14% in the past—just not over multiple seasons. Forsberg may end up with a very impressive rookie season, but it is unlikely he duplicates this level of production long term.
The biggest outlier in the NHL from a 5v5 OISH% perspective at the moment is the latest Leafs forward promoted to a top-six role—Mike Santorelli. He had been the beneficiary of a 14.58% OISH% entering Saturday's game, which deviates from his recent career numbers quite significantly. Below are the players benefiting from relatively unsustainable underlying numbers that we should expect to regress downwards—taking much of their offensive output along with it.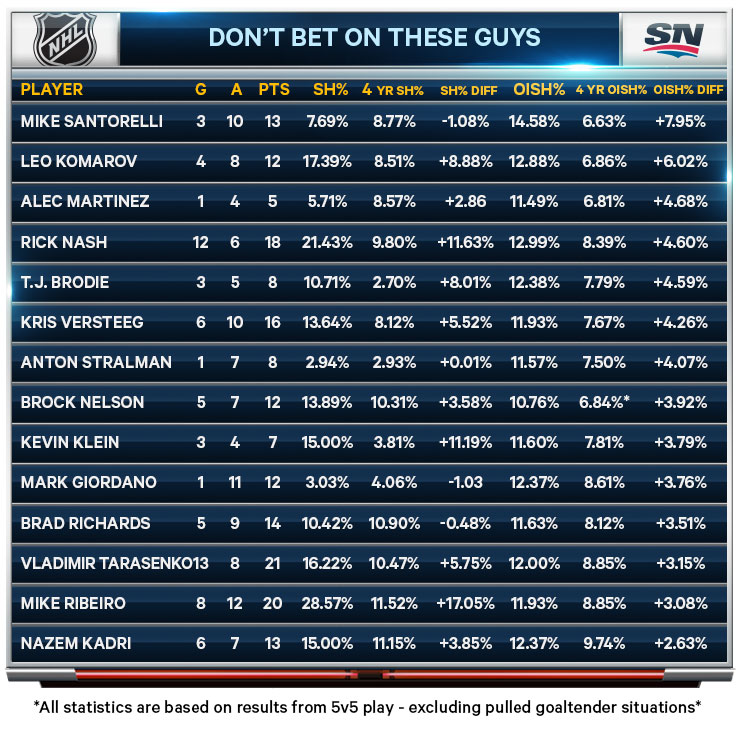 The vast majority of these players will see some form of regression in their scoring results as the season progresses. (Don't expect Rick Nash or Mike Ribeiro to continue shooting better than 20% at 5v5 or Kevin Klein and T.J. Brodie to sustain 10%-plus personal SH%.) Most likely, the skaters riding hot streaks will cool off longterm, and inevitably people will wonder what happened to "ruin" their solid play from early in the year. Conversely many of the skaters facing tough times right now will find their way, balancing out their cold start with runs of hot play later in the season.
St. Louis in particular has a sizeable group of skaters in the cold category. Even if the Vladimir Tarasenko-Jori Lehtera-Jaden Schwartz line cools off significantly, the regression back to normal shooting from the other forward lines should make up for that trio's production and keep the team rolling. The quality and depth of St. Louis's forward group may be unmatched in the NHL.
Hot and cold streaks are very unpredictable for NHL players. We know they happen, but when they'll begin or how long they'll last is virtually impossible to calculate. As a result, the best we can do when projecting is expect players to have their production mimic what they have done in the past. We also should keep in mind what probable outcomes are for NHL skaters in general. The more things change, the more they stay the same.