This, without question, is the turning point. Or at least, a turning point.
The Maple Leafs have taken the reins of their hockey office away from one of the most celebrated executives in the sport, Lou Lamoriello, and handed them to a relative neophyte, Kyle Dubas.
The 75-year-old Lamoriello helped the team go from dead last in the NHL into the Top 10 in just three years, yet another significant achievement in a magnificent career that has included Stanley Cup championships and a reputation for running the tightest ship in hockey.
[snippet id=3918715]
Dubas, 32, has never won anything in hockey, or been a general manager of an NHL team. He represents a new order in hockey, a culture that believes in numbers as much as it believes in heart and soul.
This is a clear choice by team president Brendan Shanahan, and he better be right. It's a bold choice, but not really a risky one in that Dubas has been training for this very moment for years. He's proven he can run an excellent minor pro operation in Toronto. Now he has to demonstrate he can run an excellent NHL operation in Toronto.
When Shanahan hired Lamoriello three years ago, it was scrutinized just as his hiring of Dubas was. Some suggested the game had passed Lamoriello by. But Shanahan reckoned the Leafs needed to have a great deal more discipline as an organization, and Lamoriello supplied it. No more Red Bull caps during post-game interviews. No more leaks. No more rookies doing on-camera interviews. No more shenanigans from Nazem Kadri, no more Salutegates. No more Joffrey Lupul, for reasons that are still a little murky.
In general, no more nonsense. And no more beards.
Elevating Dubas, a logical and seamless transition, is evidence that Shanahan believes the team now needs something else, some other qualities, to get to the next level. A younger voice, perhaps a fresher approach.
"I just really felt looking at Kyle that he was more than ready," said Shanahan, who really has been careful to avoid explaining the precise reasons for making this change.
Lamoriello wasn't doing anything wrong. His results in Toronto speak for themselves.
Shanahan just wants something else now, and that's his job. Figuring out what's best for the Leafs at any given point in time, and putting the needs of the team first. Perhaps conventional thought would have been to keep Lamoriello in place. But despite coming from traditional hockey roots, Shanahan can be quite unconventional in his approach and decisions. The next time someone tells you they know what Shanahan is thinking, they're probably not being truthful.
He knows expectations in this town are exploding. With Las Vegas, a brand new team, one of the NHL's Final Four, and with Winnipeg, one of the smallest markets in the sport, right there with the Golden Knights, the time for excuses is over.
Vegas had no players a year ago, and they got further in these playoffs than Toronto did. The Jets picked Patrik Laine right after Auston Matthews in the draft two years ago. They're also still alive, while the Leafs cleaned out their stalls two weeks ago.
So no more patience. No more growing pains.
The time has come for the Leafs to win. That's the situation Dubas is inheriting, and he better acknowledge that and be ready for it.
When he went to the Soo to run the Greyhounds, the city wanted a hardnosed, tough hockey team that could win, and many were skeptical of his new-age beliefs. He won them over, mostly by winning. He'll have to do the same with the Leafs, and there will be no shortage of skeptics and critics looking for him to fail.
In recent days, there has been a groundswell from the traditional hockey culture that Mark Hunter, not Dubas, deserved the Toronto GM job, with the inference that Hunter was a real hockey man while Dubas was some keyboard geek who never played in the NHL.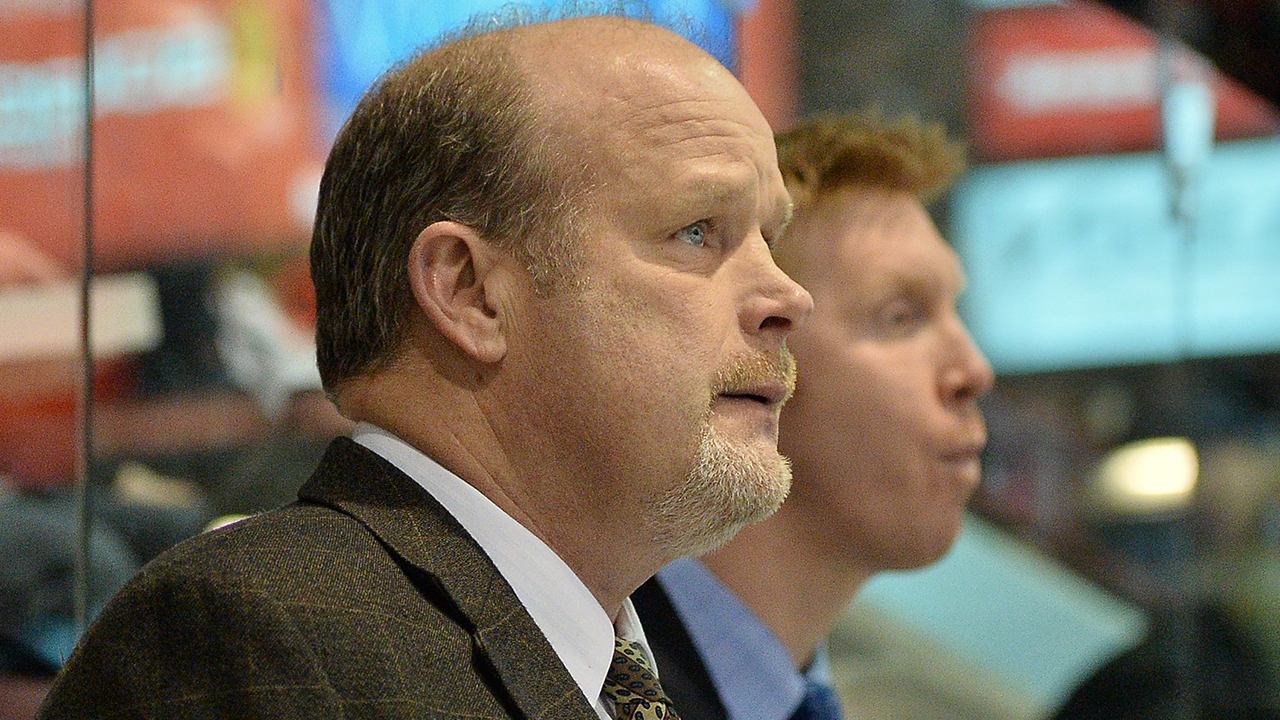 Shanahan is a man who fits in both worlds, the traditional and the new. He hired both men. He believes Dubas should be in charge now, not Hunter. He's the one who had to make a tough choice between two talented hockey men.
That an apprentice has been judged worthy to take over from the master is not that unusual in hockey history, although the 43-year age difference in this case is historic.
In some ways, this move by the Leafs isn't all that different than that day back in 1987 when New Jersey Devils owner John McMullen decided to replace 63-year-old Max McNab, a hockey man through and through, with the 44-year-old athletic director of Providence College, a man with absolutely zero NHL experience.
That was Lamoriello. It was a revolutionary hire. And the Devils never regretted it.
Now, the big difference is that was the Devils and this is the Leafs. New Jersey was at that time just a few years removed from being transplanted from Denver and labelled a "Mickey Mouse organization" by none other than Wayne Gretzky. Lamoriello was able to learn his craft in relative anonymity because beyond what No. 99 said, nobody cared about the Devils. Until Lamoriello made them care.
Toronto, by contrast, sits in the biggest hockey market in the world. The Leafs are one of the NHL's most valuable franchises, and one of the most important. They have emerged as a contender again after a decade wandering in the wilderness to find their fans more engaged and more enthusiastic than ever, and their haters and detractors just as dedicated.
They are the Yankees of hockey, as Lamoriello once called them, but the Yankees without a championship in 51 years. Head coach Mike Babcock has the club playing a fast, progressive style with young stars like Matthews, Mitch Marner and William Nylander. They are close to contending for the Cup.
The biggest change will be that with Lamoriello in charge, there were absolutely no whispers that anybody in the organization wasn't on the same page. Now, with Dubas having won his promotion ahead of Hunter, and with Babcock no longer restricted by a more senior hockey person above him, that could change.
That doesn't mean it will change.
But it could.