TORONTO — The Fountain of Youth?
Patrick Marleau's coach swore it was just over the next hill, insisted it was tucked around that corner up there, only a little ways down the path.
Then the unwavering, kind, soft-spoken, declining, 39-year-old hockey player could take a long drink, snap a goal or four, and quiet both their critics.
"When you're 25 and it doesn't go as good, everyone says, 'No big deal.' When you start getting higher, they always say, 'Oh, the wheels are off, you're done,'" Babcock said amidst the future Hall of Famer's fall-off season.
"The wheels ain't off. He ain't done."
Keep that gold watch behind the glass. Save all your heartfelt good-byes for Jake Gardiner.
Marleau, who turns 40-years-old before puck drops on 2019-20, still has one more season on his contract with the Toronto Maple Leafs, and he's driven to play this thing out until the axels rust through and the treads are smoothed bare.
The most revered (internally) and most senior member of the Maple Leafs said, after his 1,848th NHL game (including playoffs) and 19th post-season run that ended in something less than champagne and diamond rings, that he has given no consideration to retirement.
Marleau fully intends to ride out the final year of his cap-crunching contract, the third season that helped Babcock and then-GM Lou Lamoriello lure him away from San Jose when the 15-time 20-goal man hit the open market in July 2017, the deal new GM Kyle Dubas must stickhandle around with delicacy.
"I haven't heard otherwise. It'd be good to be back and continue with this group," Marleau said. "The results weren't what I expected or what I've come accustomed to. That's on me, and I know I can do better.
"So, it's an opportunity to come back next year and prove that I still have it, and I feel confident in my abilities to do that."
We feel confident that should Marleau indeed return, someone else in the top nine, someone on the upswing — Kasperi Kapanen? Andreas Johnsson? William Nylander? — must go as the home-run deals of Marleau's foster sons, Auston Matthews and Mitchell Marner, kick in like thunder.
"That's tough to swallow, being a tight group," said Marleau, realizing the domino effect of his fulfilling no-movement contract he earned fair and square.
"That's going to be something to Kyle. That's his job."
And if Dubas were to approach him with a trade proposal?
"Then we'd have to cross that bridge," Marleau said. "It's tough to speculate."
The paperwork is virtually buyout-proof: Once Marleau collects his $3-million signing bonus on July 1, he'll only be owed $1.25 million in salary over the course of the 2019-20 schedule. So while we still believe there's an outside chance Marleau wraps his career back in San Jose, where he still maintains a home, it's ultimately the player's call.
That the Marleau conundrum is one of heart as much as money complicates matters. The battery of Toronto's young future core has, quite seriously, become like family.
"For myself, having him here, I've learned so much from him, and I love having him around on and off the ice," said Matthews, who spent Christmas playing mini sticks with Marleau's birth sons. "He's a true, true leader, and there's no question why he's had the career he's had and played as along as he has.
"He's a big part of this team. He flies. He's so fast. He still gets it done."
As part of a lighthearted question game the Leafs played this season to generate in-house video content (watch below), Marleau asked Marner if he had any advice for him.
"For the rest of your career, another 15 years you're going to play on our team," Marner said, getting a touch sentimental, "realize how good you are, realize how you can play. Believe in yourself that you can make one-on-one decisions and make guys look stupid."
So, what immeasurable risk does Dubas face pulling his favourite players' favourite player out of the city early for the sake of smart financial business?
"It's incredible what he's doing," defenceman Morgan Rielly says. "The way that he carries himself on and off the ice is something we can all admire. To have him in this room is very important, and we're lucky to have a guy like him."
On the ice, Marleau's slide is tangible. The status quo also presents risk.
His 16:21 average ice time in the regular season ranked sixth among Leafs forwards and signalled a 38-second plummet from Year 1 of his deal. Despite the hype around overuse, Marleau was deployed even less (14:40, eighth) in the Bruins series.
By virtually every measure, year over year, Marleau took a giant step back in 2018-19: goals (27 to 16), shots (203 to 161), shooting percentage (13.3 per cent to 9.9 per cent), plus/minus (+1 to -6), and even-strength points (38 to 27).
Mapping where Marleau scored his goals is compelling. Not once did he score beyond the slot and crease area, a sharp contrast from both his own history and the league-wide pattern:
Marleau's goal map, 2018-19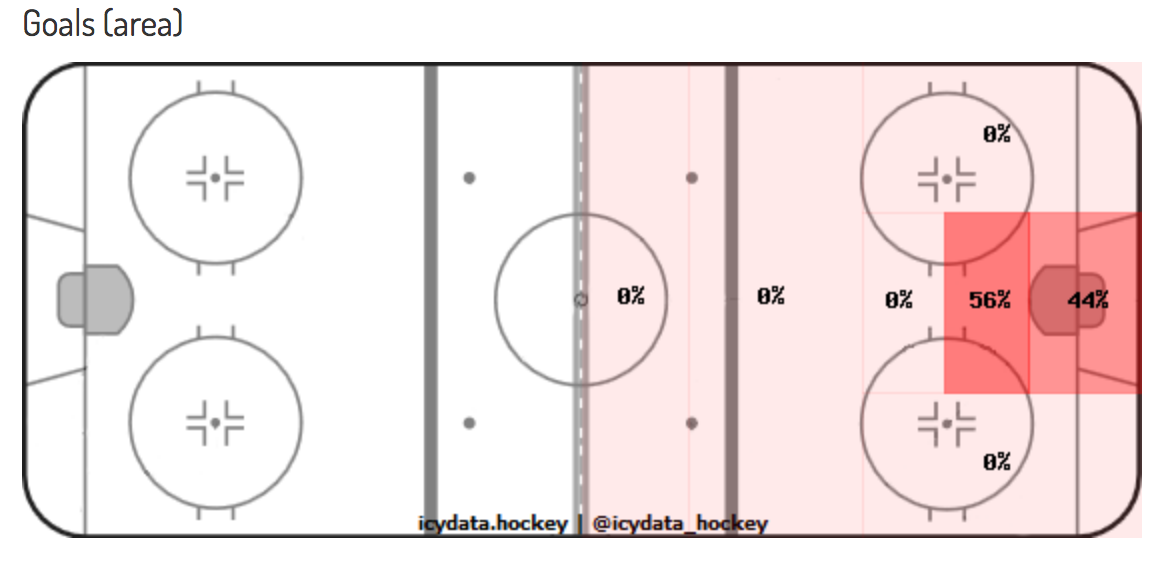 Marleau's goal map, 2010-19

NHL league-wide goal map, 2018-19

Upon elimination, the errant sniper copped to a rattled confidence.
"This year, I found myself in spots I normally wouldn't go. I think it's a matter of just letting myself play and kinda getting out of my own head and go to the areas where I know I can go and score and be effective," Marleau said. "There's things I'm looking at changing and a different mind-set going into games and things like that."
The Last of the Loveable Luddites, Marleau says this is the summer he hangs up those tattered Reebok 9K Pump skates in favour of brand-new custom CCM Ribcors and finally wraps his farmhands around a one-piece stick.
It's a step towards practicality's victory over romanticism, and it just might be the next best thing to this fictitious Fountain of Youth.
"I think it will, but we'll see," Marleau said. "Still looking for that first Stanley Cup, so…"
3/5 of my favorite boys Go Leafs Go! pic.twitter.com/9Mjbs2fTTW

— Christina Marleau (@c_marleau) March 23, 2019
[relatedlinks]