While there's no one on the roster that can fully replace a player the calibre of Marner, the Leafs' abundance of high-end prospects makes it so a short-term injury to him may not hinder them as much as you'd think.
With everyone focused on Auston Matthews in Toronto, it's actually Mitchell Marner who's tied for the league lead in rookie scoring with 48 points. Marner's play hasn't been surprising to everyone, but there was a good chunk of people who believed he would be sent back to junior this season at some point due to his size, specifically his weight at 170 pounds at six feet tall.
Marner's skating has erased all concerns about his size though, and not just straight ahead speed, but his footwork and agility gives him the shiftiness needed to evade checks similar to players like Patrick Kane.
A patient playmaker, Marner uses his skating to hold onto the puck and open up lanes for his teammates, at times doing the old Peter Forsberg move where he circles the entire offensive zone until he finds something he likes, and that patience has led to him leading all rookies in assists with 33, and primary assists with 20.
Stream 56 Maple Leafs Games
Sign up for Sportsnet Now to get 56 Maple Leafs games plus every Hockey Night in Canada, Rogers Hometown Hockey and Scotiabank Wednesday Night Hockey game and the entire 2017 Stanley Cup Playoffs.
Auston Matthews and Patrik Laine actually lead the league in primary points this year at 39, so those secondary assists are propping Marner's production up a bit compared to his peers, but even at third he's been extremely impressive.
While Marner's a pass-first player, with a preference for cross-ice feeds through the faceoff circles, he's an above average shooter as well scoring 15 goals already and producing more individual scoring chances than all but 30 NHLers at even strength – a high mark for anyone, let alone a teenager.
However, Marner suffered an injury in the Maple Leafs' last game, and with Toronto holding onto the last wild-card spot with just one more point than the Islanders and Panthers, and struggling at just 3-5-2 their last 10, the question is who can fill Marner's shoes while he's day-to-day?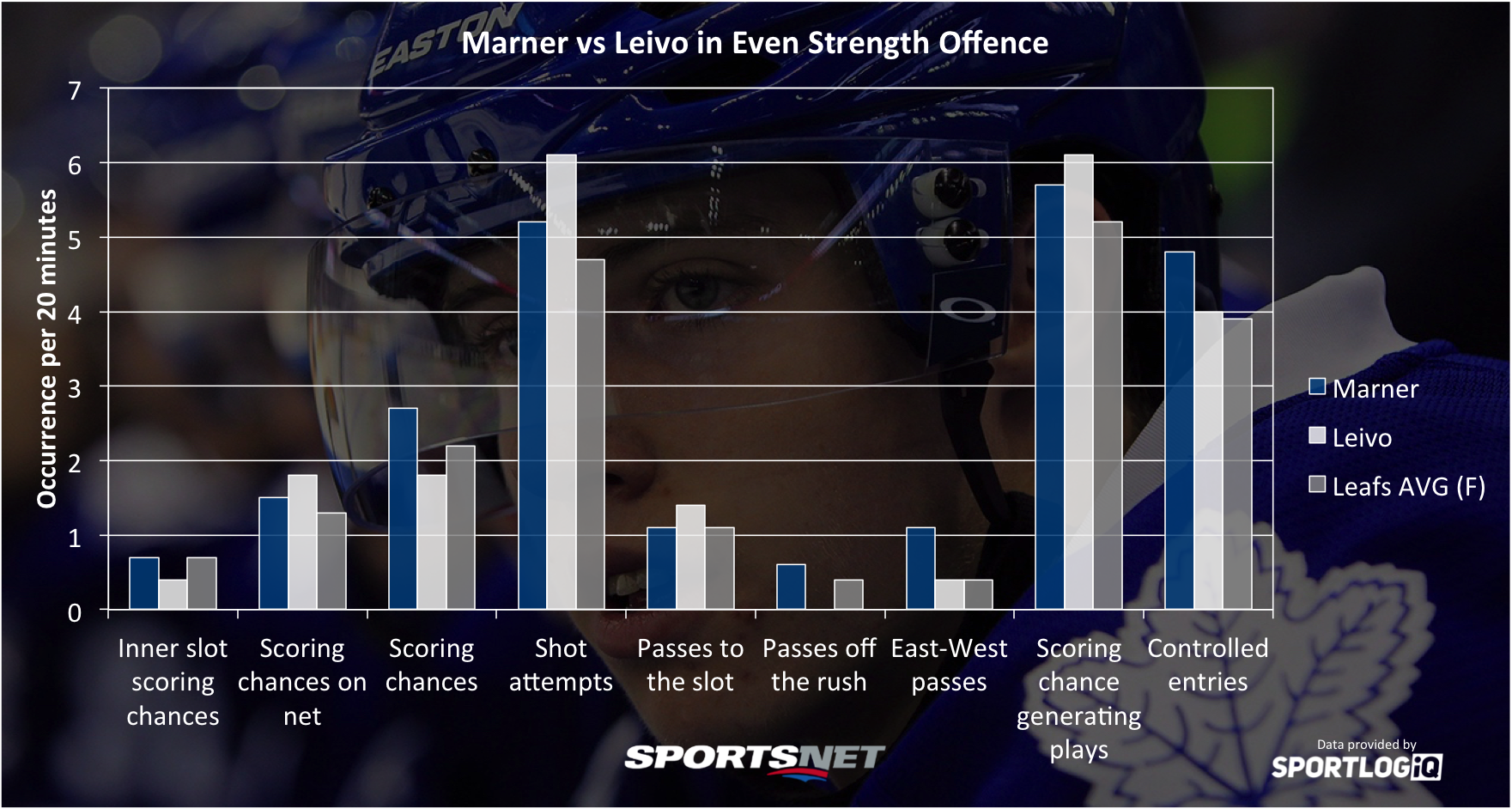 Luckily for the Leafs, 23-year-old Josh Leivo seems to be having an offensive explosion the last two games, and while it's a tiny sample size he's a bit of a scoring-chance demon.
Leivo is a completely different style of player to Marner, mostly a perimeter shooter so far, but he has created scoring chances for his teammates at an elite rate so far. He's not as versatile a playmaker as Marner is, struggling to attack off the rush and move the puck east-west, but he connects on passes to the slot more often, which is pretty impressive.
Obviously Leivo can't fully replace a player of the calibre of Marner, no team can do that internally, but the Maple Leafs' abundance of high-end prospects on the wing gives them so much scoring depth that a short-term injury to their top playmaker may not hinder them as much as you'd think.
Another option the Leafs have is to call up a bit more offence from the American Hockey League, where they have two point-per-game wingers in Brendan Leipsic and Kasperi Kapanen. Overloading their lineup with offence could easily make up the difference of losing Marner if coach Mike Babcock chooses to go that route.
The fact of the matter is the Leafs are loaded with options. Not only do they have three of the five best rookie forwards in the NHL this year, they have the depth to make up for it if one of them goes down for awhile. It's an enviable position for a team that only made a strong commitment to rebuilding a couple of years ago.