Max Pacioretty and Phil Kessel are the offensive leaders of the two most storied franchises in the NHL. They are both wingers, both Americans leading iconic Canadian clubs, and the similarities in their results are remarkable, yet the polarity in perceptions of the two are massive.
Both have won the Bill Masterson Trophy for perseverance, sportsmanship and dedication to hockey thanks to scary ailments early in their NHL careers (cancer for Kessel, broken neck for Pacioretty)—and yet no season in Toronto seems complete without the annual pillorying of the Maple Leafs' biggest star. If it isn't his appearance or physique being criticized it's his gruff exterior.
---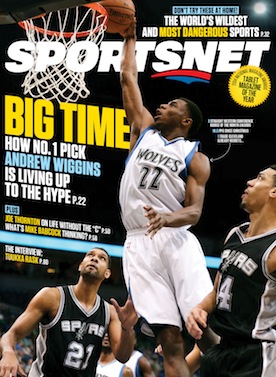 ATTENTION Rogers and Shaw customers.
Already enjoying Sportsnet ONE? Now get access to digital editions of Sportsnet magazine at no extra cost.
---
On the other hand, Habs fans seem quite pleased with their top sniper. Pacioretty's name is regularly floated as captain material and he is described as a prime-time performer, understated and calm. No questioning of leadership or commentary about failure in big moments, despite the fact that Montreal is probably the one hockey town in the NHL with pressure and attention comparable to Toronto. Perhaps some of this has to do with the satisfaction of the Canadiens' fan base thanks to recent playoff participation. But if you explore that in a bit more detail, Pacioretty has produced five goals and 11 points in 21 career playoff games versus the 13 goals and 21 points in 22 post-season games for Kessel.
Kessel is one year older, has three more 30-goal seasons than Pacioretty, and a cap hit that is $3.5-million higher per season, but that doesn't change the reality of how similar their offensive production has been over the past few years. Since the start of the 2011-12 season, they are basically interchangeable in category after category. For the sake of comparison to another top winger, we can look at Corey Perry —- a former league MVP who is two years older than Kessel and has a comparable cap hit.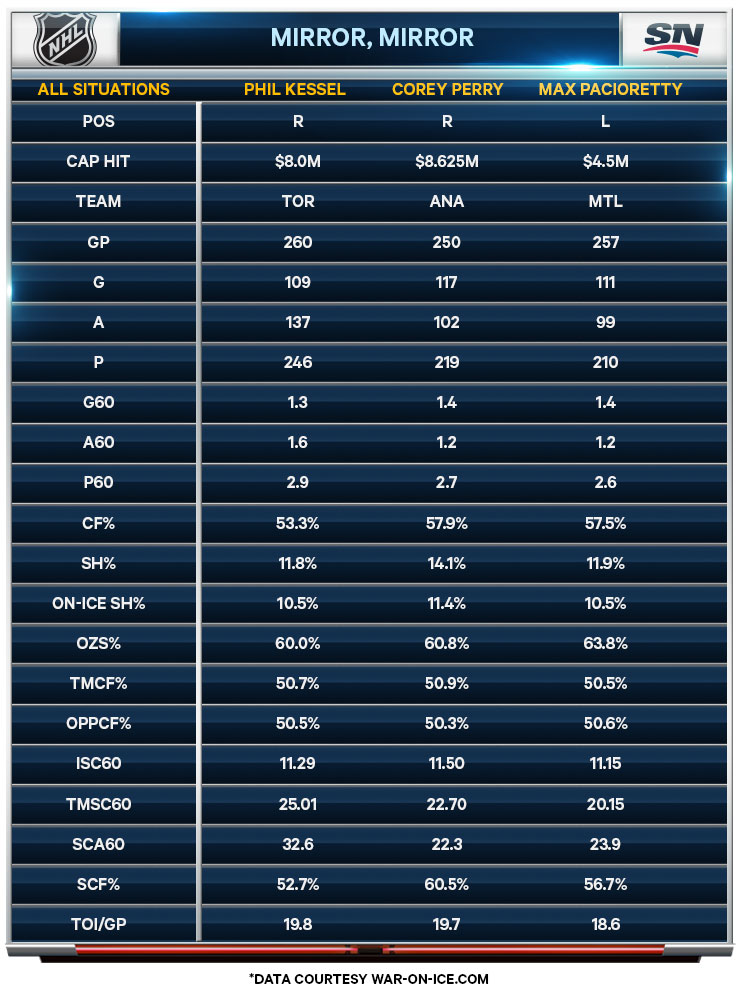 What you see above looks at man power situations and includes both regular season and playoff performances. Perry has regularly received MVP votes, Kessel is regularly chastised as a malcontent, and Pacioretty has relatively speaking flown under the radar.
The Habs' 26-year-old sniper is wildly outperforming his pay grade —- and fans in Montreal should be lauding Marc Bergevin for his efforts to lock Pacioretty up long term through the 2018-19 season. That being said, it is worth noting that because Pacioretty entered the NHL as a 20-year-old he was still going to be an RFA when his last contract expired. Kessel and Perry's deals were both extensions following contracts that would have made them UFAs upon expiry.
Given how similar their individual results are over that four-year stretch, the massive disparity in perception is all the more bizarre. Further, Kessel and Perry benefit significantly from playing with the likes of James van Riemsdyk and Ryan Getzlaf —- elite offensive performers in their own right. Pacioretty plays with teammates averaging almost five fewer scoring chances per 60 minutes of ice time in comparison to Kessel. Pacioretty's top linemates this season are David Desharnais and Dale Weise, which speaks volumes to people who worry about Phil Kessel playing with Tyler Bozak. And when it comes to supporting casts, less of the pressure falls on Pacioretty's thanks to slightly higher top-end teammates in key positions with P.K. Subban and his Norris Trophy calibre defence on the blue-line and Carey Price, a clear contender for Vezina and Hart Trophies this season, in net.
It is worth noting that Pacioretty's defensive results are significantly superior to Kessel's, which could be why the latter takes as much blame as he does. For better or worse, Kessel is held responsible for all of the failings of his teammates, though it seems bizarre to castigate the third-leading point producer in the NHL over the past three years for not scoring enough, or playing good enough defence. Kessel has done his job amazingly well over the years and yet it's never quite enough to satiate the market he plays in. He isn't responsible for the Leafs' .910 team save percentage and he's still on track for his usual 30 goals despite the recent dry spell.
Fans and media need some perspective to appreciate the level of play from the top-scoring wingers on the Leafs and the Habs. They're more similar than virtually anyone mentions, and appreciating them for what they are (and aren't) shouldn't be as hard as it appears.