TORONTO — "There's the school," says Par Lindholm, surveying a photo of the village in northern Sweden where he grew up. "And that's the rink."
It is here where two unlikely NHL dreams first started to take shape. In the evenings, on weekends, even on breaks between class, kids would frequently brave the winter air to skate outdoors in the middle of Kusmark, population 441.
Lindholm, the son of a local dairy farmer, was often there. Viktor Arvidsson, from a family of potato farmers, was, too.
"I lived across the water that runs through the whole village," said Arvidsson. "We had like a bridge that hangs over the water and I just walked over. That's where we skated almost every day."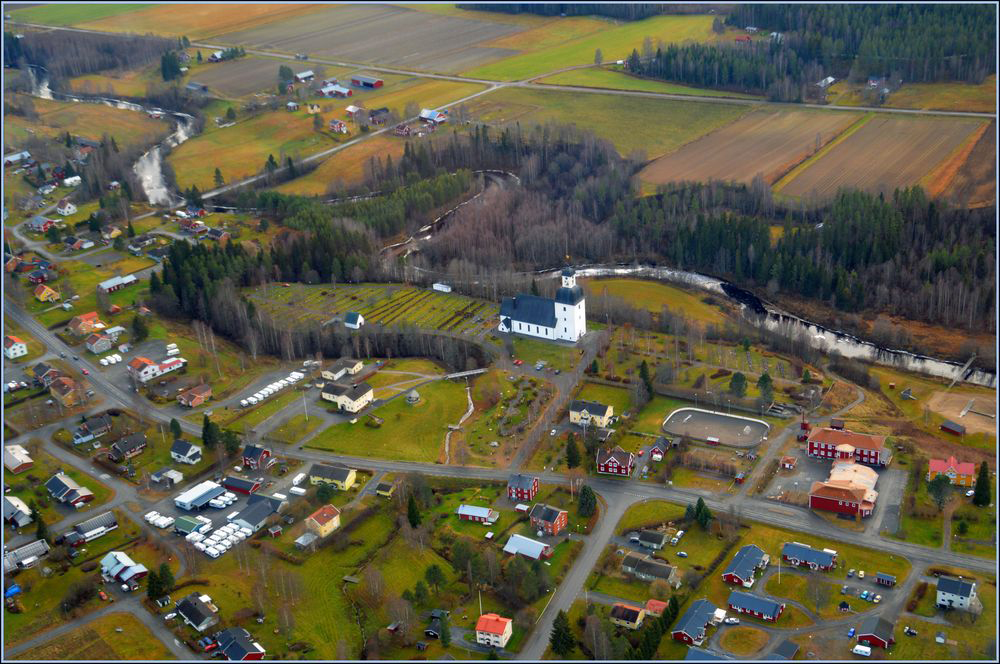 An aerial view of Kusmarks, Sweden. (Vivo Wallpaper)
On Monday night, some 6,134 kilometres away, they will skate in a considerably different environment when Arvidsson's Nashville Predators face Lindholm's Toronto Maple Leafs at Scotiabank Arena.
It may be just another game on the schedule for teams with Stanley Cup dreams, but it's a significant moment back in a village nine hours north of Stockholm. Never before had Kusmark produced a NHL player before Arvidsson broke through with Nashville in March 2015. Lindholm arrived here in the fall after signing a free-agent contract with the Leafs.
"It's kind of cool we both made it here," said Lindholm.
"It's pretty awesome," said Arvidsson. "It's like pretty surreal that it happened. It's good for the little village at home, they're proud of us. That's good."
The five-foot-nine winger took the more traditional path. He was so good as a kid that he played some organized youth hockey with Lindholm despite being 18 months younger, and eventually found his way down the road to Skelleftea AIK and the Swedish world junior team.
Nashville did a great job to pluck Arvidsson from the fourth round in 2014 — an absolute steal given that he's developed into a 30-goal, 60-point player.
Lindholm wasn't drafted by anybody. He was playing in the third tier of Swedish professional hockey only six seasons ago. But he continued to work at his game and climb the ranks and became an offensive threat for Skelleftea AIK while earning a spot on last year's Swedish Olympic team.
It's little wonder why the last place two sons of Kusmark ever thought they'd plan to meet up was in the hallway outside the Maple Leafs dressing room.
"It's nuts," said Arvidsson. "He has taken such a long way, too, and mine was kind of quicker. In the leagues back home, he's been in almost every one of them and made it here. It's unbelievable."
The way they were raised in the game harkens back to an earlier era — one before specialized skills training.
Arvidsson was five when his family moved to Kusmark and figures he met Lindholm at school soon afterwards. He remembers their sessions on the outdoor rink next door simply as "fun with friends." Formal practices and games were held at an indoor arena about five kilometres away.
The 25-year-old thinks his upbringing on the potato farm played a role in him realizing his NHL dream.
"We had to help out a lot," said Arvidsson. "My work ethic comes from that — just doing whatever needed to be done. That's about it. We had fun growing up, too, a big farm and we had a lot of room to play on."
Lindholm frequently pitched in with chores at home, too.
He's not sure if it's simple coincidence that both he and Arvidsson found themselves here, but he sees a couple advantages to being raised in Kusmark.
"Good water," he said. "And decent potatoes."