As the Toronto Maple Leafs celebrate their centennial season, let's discuss a beloved pastime for Leafs fans across generations: looking back on horrible trades the team has made.
We all know the classics. Tuukka Rask for Andrew Raycroft is legendary while Russ Courtnall for John Kordic is one that older fans still love to hate.
But what about the Anton Stralman trade?
Oh, you don't quite remember that one? Most seem to have forgotten that Stralman was a Leaf. Want to learn more about one of the most underrated bad Leafs trades of the past decade?
Let's take a trip down the rabbit hole…
July 1, 2009: the Leafs trade Pavel Kubina and Tim Stapleton to the Atlanta Thrashers in exchange for defender Garnet Exelby and forward Colin Stuart.
It was mostly a cap-dump trade for the Leafs, who were looking to ditch Kubina's contract. That trade, however, gave the Leafs Stuart, the eventual final piece in the Stralman deal.
July 27, 2009: the Leafs trade Anton Stralman, Colin Stuart and a 2012 7th-rounder to the Calgary Flames in exchange for Wayne Primeau and a 2011 2nd-rounder.
Many call Stralman a late-bloomer, and there's some truth to that. He was up-and-down with the Leafs, the Flames never used him, he lasted just two seasons with the Blue Jackets and he only put up 38 points in 182 games with the Rangers before finally settling into his current crucial role with the Lightning. AUTHOR'S NOTE: Many have tweeted me about Stralman's health issues with the Blue Jackets that got cleared up by the Rangers. Great story. Click here to read it.
The Leafs were actually pretty high on him at one point. Former general manager John Ferguson Jr. drafted him in the seventh-round in 2005. Stralman made his NHL debut with the Leafs just two years later. Ferguson even once quipped that if Stralman was "80 per cent of what Lidstrom is, we're happy… if he's 100 per cent, we're throwing a party."
So what happened?
Truculence happened.
Drafting Stralman looked like a smart move for Ferguson Jr. but JFJ was fired midway through Stralman's rookie season in January 2008. He was eventually replaced by Brian Burke in November 2008.
Burke didn't mince words. He wanted the Leafs to get bigger, tougher, meaner, and more "truculent" right away. Those words didn't describe Anton Stralman at all. I still remember Stralman doing and interview without a shirt on while he was a member of the Toronto Marlies in 2008-09.
I remember thinking, "There's no way this guy makes Brian Burke's Leafs."
Sure enough, Stralman was traded to Calgary during Burke's first off-season in Toronto.
So you're saying to yourself, "OK, so the Leafs don't have Anton Stralman. You're gonna goof up with prospects sometimes."
Oh, but wait. It gets worse.
In September 2009, Burke and the Leafs wanted to threaten the Boston Bruins with the potential of offer-sheeting Phil Kessel. To do that, the Leafs would need their own 2010 second-round pick. Unfortunately for the Leafs, they didn't have it. Toronto had previously traded their 2010 second-rounder to the Montreal Canadiens in the Mikhail Grabovski deal.
The Canadiens then flipped that pick to the Chicago Blackhawks in exchange for Robert Lang. This meant that in order to get their own 2010 second-rounder back, the Leafs had to make a deal with the Blackhawks.
And they did.
The Leafs traded the 2011 second-rounder they had received from Calgary in the Stralman deal along their own third round pick in the 2011 draft to get their 2010 second-rounder back from the Blackhawks.
Here, maybe this fancy visual will help: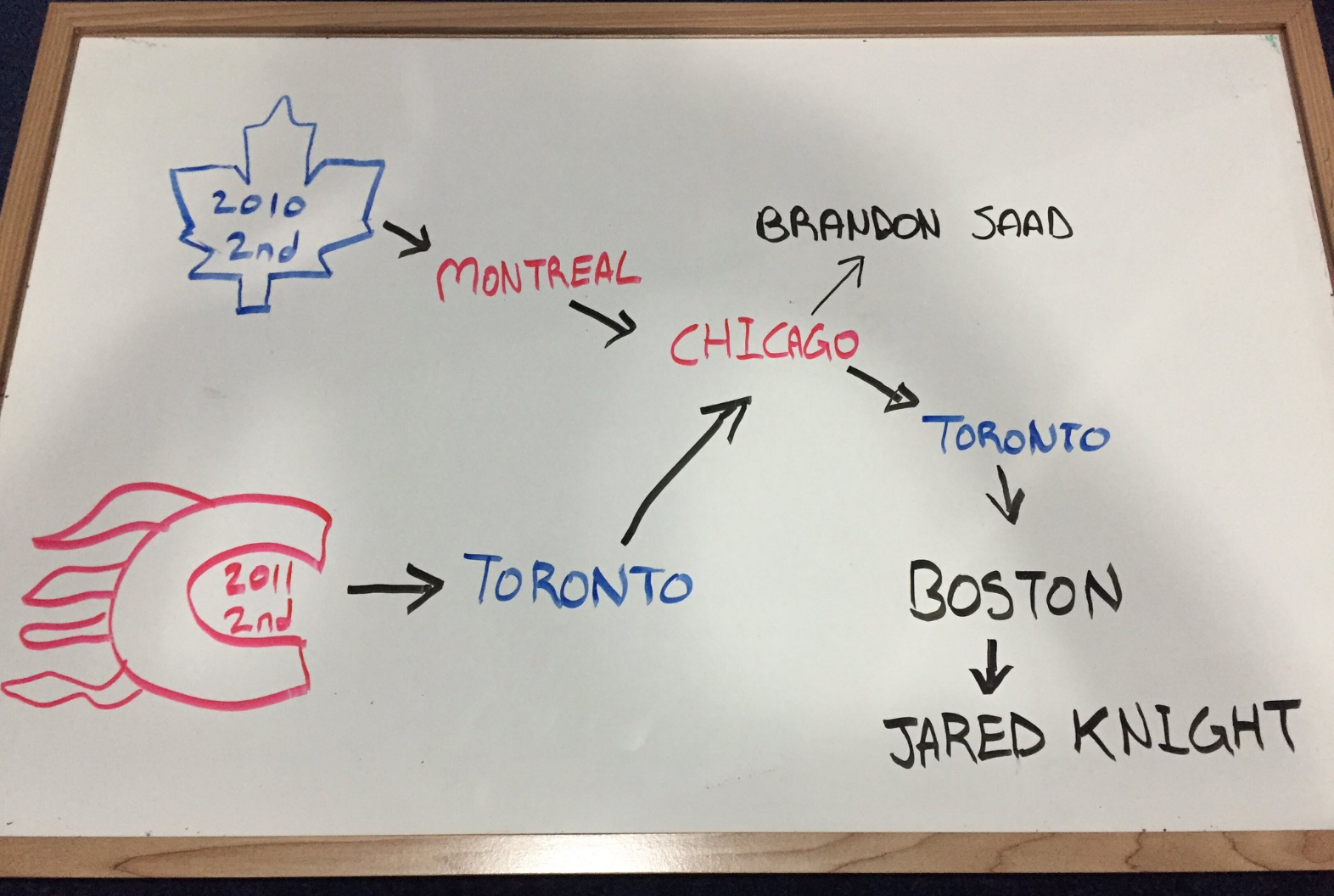 The Leafs didn't offersheet Kessel, but they did trade their 2010 second-rounder to the Bruins in the Kessel trade anyway. The Bruins drafted Jared Knight with that pick. Luckily for the Leafs, Knight never played an NHL game and is currently playing in Denmark.
As for Calgary's 2011 second-rounder however…
Using that pick the Chicago Blackhawks selected Brandon Saad.
Want to make it even worse? This next one is shoe-horning a bit, but…
June 30, 2015: the Blackhawks trade Brandon Saad, Alex Broadhurst, and Michael Paliotta to the Columbus Blue Jackets. Fun side note: The Blackhawks originally drafted Paliotta with the Leafs' 2011 third-rounder. In return, the Blue Jackets traded Marko Dano, Artem Anisimov, Corey Tropp, a 2016 fourth-round pick, and Jeremy Morin to the Blackhawks.
The Blackhawks traded Jeremy Morin last season. To who? You guessed it, the Leafs. Who did the Blackhawks get in return? Answer: Richard Panik, who has six goals already this season, including the game-tying goal Saturday against the Leafs.
You show me a seemingly insignificant trade and I'll show you a way it can make Leafs fans mad.
TL;DR – The Leafs probably shouldn't have traded Anton Stralman.