TORONTO – Mike Babcock carries his father's name along with a lot of the wisdom he imparted over the years.
And before the Toronto Maple Leafs set out on their annual father's road trip, the head coach paid tribute to Mike Babcock Sr., who passed away in March 2015.
"He meant everything," Babcock said Monday. "Not many of us overcome not having great parents building a good foundation for you to have success. I thought I learned how to talk to people from my mom and I learned how to work hard from my dad.
"My dad, growing up, was my idol, my hero, and he was a good man that looked after his family. Always made it clear to us it didn't matter how successful he was in business – what mattered was his kids and his family, and I feel exactly the same (way)."
The Leafs were joined by roughly 30 guests as they set off for games in Washington on Tuesday and New Jersey on Friday. Many of the players and staff brought their fathers, but there are some brothers and fathers-in-law in tow as well.
It is a significant event for the organization, which is operating under a mandate to create a safer, more close-knit environment for the players.
Toronto has also put itself squarely in the playoff race with five straight victories, including Sunday's Centennial Classic outdoor game, and hopes to keep the good times rolling.
"To have these dads along, I think this is how you treat people right," said Babcock. "I think if you treat people right they work twice as hard for you. … I thought what we were able to do over three days (at BMO Field) with our alumni, with our families here, was spectacular and we want to do the same on this trip.
"It gives you an opportunity to thank your dad for what he's done."
Here are some thoughts from the players about what their fathers have meant to them:
Auston Matthews

(Rick Scuteri/AP)
Brian Matthews hasn't missed too many of the big moments during the electrifying start to his son's NHL career.
He and wife, Ema, were in Ottawa on opening night when Auston made history with a four-goal debut and they were bundled up alongside daughters Alex and Breyana in the stands on Sunday when he scored his second goal of the day in overtime to lift Toronto past Detroit in the Centennial Classic.
Now he'll get more of a peek behind the curtain at what life is like on the road.
"I think he's just going to soak it all in," said Auston Matthews. "It's exciting, he's been enjoying this whole year. He's been in Toronto for the most part."
That sacrifice is illustrative of what an entire family has had to do to help a 19-year-old realize his dreams. Brian Matthews is basically living with his son when the Leafs are in Toronto while also making trips to suburban New Jersey for work and the occasional visit to the family home in Scottsdale, Ariz.
"He's been huge," said Matthews.
It's a lot to juggle, but the family has grown accustomed to a unique lifestyle.
There was a fair bit of travel involved when Auston started making his way as a youth hockey player and his mother joined him in Switzerland last season when he played for the Zurich Lions.
"Both of my parents (have helped), my whole family, grandparents too," he said. "Just driving me around to practice, all the sacrifices they make not only for myself but for both of my sisters. I think it goes the same for everybody, all the hockey players growing up. Family is such a big part.
"They make such a big sacrifice and commitment."
No wonder there was so much excitement in his voice before heading to the airport.
"It's going to be a blast," said Matthews.
Nikita Zaitsev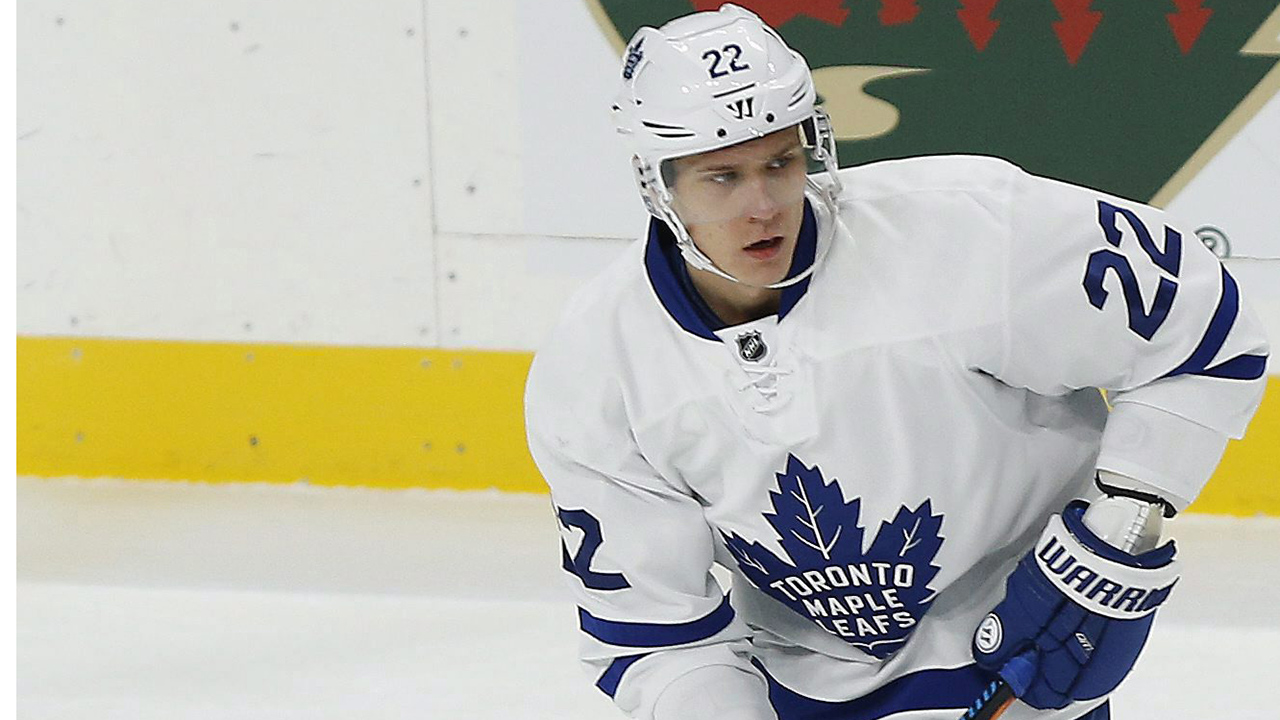 (Stacy Bengs/AP)
Once Nikita Zaitsev caught the hockey bug, his father Igor became an ever-present fixture at rinks around Moscow.
"He (did) not skip any practices when I was young," said Zaitsev. "He was there all the time in the practices and never skipped the games."
The elder Zaitsev had grown up playing soccer, but learned to love a new sport. He could be demanding with his son – "every day he was pushing me," said Nikita – but theirs was a relationship built on trust.
"We are friends," said Zaitsev.
Igor Zaitsev was in Toronto with other family members before Christmas – seeing Nikita score his first NHL goal against Pittsburgh on Dec. 17 – and wasn't keen on making another trans-Atlantic trip so soon afterwards.
That means his first NHL father's trip will wait until next season.
He will, however, follow his usual routine of waking up at 3 a.m. to watch the Leafs play before speaking with his boy afterwards.
"Every time," said Zaitsev. "He texts me after every game and I call him back."
Connor Carrick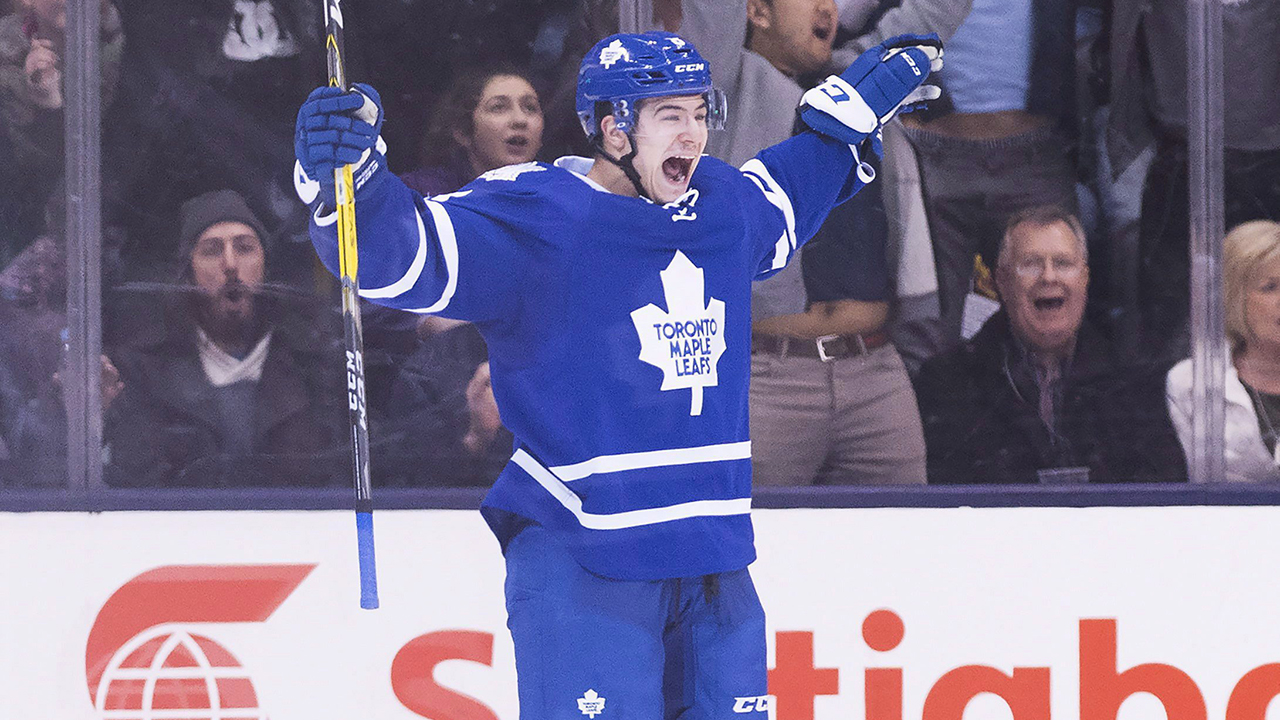 (Nathan Denette/CP)
Connor Carrick was an extremely focused kid.
Like, incredibly serious.
"I'm probably more relaxed now than I was as a six-year-old," said Carrick. "I was pretty uptight."
That created the odd situation for his father, Jory, after young Connor became obsessed with hockey. One memorable incident happened at Arctic Ice Arena in suburban Chicago, when Connor saw some of his teammates on the Bruins house league team heading back on the ice in a different sweater after a game.
"I was ticked off," said Carrick. "I didn't know why they were going out there. And I look over the boards, I'm crying, and I'm like: 'Dad, why are my teammates out there?'
"It was like the first travel league, and my dad didn't know about it. He told me: 'I didn't know. I'm sorry, I'll never not know again."'
Jory Carrick made good on his word while watching his boy rise through the U.S. National Development program, the Ontario Hockey League, American Hockey League and eventually land a permanent role with the Leafs.
"No stone unturned," said Connor. "There was nothing we didn't know about. He took great care of me."
To this day, the two speak often about the finer points of the game. Jory Carrick has charted his son's progress closely and is usually able to explain things in a way that helps bring Connor "back down to Earth."
There isn't any mystery for Connor about how he managed to realize his boyhood dream.
"We had a rink real close to our house – like a two-minute drive in the suburbs – and he just made it happen," said Carrick. "He was always good with me. Personally he was demanding, demanding of himself, because he spent a lot of time, a lot of money, a lot of money not made going places (for hockey) – you know, opportunity costs – but I owe him and my ma (Deb) everything.
"I think that story's pretty common in hockey."